Written by:
James Hills
Created: 07 January 2021 Last Updated: 07 January 2021
Trending
Hits: 1457
Reading time: 04:04
Buying your first car can be an exciting time. Whether you've saved up for months or years mowing lawns, babysitting, working in a restaurant, or using "good grade" money from your parent, this is almost certainly the biggest purchase you have ever made. While some folks go for a cheaper used car with high miles and others go for that brand spanking new vehicle, the purchase price of your new car is just the beginning of the costs you now need to prepare for.
Taxes and Fees
Taxes can add a lot to your initial purchase price and you will probably discover that the moment you sat down with the finance guy at the dealership. These taxes depend on the state and area that you live. For instance, in California auto sales taxes are 7.25% state tax plus local taxes. In other areas such as Arkansas, there is 0% on vehicles priced at $4,000 or less. However, sales taxes are just the beginning. There is also the annual Registration Fee. Depending on the state you live in and the type of vehicle, these annual fees might be hundreds of dollars ... just to be able to legally drive the vehicle you already own.
Then you also have to factor in that certain states may require other annual taxes and fees based on what kind of vehicle you have. For instance, there might be different taxes on a diesel HD truck than on a Kia Soul EV because of emissions, smogging regulations, and even the weight of the vehicle.
Car Maintenance
Car maintenance can be a surprising added cost as well. While oil changes might be expected and also generally affordable, other regular maintenance issues can be shockingly expensive. For instance, buying a new pair of tires could be as low as $200 or as high as $1200 (or more) depending on what type you need. While this cost can be predicted based on the type of vehicle and number of miles, what you might not plan for is that you could roll over a screw in the parking lot or hit a bump in the road and suddenly have to buy a replacement.
Accidents and Damage
Insurance is a complicated cost and while folks already expect to need auto insurance, what comes as an unexpected cost is how little auto insurance actually pays when there's damage to your vehicle. While you can pay for a super-comprehensive plan, most first-time car owners discover this when trying to repair a crack in the windshield, a dent in the door, or a scratched bumper from a minor accident. Even worse though is that sometimes you experience "hit and run" accidents where either someone might damage your car at night while it is parked or maybe they might even just run off in traffic. Other times, you'll have an accident where your insurance company and theirs don't agree on expenses. This is when you'll need to hire highly experienced car accident lawyers to represent you and make sure to get the money you are owed. I guess "lawyers" could be a whole other category of expenses to consider but let's just keep it lumped in with accidents and damage for now.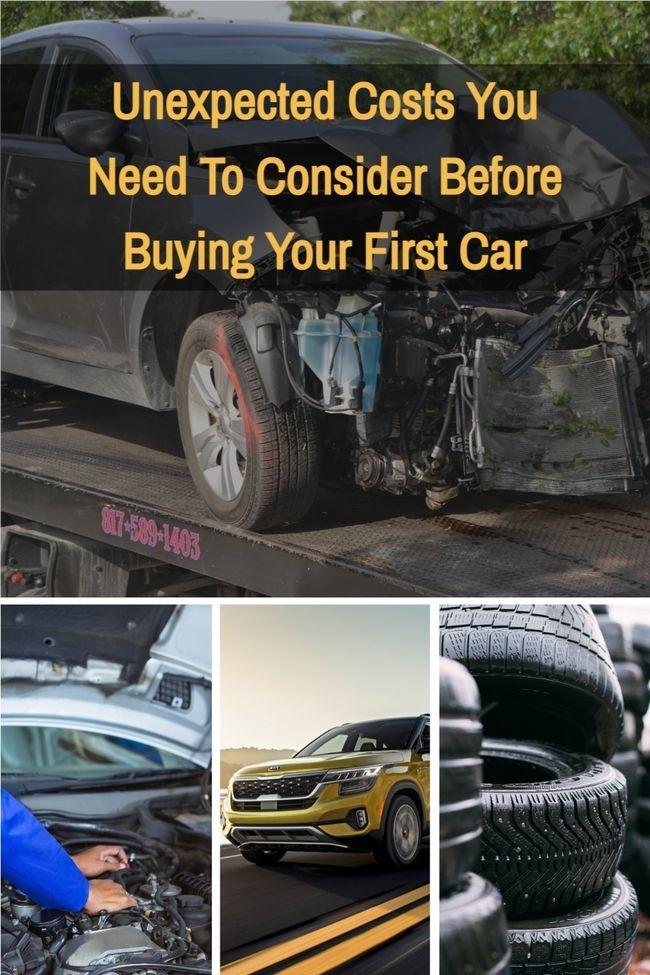 Cleaning
To an extent, cleaning your car is a voluntary expense but it can quickly add up if you are using your vehicle for driving Lyft or something like that where you need it to look good all the time. Even if your goal is just to keep the car looking clean and sharp so dates don't refuse to get in your ride when you pick them up - keeping your car looking good is essential!
Customization and Upgrades
Customizing your car is clearly something you don't need to do but if you are buying a new vehicle, the price difference between "starting at" and "as shown" can be tens of thousands of dollars. For instance, your new Kia Seltos starts at only $21,990 but if you want heated seats then that is a $1,600 option and if you just have to have that Bose sound system with "mood lamp" then you are looking at upgrading trim levels and adding $4,400. Those are all choices that you need to be aware of since you can quickly price yourself out of the budget you've planned for if you don't consider these expenses before going to the dealership.
Buying a new car for the first time can be a wonderful experience but just make sure to spend your money smart so you have a great experience and don't cause other financial problems in the future. Not being able to pay your car payments can result in a big hit to your credit but being able to show excellent credit history can help reduce your interest rates and save money in the future. So, be smart and plan ahead before buying a car.
---