Written by:
Dave Taylor
Created: 08 July 2023 Last Updated: 10 July 2023
Hot!
Hits: 618
Reading time: 07:38
Seems like only a few days ago I was driving the 2023 Land Rover Defender 130 so it was really interesting to get behind the wheel of the 2023 Range Rover Sport SE: In many ways, they're the same vehicle. In fact, Range Rover is a brand of Land Rover, which itself is a part of Jaguar Land Rover, a subsidiary of India's Tata Motors. Ostensibly the Land Rover branded vehicles are more adventurous and ready for off-road, while the Range Rover is a more upscale, luxurious vehicle, but in my experience, both are premium vehicles with lots of luxury amenities.
Still, it's quite an experience to sit behind the wheel of the $100,000 2023 Range Rover Sport SE. It's a very lux, super comfy vehicle with a bewildering number of options, features, and capabilities. The company loaned me one in Eiger Grey with a Deep Garnet/Ebony interior, and it's darn attractive:
From the outside, it's yet another boxy Sport Utility Vehicle with its edges rounded off, but it's the interior that really differentiates this SUV from almost every other on the road.
Let's start there, in fact, with the front dashboard design and layout: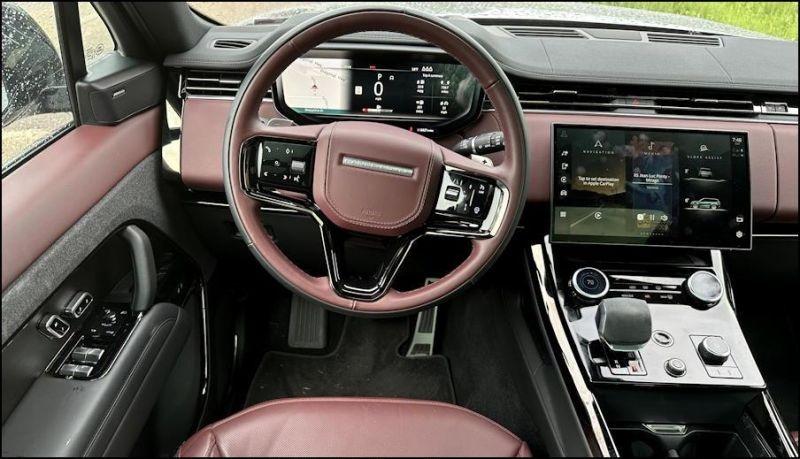 The Deep Garnet/Ebony interior has a lot of the primary color present, so it might seem a bit overwhelming, but it's actually quite beautiful when in the vehicle, with the red being premium leather. There are, however, many surfaces that seem to be fingerprint magnets, including the edges of the center console cluster; while the shiny finish is quite attractive, I found myself obsessively wiping it down to remove the gleaming rainbow fingerprints. Tip: An identical design with a more "carbon fibre" material would look just as luxurious but be far easier to keep clean, Range Rover.
What's worth noticing in this layout is that it's not overloaded with buttons and controls. Many infrequent controls are relegated to being somewhere in the infotainment system, accessed via touchscreen, so that areas like the center console are clean and easily understood at a glance: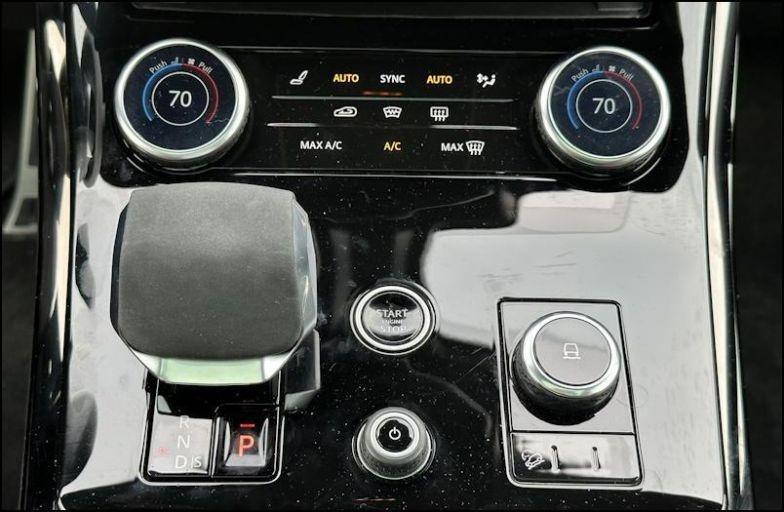 Everything's easy and accessible, without the need to ever pull out the user guide to decipher an obscure icon or graphic. The audio volume knob being centrally located in this rather unlikely spot (it's a long way from the entertainment system display) turns out to be quite convenient too, as drivers far more often tweak and fiddle with the volume than the audio source.
Having said that, the climate control dials are a bit overloaded and it takes a while to master the push/pull interface to get to the specific controls desired. Hidden therein with almost no indication, for example, are the seat temperature controls. I realize you can't have a simplified interface without an occasional doubling of functionality, but this is one where new owners will want to poke around to learn about all the climate controls available before it's -8C outside and you're just trying to get going in the morning. Speaking of climate, the Range Rover Sport had weirdly aggressive windshield wipers. They move fast and were entertaining (and efficient). If you ever test drive one of these, try the wipers!
The infotainment system is identical to the Land Rover (see this picture from my earlier Land Rover review, for example) and the main gauge display is admirably simple and clean too: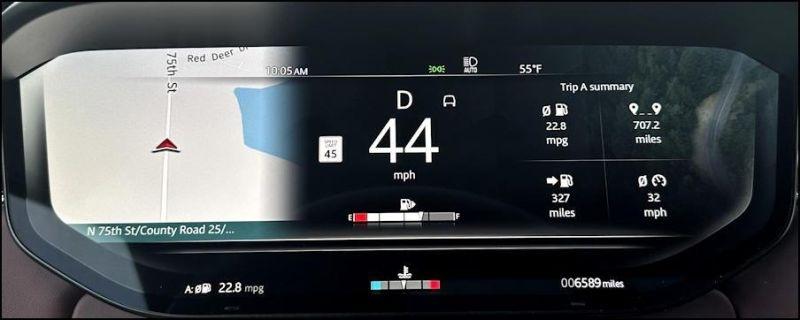 Notice that in addition to the map overlay on the left, there's a current speed limit indicator shown too, adjacent to my current speed. One mile per hour under the limit, thank you very much!
Fuel efficiency wasn't anything to write home about, with 22.8mpg (EPA estimates are 18/26) but on the other hand, for a big, comfortable vehicle with plenty of oomph and over 7,000 pounds towing capacity, it's not bad at all either. Of course, hitch up a two-ton trailer and head up into the mountains and your fuel efficiency is going to be impacted, but the 3.0L turbocharged and supercharged 6-cylinder engine still puts out a solid 395 horsepower and 406 lb-ft of torque. Featuring an 8-speed automatic, the ride is plenty powerful while still being quiet and comfortable. You can definitely get used to this sort of luxury.
The Range Rover also has a pretty amazing video monitoring system known as its Surround Camera System. Check out this "3D" view where it appears the camera's a dozen feet in front of me, with another camera hovering 20-feet above: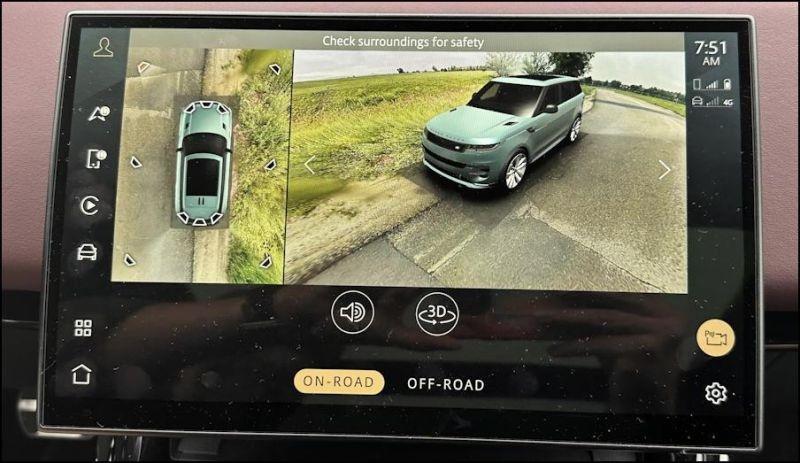 While these might seem gimmicky, these smart monitoring camera views are game changers when it comes to parking, whether you're parallel parking or just squeezing into a spot on the side of the highway to stop for a photograph. After driving so many vehicles with some sort of synthesized parking video monitor, it's rather difficult to park a vehicle without at least a backup camera. These are no longer optional features.
On the other hand, the design of the door controls is surprisingly poor in the Range Rover, as it was in the Land Rover too. Here's the passenger door design: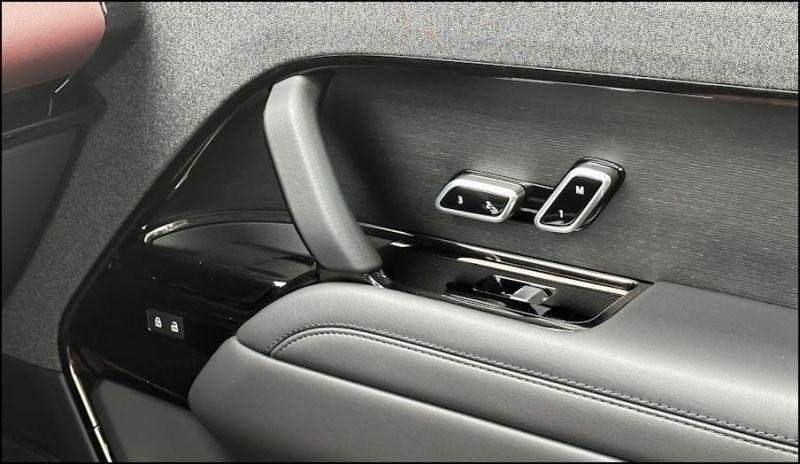 Can you even find the door open lever? How about the lock/unlock buttons? The fact that they're so difficult to access makes me wonder if the interior design team actually drove any of these vehicles before they started pumping them out of the factory. They're a pain and while you'll get used to it, why not make them more accessible to simplify the life of both the driver and every passenger? I'm currently driving a 2024 Chevy Trax and can't help but appreciate that its door handle is near the top of the door making it at least 10x easier to work with than the vastly more expensive Range Rover.
Stepping out and towards the rear, the controls in this area were very well appointed, including the second row seat raise/lower buttons on the right side of the cargo area and the slick fold-down cargo organizer (shown extended in the below photo):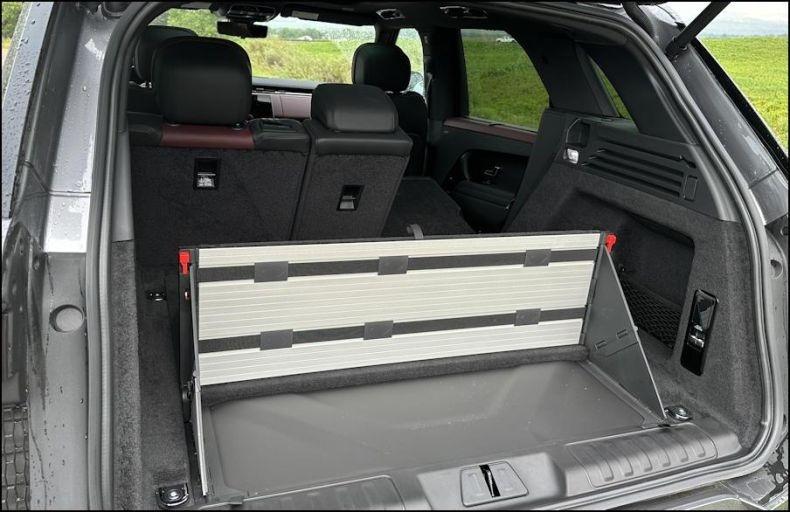 Notice that the rear seat is a typical 60/40 layout and that I've folded down the right side with the push of a button. So convenient!
Moving around to the side, I was a bit surprised that there wasn't more legroom for the second-row passengers in the 2023 Range Rover Sport SE: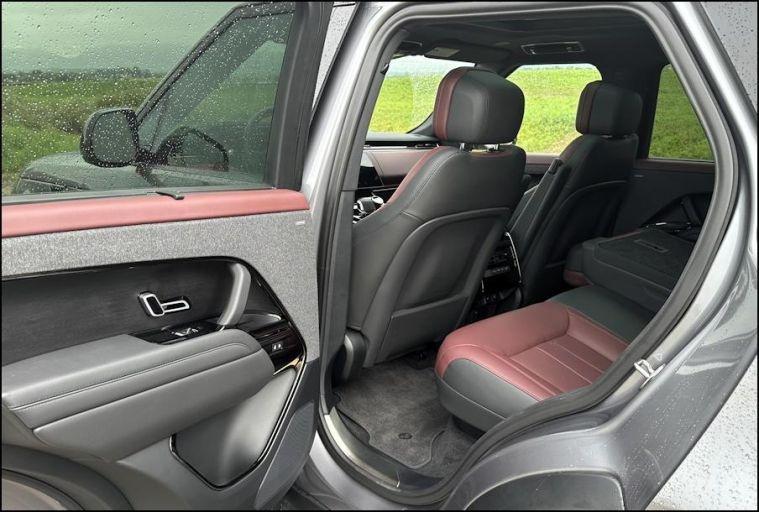 This is with me moving the front seat forward a few inches too; if I had it all the way back as I typically do as a tall driver, the rear passenger would likely be complaining about the lack of legroom and unexpected experience of not being in first class. This lack of legroom is probably the biggest limitation for this as a vehicle managed by a professional driver: No adult would want to be squished into this backseat area for an extended period of time. Then again, the infotainment system does have a "chauffeur" mode, so perhaps I just have an overly tall family.
The door handles were pretty cool, sliding into the door for a streamlined look when locked or in motion, and popping out for ingress and egress. While popped out, you can also find the secret backup keyhole if you're really in a pickle with your power: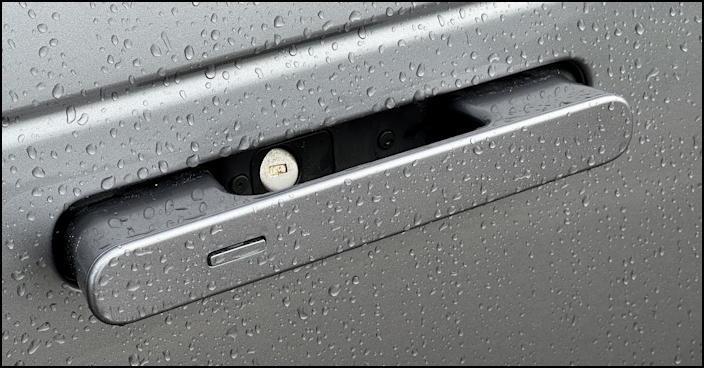 However, if you need to use the key because the car's otherwise without power, then I'm not sure how you get the handles to pop out, but I didn't disconnect the battery to test this feature. It wouldn't surprise me to find that the Range Rover engineers thought this through and that a dead vehicle will automatically have the handles in the extended position.
The drive experience for the Range Rover Sport was terrific. As powered by a turbocharged and supercharged 3.0L 6-cylinder engine, it's peppy and quite responsive, even if you're in ECO mode at the time. Switch to SPORT mode, however, and it's a darn zippy vehicle, particularly for an SUV with such an unassuming exterior design. I don't think you'll be beating any MacLarens off the starting line, but it definitely offers a lot of confidence to drivers in complex situations. What's more delightful, though, is that it's so darn quiet while you're chugging along the highway or winding along a picturesque mountain lane. With the premium Meridian sound system, it's one of the more pleasant driving experiences you can have in this category of vehicle.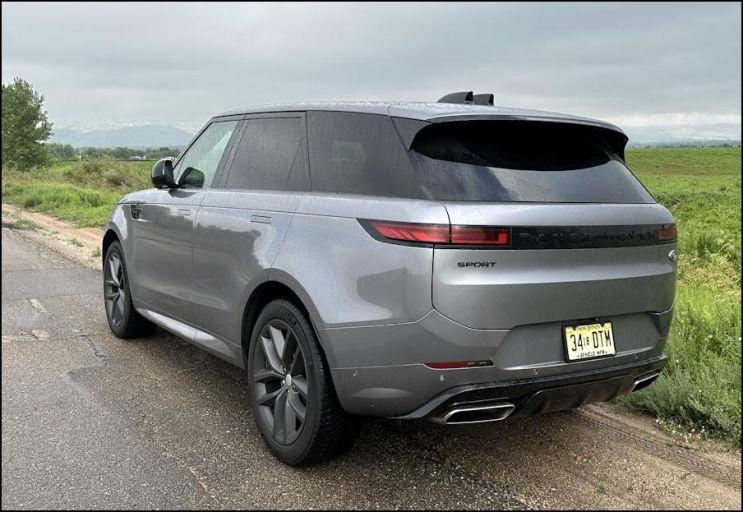 This is an expensive luxury vehicle, there's no way around it. It prices out at $20,000 more than the Land Rover, which itself was a premium vehicle. If you can afford a $100,000 luxury SUV, though, this is definitely one to take on a test drive and evaluate carefully. It might just be your next SUV for drives to the country club or weekend in the Hamptons.
2023 Range Rover Sport SE, powered by a 3.0L 6-cylinder engine and 8-speed automatic. MSRP: $90,000. Included options: 23" Style, Technology Pack, Black Exterior Pack, Eiger Grey, Cold Climate Pack, Pixel LED Headlights, Convenience Pack, Natural Black Veneer, Wi-Fi Enabled, and Windsor leather seats. AS DRIVEN: $100,085.00.
Disclosure: Range Rover loaned me the Sport SE for a week in return for this candid writeup. Very nice of you, mates! Thanks. This article also originally appeared on PlanetDave.com as "Swanky Drive Time with the 2023 Range Rover Sport SE".
---