Written by:
James Hills
Created: 08 August 2021 Last Updated: 09 November 2022
Trending
Hits: 1518
Reading time: 08:59
In this blog post, we want to share 10 things that men should know about living a vegan lifestyle. While some guys may look at vegans as being something just for women, the reality is being vegan is a great option for those who are fully committed to living a more sustainable and healthy life. Even if you aren't ready to go all-in, it is important consider the benefits and opportunities here. We'll cover topics such as health benefits, misconceptions, food choices and how to go plant-based!
What Is A Vegan Lifestyle And Why Would Someone Choose It
A vegan lifestyle is a way of living that focuses on consuming plant-based foods and no animal products. People choose this lifestyle for many reasons: to protect animals, because they are allergic or intolerant to dairy or eggs, as part of religious beliefs (e.g., Hindu), etc. There's also been research about how eating meat leads to obesity and other health problems so some people may choose it for their own personal well-being. Just as with men considering a keto diet, veganism is more of a lifestyle than simply a diet.
What Does The Word Vegan Mean?
The term "vegan" comes from the idea in defense of all sentient beings - not just humans - who suffer pain, injury, fear and death which can be prevented by adopting a healthy diet free from any form of exploitation.
What Should You Know Before Going Vegan?
Before transitioning to a vegan lifestyle, it's important to consider the entire picture. Talk with your doctor about any medical restrictions or allergies and then talk with a nutritionist so they can help you make sure that your diet is balanced as well. Some people also find that they have increased energy levels when eating plant-based foods than animal products which can be an added bonus! Finally, take some time for yourself and discuss this decision with friends/family who will support you on this journey.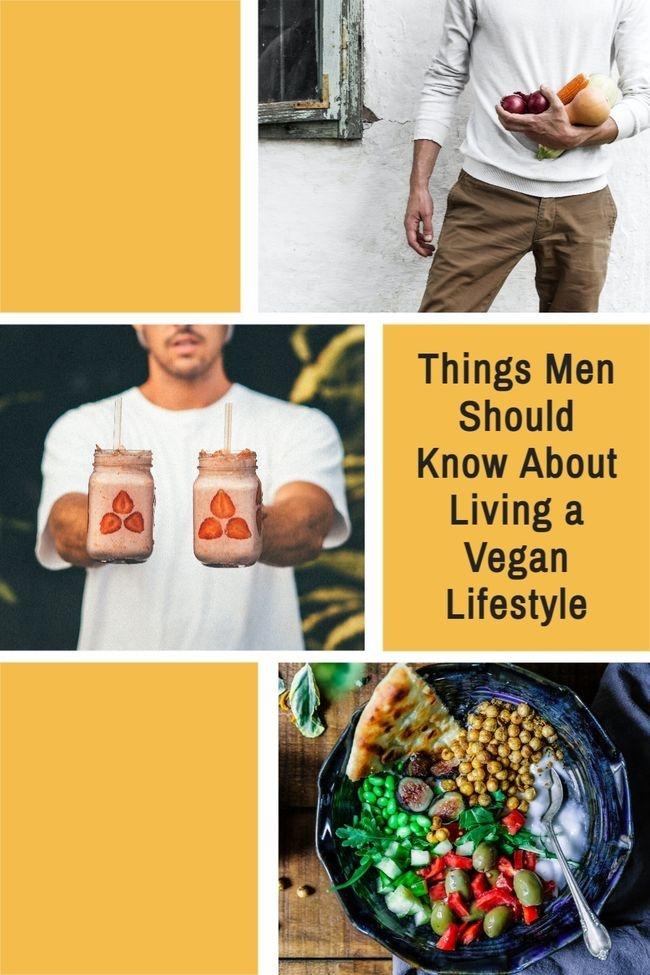 Health Benefits For Men Of Being Vegan
There are many health benefits to eating vegan, including weight loss and lower cholesterol. It's also been known to help people with type-II diabetes, high blood pressure and a number of other medical problems. Eating vegan doesn't just mean that you're consuming healthy foods - it means that your diet is more environmentally sustainable as well!
When it comes to men's health, a plant-based lifestyle can improve mental focus and clarity, decrease the risk of prostate cancer, improve post-exercise recovery, lower blood pressure, and even increase libido.
The Misconceptions About Being Vegan
There are many misconceptions about being vegan. One is that it's difficult or expensive to be vegan and another is that you will only eat salads as your main food source. The truth is, there are plenty of delicious foods available at restaurants with vegan options! In addition, meal delivery services like Purple Carrot also make things easier for people who want to start eating plant-based but don't know what they should try first.
How To Be Successful When Transitioning To A Plant-Based Lifestyle
When going vegan, it's important to educate yourself on how to make the transition as smooth and successful as possible. One of the most effective ways is by joining a Facebook group or an online forum where people share their experiences and offer support for others who are transitioning! Remember that you're not alone when making this decision - there will always be someone ready with advice if you need it!
While online resources are a great place to start, visiting local vegan restaurants or looking for social groups at community centers and colleges is another great way to learn tips and tricks to maintaining this lifestyle choice.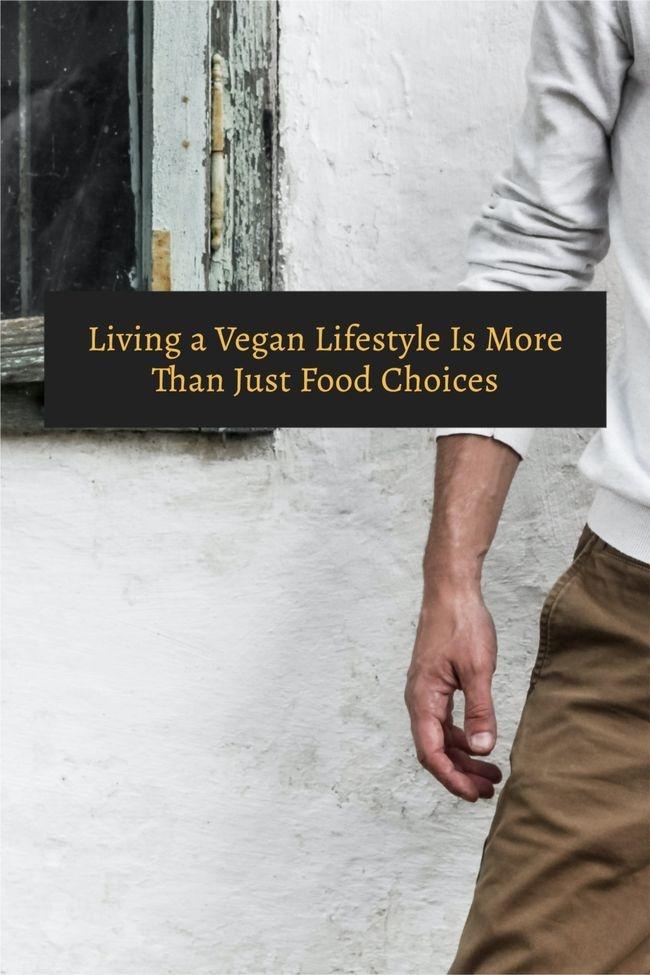 A Vegan Lifestyle Is About More Than Just Food
A vegan lifestyle is much more than just food. There are many other aspects of the decision to live a plant-based life - and it's important to be aware of all the benefits before making that commitment! Things like clothes, beauty products, household cleaners and pet care items should also be considered when thinking about going vegan. If you're interested in learning more about how we can reduce our impact on animals as well as the environment then this blog post will help you get started!
Tips For Eating Out As A Vegan
Eating out as a vegan can be overwhelming if you don't know what to order. It's best to call ahead before going or look at the menu online beforehand so you have an idea of their choices and how they're labeled. Many restaurants will label plant-based items with "V" for vegetarian but this does not necessarily mean vegan.
When it doubt, ask. Living a vegan lifestyle isn't the fringe choice that it might have been a decade or two ago. Today it is highly likely that the chef will be familiar with what it means to seek vegan options and be able to suggest options.
Even in a steakhouse - perhaps one of the most unfriendly restaurants for vegans - you can usually find options such as salads and sides. Sometimes chefs can prepare a special meal for you as well. That will clearly depend on just what type of restaurant you are dining at though.
Tips For Eating At Home As A Vegan
Becoming a vegan is easier today than ever before. There is an abundance of products available in stores, online, and at farmers markets to make cooking options more flavorful and more diverse as well.
In years past, this was not the case, and it was difficult for those on a vegan diet to find palatable food in a wide variety of offerings. If pizza was a go-to food selection for you, a cardboard-like taste might have been one of your experiences. Luckily, you can now enjoy delicious vegan pizza that will entice vegans, vegetarians, and meat-eaters alike! The flavors, ingredients, and delectable crust will leave you wanting more and keep you coming back.
Vegan Substitutes That Can Be Used In Recipes Or When Eating Out
Some vegan substitutes for animal protein and fats include almond milk, soy sauce, tofu, and tempeh. These substitutes will keep you from missing out on the flavor or texture of animal-based products.
Tempeh
Tempeh is a fermented soy-based product. It is usually made from whole soy beans that have been soaked and then partially cooked before being form into patties. Tempeh has low levels of phytoestrogens compared to tofu. Phytoestrogens can act like estrogen in the body and some people believe tempeh should be avoided if you are sensitive to estrogen.
Tempeh can replace meats or other animal based products in many recipes, but it doesn't melt well when heated so it's best not to use it as a replacement for cheese or butter.
Almond Milk
Almond milk is an alternative to dairy and can be used to make delicious plant-based dishes like vegan pizza or a cashew cheese sauce. Almond milk is made of ground almonds, water, natural sweetener, and vanilla extract which provides a nice flavor for your recipes.
Tofu
Tofu is made from soybeans that are soaked in water and then boiled. The boiled soybeans are mashed and then the mixture is left to form a block.
Tofu has a similar texture to animal products like eggs and meat, which makes it a great replacement for these products. Tofu also contains protein which is important for many vegans to get their daily intake of protein.
One downside of tofu, however, is that it doesn't have much flavor on its own. It is necessary to add seasonings or marinade the tofu before cooking it so that you can enjoy more flavor from your meal.
Engineered Meats Like Impossible Burger And Beyond Meat
These engineered meat products are created to mimic the taste and texture of animal proteins. These products can be used in many dishes like tacos, burgers, or even chili; they work best as an alternative to beef-based recipes that require a ground product.
The Impossible Burger has been engineered from soy and potato proteins and yeast extract gives it a similar flavor to what we identify as "tasting like meat" since it contains iron just like animal blood.
Beyond Meat was developed by Ethan Brown who wanted to create something close enough for people to forget that their meal wasn't made with real meat. Beyond Meat is made of a blend of vegetable proteins (Pea • Mung Bean • Faba Bean • Brown Rice) and fats (Cocoa Butter • Coconut Oil • Expeller-Pressed Canola Oil) as well as other ingredients to create a "meat like" flavor, visual appearance and even a similar sizzle on the grill.
The Impossible Burger has a beef-like taste but it doesn't have any blood or other animal pieces in them like many meat burgers on the market today so they are safe for vegans! The Beyond Meat burger tastes more like well cooked ground hamburger than just raw meat which makes this an excellent option for those who want something with a similar texture as their typical meal at home.
Vegan Is A Challenging But Rewarding Lifestyle
I hope I've given you an idea of some things you should know about living as vegan.
If you are considering a vegan lifestyle, go slowly. It does not have to be an all-or-nothing entrance into this way of living. Making small changes and becoming comfortable with them before moving onto larger accommodations are easier to handle and allow you to feel a sense of accomplishment instead of becoming overwhelmed. A good first step is to align yourself with reputable sources for honest and attainable guidance.
The decision to go vegan means more than changing what you eat - the tenets of veganism encompass what you wear, as well. Begin the process of determining what items are vegan by looking them up online. Since you likely have a smartphone with you wherever you go, conduct a simple search of the brand to learn about its ingredients, environmentalism, and sustainability values. You can look for the "Certified Vegan" label on clothing, shoes, and bags to identify products that align with your ethical standards.
A vegan lifestyle is much more than just food. There are many other aspects of the decision to live a plant-based life - and it's important to be aware of all the benefits before making that commitment! Things like clothes, beauty products, household cleaners and pet care items should also be considered when thinking about going vegan. If you're interested in learning more about how we can reduce our impact on animals as well as the environment then hopefully this blog post will be helpful in getting you get started!
---