Summer barbecues are the perfect opportunity to spend time with family, enjoy good food and create lasting memories. But getting that perfectly cooked steak or burger can be a challenge for even the most experienced griller. Luckily, this year dads have a secret weapon up their sleeve: The INKBIRD IBT-26S 5GHz WiFi Meat Thermometer.
This innovative tool from INKBIRD accurately measures the internal temperature of food so you can guarantee juicy, well-cooked meals with every cookout. We'll explain why accurate temperature readings are essential and how dads can use this device to teach kids some valuable lessons while they're grilling. Plus, we'll share what we love about this thermometer and help you decide if it's worth adding to your grilling toolkit.
Why The Right Temperature Is Critical To Grilling
Grilling the perfect steak requires precision and accuracy. Making sure that you have a good thermometer the key to achieving that perfect temperature!
Knowing just how hot or cold your grill needs to be can make all the difference when it comes to creating an amazing meal. Temperature control is one of the most important aspects of grilling, as it helps ensure that you don't overcook or undercook your food. While there are plenty of tricks that I've learned over the years in terms of measuring the doneness of your steak based on different parts of your hand and how the meat reacts to being pressed on, the only sure way to get things right is to actually measure it precisely.
That's why having a tool like the INKBIRD IBT-26S 5GHz WiFi Meat Thermometer is essential for any serious griller. Not only does this thermometer provide accurate readings in real-time, but its wireless connectivity also allows dad to check on his BBQ from anywhere using his smartphone!
With this handy device, dad can have total confidence in his grilling abilities and create delicious meals with ease - which means more time spent enjoying summer barbecues with family and friends.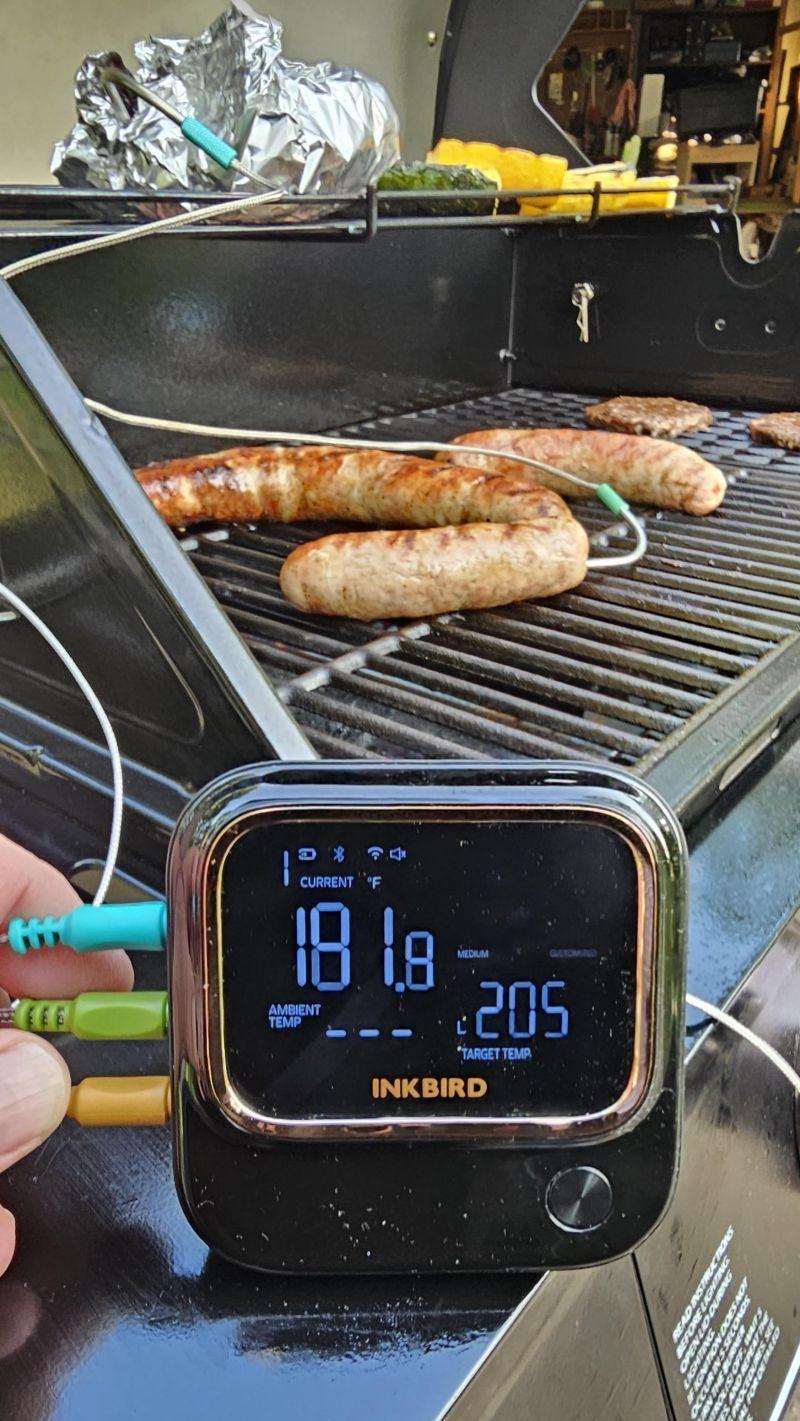 About The INKBIRD IBT-26S 5GHz WiFi Meat Thermometer
With its advanced 5.1 Bluetooth, 4 food-grade probes, and real-time monitoring app, this deluxe meat thermometer is sure to be the star of your grill.
From temperature range to accuracy to its easy-to-read LCD panel, this digital thermometer has all the features you need for perfect grilling every time. The 5GHz WiFi ensures a constant connection that won't drop while the adjustable brightness base station makes it easy to track temperatures even in low light conditions. Plus, with six probe capacity (four probes included) and 29 USDA presets, you can cook multiple types of meat at once without having to guess doneness levels or worry about overcooking!
The 2500mAh lithium battery gives you up to 32 hours of use on a full charge so you can keep an eye on your meats no matter how long they take. And if you're not around? No problem - the app allows for remote monitoring from anywhere as long as you have an internet connection. Finally, calibration capability lets you adjust temperatures for precision cooking every time!
Product Specs:
Temperature range: -22℉~572℉ (-30℃~300℃) for short term measurement and -20℉~250℉ (-4℃~482℃) for long cooking sessions requiring precise measurement.
Temperature accuracy: 0.9℉/0.5℃
Calibration range: -12.6℉~+12.6℉(-7℃~+7℃ )
Battery life: at least 32 hours after a 3.5 hours USB type-C cable full charge
Lessons Dads Can Teach While Using The INKBIRD IBT-26S 5G Meat Thermometer
You might think that the INKBIRD IBT-26s BBQ thermometer is just simply a measurement device but by using it with your kids it is an opportunity to teach them some important lessons that will help them grow.
Patience - Dads can show their kids how to wait for things to be ready before taking them off the heat source and that this is a skill they need to know in their daily lives since not everything happens instantly.
Food Safety - The importance of monitoring food temperatures using INKBIRD IBT-26S gives dads a chance to talk about food safety and why some items such as burgers and chicken my need to be cooked longer than a steak in order to ensure safe eating.
Nutrition - Showing kids how healthy grilling options taste just as good when cooked properly with a INKBIRD IBT-26S meat thermometer.
Learning From Mistakes - while you'll be sure to cook your meat to the right temperature, INKBIRD can't guarantee that you'll perfectly flip those burgers or that a flare-up can burn that chicken breast. This is a great opportunity to talk with your kids about how mistakes can happen but that gives you an opportunity to learn and grow.
What We Liked About This Product
The INKBIRD IBT-26S thermometer is an invaluable tool for dads that want to take their grilling game to the next level while allowing them to impart important lessons to their children in a meaningful way. Here's what we liked most about the product:
With its six probes, you can track multiple items on the grill at once, without having to constantly switch out thermometers or guess as to how done something is.
The 5GHz WiFi connection provided a more stable and reliable connection with lower latency than the wireless meat thermometers that we've tested.
We were also impressed by how small and easy these probes were (compared to wireless "stick" thermometers) and that it made it effortless to insert into food items.
Finally, the large display made it easy to keep an eye on everything that was cooking simultaneously. This also allowed us to take our eyes off our phone and spend more time socializing.
Overall, this product proved to be an impressive asset for any dad who is responsible for grilling up delicious meals during the summer months!
Conclusion
We've been using the INKBIRD IBT-26S 5G thermometer for our summer BBQs recently and it has become an integral part of our grilling experience. We've noticed that not only is it incredibly accurate, but it also helps us to cook our meats to a perfect temperature every time. Plus, with its easy-to-use interface and helpful features like temperature alarms and built-in timer, we can now spend less time worrying about when dinner will be ready and more time enjoying the company of friends and family.
And while dads are known for their grilling skills, statistics show that up to 40 percent of all grilled steaks are overcooked or undercooked. With this in mind, having the INKBIRD IBT-26S 5GHz WiFi thermometer on hand is essential for creating delicious meals that everyone can enjoy!