They say that a man's home is his castle and that his toilet is a throne - so does that make your bathroom a throne room? I'm not sure if that's actually how it works but I do know that I love smart home gadgets and during the renovation of our new condo in Michigan I went a bit nuts looking for ways to include tech into our bathroom. Some of these items made the list - such as our new SmartBidet and the anti-germ Violet Light exhaust fan, while others are still on my wish list. Let me know what you think ... what are your favorite items on our list of smart home upgrades for the bathroom?
Quick Recommendations: Popular Bathroom Tech Upgrades for a Smart Home Experience
For a prompt decision, take a quick recommendation by checking out our product list or scroll down to read more detailed reviews.

SmartBidet SB-3000 Electric Bidet Toilet Seat
Ultimate comfort and hygiene for a luxurious bathroom experience.
Highlights
Automatic operation for hands - free cleaning
Stainless steel construction for durability and hygiene
Unlimited hot water supply for comfortable use
Easy installation on most standard oval - shaped toilets
1 - year manufacturer warranty for added peace of mind
Compatible with elongated toilet seats
Incorporating advanced features and contemporary design, the SmartBidet SB-3000 Electric Bidet Toilet Seat is our top choice for providing superior comfort and hygiene. This bidet seat shines with its wireless remote control, offering an intuitive user interface that makes it easy to manage all its unique features. Its 3-in-1 patented stainless steel nozzle adjusts to five levels of water pressure delivering a comfortable and effective cleanse every time. The nozzle self-cleans before and after each wash, ensuring optimal sanitation.
Unlike traditional bidets, the SB-3000 provides unlimited on-demand warm water through its Hybrid Heating System - no more unpleasant shocks from cold water in morning or winter use! One brilliant feature is the Spiral Stream or Turbo Wash; not only does this provide a concentrated clean but can also help relieve constipation problems. A convenient LED night light allows ease of access during darker hours without disturbing your eyesight with harsh bathroom lighting.
What sets this product apart further is the addition of a customizable warm air dryer, completely eliminating the need for toilet paper - an excellent sustainable option. In short, SmartBidet SB-3000 has proven itself as a high-quality bidet seat combining comfortability, functionality & hygiene while blending seamlessly into any modern bathroom decor making it our No.1 pick in this category.
Features
LED Night Light: The SmartBidet SB-3000 comes with a convenient LED night light that can be easily turned on from the operational panel. No more stumbling around in the dark when you need to use the bathroom at night, as this gentle ambient light will guide your way without needing to blind yourself with bright overhead lights.
Nozzle Hygiene: Say goodbye to unhygienic bidet nozzles! The SB-3000 features a 3-in-1 patented stainless steel nozzle that self-cleans before and after each wash. Additionally, the Inside Out Nozzle Flush feature ensures that any impurities in the water are flushed out, providing you with a clean and sanitary washing experience every time.
Unlimited Warm Water: Tired of being shocked by cold water during those chilly mornings or winters? With the SB-3000's Hybrid Heating System, you'll never have to worry about running out of warm water again. Enjoy an uninterrupted supply of warm water at your desired temperature for a truly luxurious and comfortable cleansing experience.
Multiple Wash Options: Whether it's for his back, her front, or even if you're dealing with constipation problems - the SB-3000 has got you covered. With options like Posterior Wash for His/Her Back, Feminine Wash for gentler cleaning in front, and Spiral Stream or Turbo Wash for concentrated power, this electric bidet seat offers customizable functions tailored to meet your individual needs.
All-In-One Model: Imagine having all these incredible
The SmartBidet SB-3000 Electric Bidet Toilet Seat is perfect for those who want a luxurious bathroom experience in the comfort of their own homes. With its on demand, unlimited warm water and 3-in-1 stainless steel nozzle, it's ideal for anyone looking to upgrade their bathroom routine. Try it today and elevate your hygiene!
Price: $455.13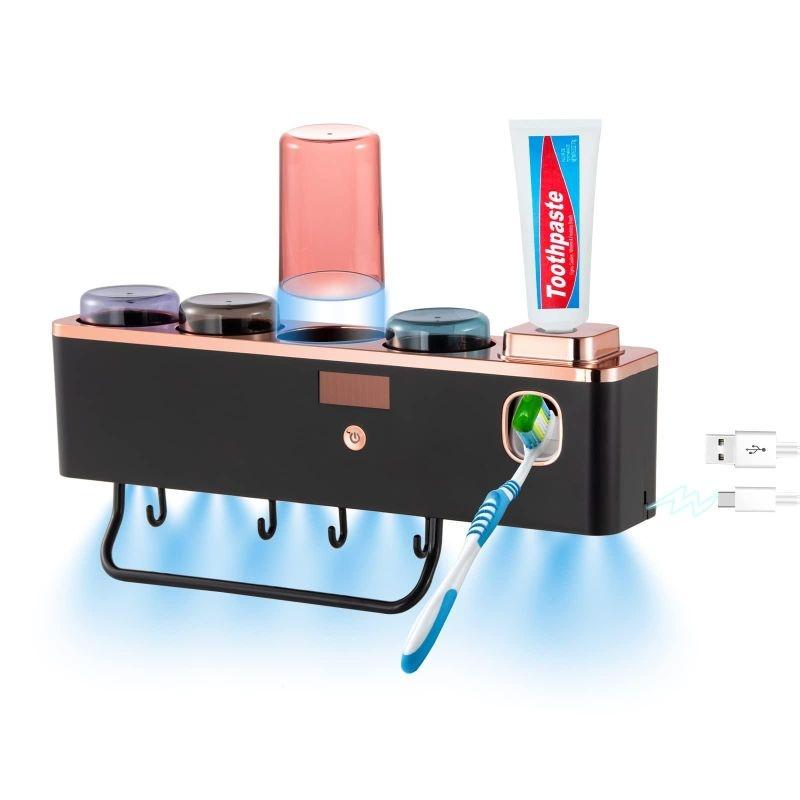 SwissSpin Wall Mounted UV Toothbrush Sanitizer
Sanitize and organize your bathroom with UV toothbrush holder
Highlights
Kills up to 99.9% of bacteria on toothbrushes using UV light technology
Wall mounted design saves space and keeps toothbrushes organized
Glossy finish adds a sleek and modern touch to any bathroom
Can hold up to 4 toothbrushes at once, perfect for families or roommates
Made from durable ABS material for long - lasting use
SwissSpin brand ensures high quality and reliability
SwissSpin has unleashed a modern solution to oral hygiene with their Wall Mounted UV Toothbrush Sanitizer. It's an excellent choice for the man concerned about cleanliness, designed uniquely with 2pcs UVC LED and 8pcs UV LEDs that effectively kill up to 99.9% of germs, viruses, and bacteria on your toothbrushes in just five minutes. This level of sanitation ensures you're not reintroducing harmful bacteria into your mouth each time you brush your teeth.
It offers more than just disinfection; its design includes a toothpaste dispenser and storage for four toothbrushes plus additional hooks for other bathroom essentials — truly an all-in-one bathroom organizing tool. What sets it apart as our No.2 pick is its ingenious automatic charging system from built-in solar panels when exposed to light supplemented by a USB rechargeable option providing less hassle in maintenance compared to others on the list.
Championing health while cutting back on clutter makes SwissSpin's Wall Mounted UV Toothbrush Sanitizer particularly appealing for men who value efficiency and effectiveness - perfect addition whether at home or even hotels! Not only does it help maintain oral health by eliminating harmful bacteria but also provides an organized space, enhancing aesthetic appeal without needing any drilling installation thanks to their strong magic sticker attachment method.
Features
Safer and healthier oral hygiene: Our SwissSpin Wall Mounted UV Toothbrush Sanitizer uses UVC light to effectively eliminate bacteria, germs, and viruses that can cause oral diseases. By using our sanitizer, you can brush your teeth with peace of mind knowing that it is protecting your dental health.
Convenient rechargeable design: No need to constantly replace batteries. Our toothbrush sanitizer holder has a built-in solar panel and a 1200mAh Polymer Lithium Battery that can be easily charged using the included USB cable. This means you'll always have a fully charged sanitizer ready to use.
Easy installation without damaging walls: Say goodbye to drilling holes in your bathroom walls. Our toothbrush sanitizer comes with strong magic stickers that allow for seamless pasting on smooth surfaces like wood, tile, glass, or metal walls. It's a hassle-free way to keep your bathroom organized without any damage.
Versatile space-saving organizer: In addition to sanitizing up to 4 toothbrushes at the same time, our SwissSpin wall-mounted sanitizer also includes 4 cups for mouthwash or storing other items, as well as hooks and a hanger for organizing daily gadgets. It's an all-in-one solution for keeping your bathroom neat and tidy.
Efficient disinfection in minutes: With 2pcs UVC LED lights and 8pcs UV LED lights, our toothbrush sanitizer can quickly kill up to 99.9% of germs, viruses, and bacteria on your toothbrushes and
This product is perfect for those who want to stay healthy and keep their bathrooms organized! The SwissSpin Wall Mounted UV Toothbrush Sanitizer offers a convenient way to sanitize your toothbrushes and daily gadgets with its UVC LED light, automatic toothpaste dispenser, 4 cups, 4 hooks and hanger. Get it now so you can brush your teeth healthily!
Price: $37.98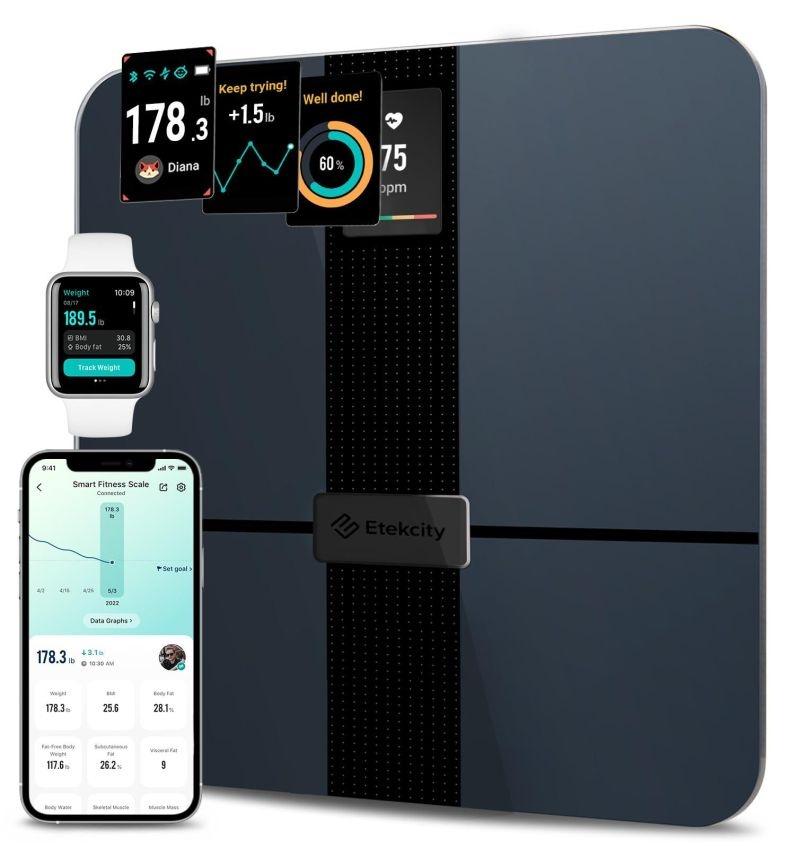 Etekcity Smart WiFi Scale With Mobile App
Ultimate Connectivity: Track and analyze your body metrics with ease.
Highlights
Smart WiFi scale with mobile app for easy tracking and monitoring of your weight and health goals
Allows you to conveniently sync data with your smartphone or tablet via WiFi connection
Provides accurate and precise measurements up to 4.3 pounds, helping you track even small changes in weight
Features a sleek and compact design with dimensions of 11.8 x 11.8 x 1.1 inches, fitting seamlessly into any bathroom decor
Powered by a lithium-ion battery that comes included, ensuring hassle-free operation without the need for constant battery replacements
Manufactured by Etekcity, a trusted brand known for their high - quality health and household products
The Etekcity Smart WiFi Scale is not your ordinary bathroom scale. This product ranks No. 3 in our list for its impressive array of advanced features that are all geared towards helping you achieve your fitness goals with consistency and accuracy. Our team was particularly amazed by the full biometric analysis this device can perform, checking 14 key health indicators including body fat percentage, muscle mass, and heart rate- making it an excellent tool for men who are on a mission to shed excess weight or build muscles.
One major attraction of the Etekcity Smart WiFi Scale is its sleek design combined with practical functional elements such as zero-current mode and baby mode - two distinct settings aimed at providing safe measurements during pregnancy or tracking growth metrics for babies or even pets! Its compatibility with popular health monitoring platforms like Apple Health, Google Fit, Fitbit allow seamless integration for users already using these services – another factor that made it clinch the third spot in our selection. Additionally, it carries FSA/HSA Store approval which adds more credibility to its claim of delivering accurate results.
A standout feature though would have be the unique immersive app experience offered through VeSync where users can set their weight loss or gain goals and monitor progress via data graphs; The 'Ask Alexa' function also makes upkeep easier than ever before: just shout out how much weight you lost this month directly to Alexa! The fun, interactive display system keeps motivation high without needing phone access each time- All measurements sync automatically over a wifi connection providing yet another hassle-free layer to user convenience offered by this digital marvel from Etekcity.
Features
No batteries needed: Say goodbye to constantly replacing batteries with the Etekcity Smart WiFi Scale. This innovative scale can last up to 6 months on a single charge, even when used an average of 3 times per day. You'll save time and money by not having to buy or change out batteries frequently.
One scale for the whole family: With unlimited user profiles, this scale is perfect for your entire family's fitness journey. Use Zero-Current Mode during pregnancy to safely measure weight and BMI, and track your baby or pet's growth with Baby Mode. This versatile scale is designed with everyone in mind, making it a valuable tool for every member of your household.
Consistent accuracy: The upgraded ITO-coating on the Apex scale ensures accurate results every time you step on it. No more guessing or questioning the reliability of your measurements. Let this scale guide your feet to the right place and enjoy consistent accuracy that you can trust.
Immersive app experience: Take control of your health goals with the immersive app experience offered by the Etekcity Smart WiFi Scale. Set goals, track progress through data graphs, and sync information seamlessly with popular health apps like Apple Health, Google Fit, FitBit, MyFitnessPal, and Samsung Health. Rest assured that VeSync will keep all your personal information private; no third parties involved.
Full biometric analysis: Don't just focus on weight alone - get a comprehensive view of your body composition with the Etekcity Apex scale's full bi
The Etekcity Smart WiFi Scale is perfect for those looking to keep track of their body fat percentage, muscle mass and biometric analysis with accurate measurements. With the ability to sync with your Apple Health or Google Fit accounts as well as Alexa voice control, this wifi scale is great for anyone who wants a more connected fitness experience. Get yours today and start tracking your progress!
Price: $79.99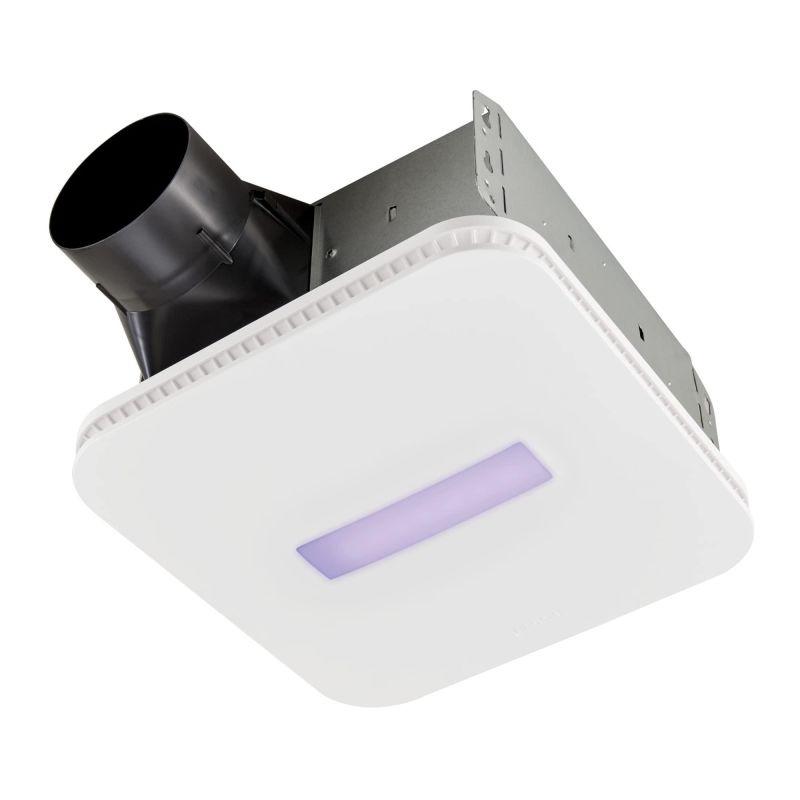 Broan-NuTone SurfaceShield Violet Light Exhaust Vent
Ultimate protection against harmful growth for your bathroom.
Highlights
SurfaceShield Violet Light technology provides antimicrobial protection for better indoor air quality
Roomside installation allows for easy and convenient setup without the need to access the attic
CleanCover design blends seamlessly with any ceiling, adding a modern touch to your bathroom
Powerful exhaust fan with 110 cubic feet per minute air flow capacity for effective ventilation
Integrated LED module offers energy - efficient lighting while taking up minimal space
Wall control switch allows for easy operation and adjustment of fan speed
The Broan-NuTone AR110LKVV SurfaceShield exhaust vent is an excellent choice for any homeowner looking to enhance their home's air quality. It comes with a powerful ventilation function, which effectively eliminates the risk of build-up in up to 105 sq. ft. bathrooms, keeping your space fresh and breathable at all times. It features a sleek white grille that blends easily with most ceiling paints, adding both functionality and aesthetics to your bathroom.
Notably, this product is powered by SurfaceShield technology — a one-two punch solution against harmful growth within the bathroom environment. Moreover, it incorporates Vital Vio LED lights: an everyday white for task lighting plus a Violet Light mode that continuously works towards preventing surface growths when active. The device also showcases an EzDuct connector for hassle-free installation without requiring attic access - perfect for DIY enthusiasts desiring efficient room-side setup! Powered by a continuous operation AC motor and encased in corrosion-resistant galvanized steel housing ensures durability while providing valuable health protection.
This innovative combination of Broan-NuTone's powerful ventilation and disinfecting light introduces new standards in maintaining cleanliness and comfort at home—especially beneficial during these times where indoor hygiene has never been more important! Whether you're upgrading from an older model or installing one anew, the Broan-NuTone AR110LKVV SurfaceShield delivers reliable performance without compromising style—a top-notch investment indeed!
Features
Elegant and Functional Design: The Broan-NuTone SurfaceShield Violet Light Exhaust Vent features a sleek design with bright white grilles that effortlessly blend in with any ceiling paint. This not only adds a touch of elegance to your bathroom decor but also helps the vent stay cleaner for longer periods, saving you time and effort on maintenance.
Easy Installation: With its EzDuct connector, this exhaust vent can be easily retrofitted into existing setups without requiring access to the attic. This means you can install it entirely from the room-side, making installation quick and hassle-free.
SurfaceShield Technology: The SurfaceShield technology utilized in this vent offers powerful protection against harmful growth within your home. By combining this advanced technology with Broan's effective ventilation system, you can rest assured knowing that your bathroom is safe from mold and other contaminants.
Powerful Ventilation: Equipped with a powerful exhaust fan, the Broan-NuTone SurfaceShield Violet Light Exhaust Vent effectively removes excess moisture and reduces the risk of build-up in bathrooms up to 105 sq. ft. This not only helps maintain optimal air quality but also aids in preventing damage caused by moisture accumulation.
Compliance with State Requirements (Massachusetts): If you are purchasing this product in Massachusetts, we recommend opting for the Broan-NuTone AE110L model as it meets state requirements. By choosing a compliant option like this one, you ensure that you are following regulations while still enjoying all the benefits offered by the SurfaceShield Violet
This Broan-NuTone SurfaceShield Violet Light Exhaust Vent is perfect for any homeowner looking to protect their bathroom from mold and mildew with its powerful ventilation fan and SurfaceShield technology. Get improved air quality in your home now!
Price: $159.00
LC-dolida Waterproof Shower Phone Holder
Waterproof phone holder for hands-free convenience in wet environments.
Highlights
Waterproof & Anti-fog Protection: This shower phone holder is designed to keep your phone safe and dry even in wet environments.
480° Rotation: The holder can be rotated 480 degrees, allowing you to find the perfect viewing angle for your phone while showering or bathing.
HD High Sensitivity Touch Screen: You can easily interact with your phone's touch screen through the clear and sensitive material of the holder.
Universal Compatibility: It is compatible with a wide range of smartphone models including iPhone, Samsung Galaxy, LG, Motorola, Google Pixel, Huawei, Xiaomi, Nokia and more.
Easy to Install: The wall mount design makes it easy to install this phone holder in your bathroom without any complicated setup.
Case Form Factor: The case form factor of this phone holder ensures that it provides full protection for your device while also being convenient to use.
The LC-dolida Waterproof Shower Phone Holder is a game-changing gadget that every man with an active lifestyle will find stunningly useful. Its robust adhesion can support devices weighing up to 4.5lbs, ensuring your cell phone stays securely attached and safe from potential damage while you use it in high-moisture environments like the shower or kitchen. As one of the notable features, this waterproof case mount has a 45° open angle design, making it effortless to insert smartphones; indeed, any model measuring between 4 to 6.8 inches fits perfectly. This means whether you're using iPhone models ranging from the iPhone X series to iPhone 13 Pro Max or Samsung Galaxy S21 series as well as other brands like Moto G Play and Google Pixel.
What makes it more appealing is its HD touch screen feature which maintains your device's original response sensitivity even when enclosed within the holder - so you can slide through news articles or text messages without any hassle while standing under a spray of water! Another innovative feature is the product's ability for full rotation up to 480 degrees - imagine switching between apps or changing tracks on your music playlist without having to wrestle with awkward phone angles.
But perhaps what truly sets this LC-dolida item apart from other holsters is its outstanding waterproof quality combined with anti-fog technology built specifically for wet environments: relish catching up on your favorite Netflix shows without fogged-up screens obstructing view! Even better? Enjoy crisp clear audio during video playbacks thanks partly due to ABS material used in construction which helps minimize distortions caused by water droplets hitting surfaces near speakers area – now who said multitasking might not be efficient after all?
No matter how busy we are rushing through our daily chores or simply trying unwind after tiring day at work -- this little masterpiece promises keep us entertained anywhere anytime thereby making whole experience smoother!
Features
Strong adhesion with a phone case that can support up to 4.5 lb, ensuring your phone stays securely in place even in wet environments.
No more worries about dropping your phone while using it in the shower, bathtub, pool, or hot tub. Enjoy your favorite entertainment without fear of water damage.
Universal compatibility allows for use with a wide range of smartphones from the latest iPhone models to Samsung Galaxy and Google Pixel devices.
The HD touch screen provides exceptional sensitivity and responsiveness, allowing you to easily navigate through apps, watch videos, and listen to music while in the shower or bath.
The 480 degrees rotating design offers ultimate flexibility, allowing you to position your phone at any angle for optimal viewing experience. Whether you're watching videos or making calls, this feature ensures convenience and comfort.
With its double-layer waterproof structure and anti-fog properties, this shower phone holder is built to withstand moisture and steam. You can confidently bring your phone into the bathroom without worrying about damage caused by water or condensation on the screen.
This LC-dolida waterproof shower phone holder is perfect for anyone who wants to stay connected while in the bathroom, kitchen, or pool. With its powerful adhesion and adjustable angles, it's the ideal way of taking your mobile device everywhere you go without fear of dropping! Get this must-have accessory today and enjoy taking your phone with you on all your adventures.
Price: $16.99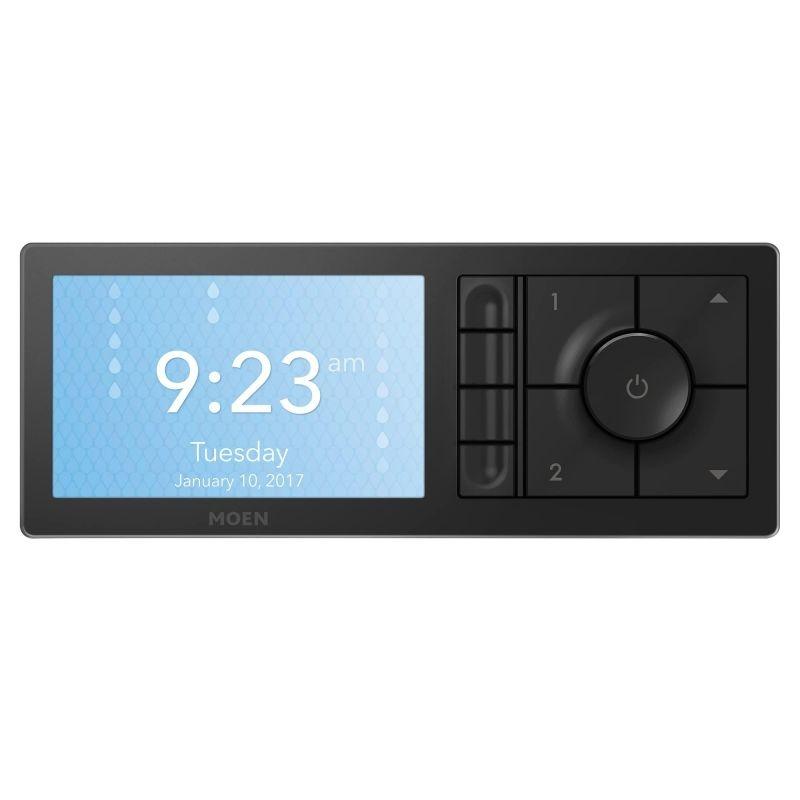 Moen Digital Shower Controller
Luxury shower control with voice assistance and customizable temperature.
Highlights
Brass handle material for durability and a luxurious feel
Matte black finish adds a sleek and modern look to your bathroom
Wall - mounted installation method saves space and allows for convenient access
4 outlet controller provides versatility for customizing your shower experience
Limited lifetime warranty ensures peace of mind and long - lasting performance
Digital controller offers easy-to-use and precise control over water temperature and flow
The Moen Matte Black Smart Shower 4-Outlet Digital Shower Controller offers the luxury of a personalized, high-tech experience right in your shower. This Wi-Fi enabled shower controller does more than just change water temperature and operate four outlets - its electronic controls allow you to pinpoint your preferred settings for a truly bespoke shower experience. Built with longevity in mind, backed by Moen's Limited Lifetime Warranty, you can trust that this investment will stand up to daily wear and tear.
One of the most impressive features is this product's integration with voice assistants like Amazon Alexa, Apple Siri/HomeKit, Google Assistant as well as U by Moen smartphone apps making it highly convenient for a guy on-the-go. Imagine waking up groggy but being able to start your shower from bed using only your voice or phone app; now that's true modern convenience! Even better? You can save up to 12 presets on the app ensuring everyone in the house gets their perfect shower at any time. Moreover, when your desired water temperature is reached, it automatically pauses saving both water and energy until you're ready to hop in.
In conclusion: This high-end digital thermostatic controller adds both sophistication and functionality into any bathroom setting courtesy of its sleek matte black finish and cutting-edge technology. The TS3304BL model redefines relaxation letting you control every aspect of your showering routine offering an opulent spa-like atmosphere right at home.
Features
Backed by Moen's Limited Lifetime Warranty: With Moen's trusted reputation and commitment to quality, you can have peace of mind knowing that your digital shower controller is built to last. The limited lifetime warranty ensures that you are protected against any defects or issues with the product.
Water-saving feature: The U by Moen digital shower controller includes a water-saving feature that notifies you when the shower temperature is ready. This not only saves time but also prevents water wastage as it automatically pauses the water flow until you are ready to get in. So, say goodbye to standing around waiting for your shower to warm up and hello to a more efficient and eco-friendly routine.
Soft touch buttons: Featuring easy-to-read 5" non-touch LCD screen with soft touch buttons, this digital shower controller offers a seamless user experience. Say goodbye to fumbling with knobs or dials - simply press the soft touch buttons for precise control over four outlets, power settings, temperature adjustments, and preset selections.
Voice assistance: Take control of your shower experience like never before with voice assistance capabilities. Compatible with Amazon Alexa, Apple Siri/HomeKit, Google Assistant, and U by Moen smartphone apps (available in the US and Canada), you can now effortlessly control your shower remotely using just the sound of your voice. It's convenience at its finest.
Full customization: Experience truly personalized showers with this digital shower controller's electronic controls. Adjusting water temperature has never been easier - simply use pinpoint accuracy for complete customization according to
This product is perfect for the modern and tech-savvy homeowner. It allows you to control your shower with your voice and customize temperatures with advanced accuracy, all while looking great in a Matte Black finish. Get the Moen Digital Shower Controller today and bring luxury into your own home!
Price: $469.00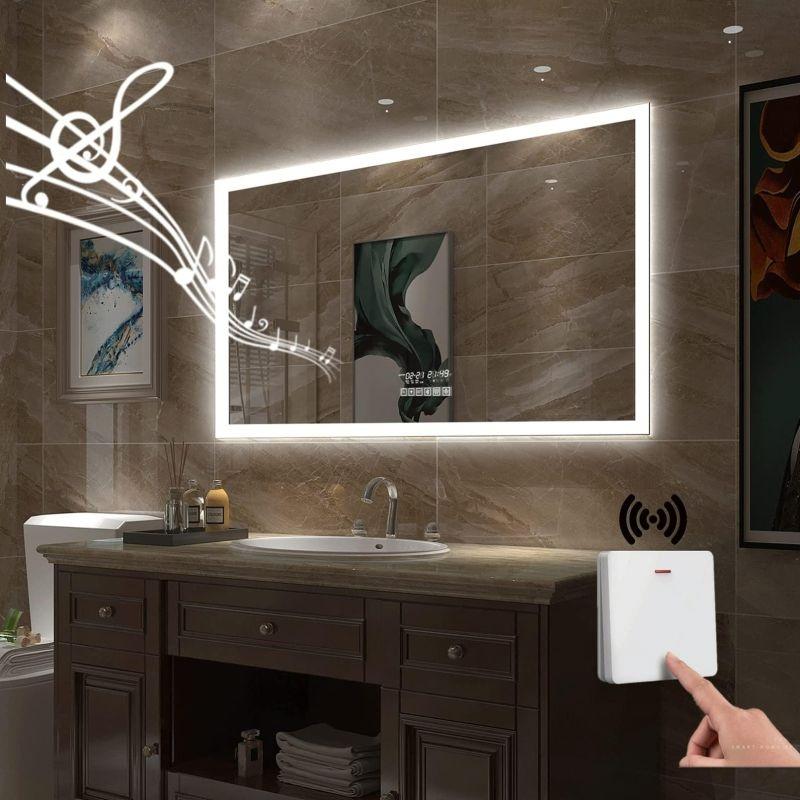 GESIPOR Smart Mirror
Luxurious and Convenient Bathroom Mirror with Wireless Speaker
Highlights
Aluminum frame for a sleek and modern look
Large product dimensions (60"L x 36"W) to provide ample mirror space
Rectangular shape, perfect for any bathroom design
Specifically designed for use in bathrooms, enhancing functionality
Produced by the trusted brand GESIPOR
Smart features add convenience and innovation to your daily routine
The GESIPOR Smart Mirror is an innovation worth every man's investment. This 60"x36" bathroom LED mirror serves multiple functions beyond a typical vanity mirror, making your morning routine not only easy but enjoyable as well. The stand-out feature that catches the eye of many men is its built-in wireless speaker. Elevate your private time in the shower with your favorite playlist or stay updated with the day's news by simply connecting it to your phone or tablet.
This sleek and modern design also offers practicality with unique features like its anti-fogging function and dimmable light options ranging from warm light to daylight. After shaving or taking a steamy hot shower, there won't be any need for constant wiping off fog from the surface because it stays clear regardless of humidity levels in the room.You can also adjust brightness depending upon your personal preference and mood while grooming or applying skincare products.
To sum up, Gesipor LED illuminated bathroom mirror is a game-changer that seamlessly combines style, functionality, and luxury into one product; creating a personalized space where men can indulge in self-care routines comfortably. It's reliable too - backed up by three years warranty promising durability even after 30000 hours of use!
Features
High Quality, Strong Packing: Our GESIPOR Smart Mirror has undergone extensive testing and comes with a 3-year warranty for any defects. With a 7-layer corrugated box and Styrofoam packaging, it's designed to withstand drops and ensure safe delivery. The mirror itself is made of durable materials that won't fade or rust over time.
Modern Design with Wall Switch: The GESIPOR Smart Mirror features a sleek design that adds elegance to any bathroom or living space. It comes with a remote switch for easy on/off control, allowing you to customize your lighting experience without the need for additional wiring or switches.
Wireless Speaker: Take your shower experience to the next level by connecting your phone or tablet to the built-in wireless speaker in our smart mirror. Enjoy 360-degree surround sound while getting ready or even answer phone calls with the touch of a button. It's like having your own personal entertainment system right in your bathroom!
Multifunctional Mirror: Our GESIPOR Smart Mirror offers more than just reflection. With its time and temperature display, defogger function, and anti-leaking stripe tape, it provides added convenience and functionality. Say goodbye to foggy mirrors after every shower and enjoy clear visibility at all times.
Warm Light and Daylight Options: Proper lighting is essential when preparing for the day ahead or winding down at night. Our smart mirror allows you to adjust between warm light and daylight settings with just a simple press-and-hold action.
This cutting-edge GESIPOR Smart Mirror is best suited for tech-savvy and modern homeowners who seek a secure, convenient, and luxurious way to brighten up their bathroom. With its wireless speaker, remote switch control, adjustable warm light & daylight brightness, anti-fogging function, time & temp display and more features - it's the perfect addition to your home! Buy now to add luxury with a modern touch!
Price: $449.99
Benefits of Bathroom Tech Upgrades
Bathroom tech upgrades offer improved hygiene, energy efficiency, and convenience. Whether you are working with a designer and contractor like https://www.newbathtech.com/ to do a more complex upgrade or simply adding a smart mirror or hanging a toothbrush caddy, adding tech to your bathroom can make things easier, healthier, and more fun.
Improved hygiene and cleanliness
Smart bathroom gadgets elevate your hygiene and cleanliness to a new level. With touch-free, self-cleaning features, smart toilets reduce the need for manual operation and physical contact.
Say goodbye to traditional tasks like flushing or controlling the seat. Advanced toothbrushes zap away germs with ultraviolet lights, leaving you with an assured clean feel every time.
Self-operating bidets maintain a consistently fresh environment by minimizing bacterial presence in your toilet area. This advanced technology guarantees sanitary conditions, making your bathroom experience not only more hygienic but also enjoyable.
Energy and water efficiency
Smart bathroom technology ushers in energy and water efficiency like never before. Your daily morning showers may rake up quite a bit on your utility bills, but smart shower technologies can control water usage efficiently, shrinking that bill.
Need to reduce your carbon footprint? Sustainable bathroom tech upgrades are game-changers with their capacity for water conservation and lower power consumption. Picture this: an eco-friendly home improvement where you're conserving resources without compromising comfort or convenience.
The adoption of these efficient home solutions not only makes for cost-effective bathroom upgrades but also paves the way towards sustainable living.
Convenience and comfort
Smart bathroom technology upgrades significantly enhance the convenience and comfort of daily routines. Imagine a temperature-controlled shower that heats up to your preferred temperature just as you walk into your bathroom in the morning, or voice-activated lighting controls that adjust based on time, mood, or specific tasks.
The smart toilets flush automatically reducing contact with germs while motion sensor faucets and touchless soap dispensers ensure hygiene without sacrificing efficiency. Even something as simple as an automatic air freshener adds to a more pleasant environment.
Bathroom automation takes care of these little things for you, leaving you free to relax and enjoy the superior comfort offered by such high-tech restroom features.
Compatibility with existing smart home systems
To ensure a seamless integration of bathroom tech upgrades into your smart home, it's essential to consider their compatibility with your existing system. This means assessing whether the devices can seamlessly connect and communicate with your home automation setup.
Evaluating the compatibility will help simplify the purchase and setup process, allowing you to enjoy the benefits without any unnecessary complications. So before making any decisions, make sure to assess how well these bathroom tech upgrades align with your current smart home network.
Conclusion
Upgrade your bathroom with these cutting-edge technologies to create the ultimate smart home experience. From the SmartBidet SB-3000 Electric Bidet Toilet Seat for hands-free cleaning to the SwissSpin Wall Mounted UV Toothbrush Sanitizer that kills bacteria on toothbrushes, these products offer convenience, hygiene, and durability.