Written by:
James Hills
Created: 17 July 2021 Last Updated: 17 July 2021
Trending
Hits: 1534
Reading time: 05:56
Do you find yourself longing for keto-friendly dishes that can be made in under 30 minutes? Well, we've got just the dish for you. This Bourbon Chicken and Shrimp recipe is a keto-friendly take on surf and turf is a quick, delicious dinner option that will keep you feeling full and your tastebuds happy. If this sounds like your kind of dish, then find the recipe here! It's easy to make and it even tastes good reheated for lunch tomorrow.
When you think of easy chicken breast recipe, you probably think of something like baked chicken breasts. You pair them with some rice or a baked potato and a vegetable, and you've got a meal. It's okay. If you season it up, it's not too bad.
When you think of shrimp, you probably think of things like skewers or even the classic shrimp with cocktail sauce. Again, it's okay. It's been done a million times, but it's still good.
How about a chicken and shrimp recipe that's not "meh"? Something that actually tastes the way you want something to taste – rich and full of flavor? How about something that's both of those things without taking a ton of time to make? That's what you get with this bourbon chicken and shrimp.
We're counting this as a keto-friendly meal even though it may be higher in net carbs than some other keto recipes out there. For instance, this recipe uses a small amount of molasses and cornstarch as well as a medium-sized onion. All three of these do include carbs. However, the amount used and the flavor benefits they provide outweighs the normal restriction as far as we're concerned. Just be careful to consider your total carb consumption on either side of this delicious meal.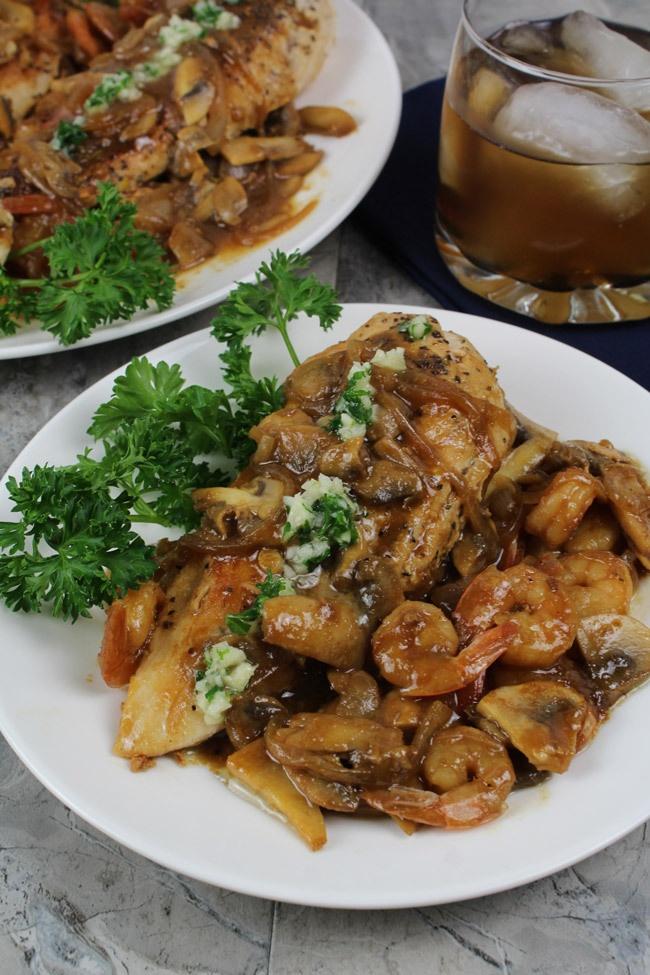 One thing that isn't a "cheating" is bourbon. While many men considering a keto diet believe that spirits such as whiskey, rum, vodka etc. are not keto-friendly, distilled spirits actually have no net-carbs. They do have calories due to the alcohol but in terms of being keto-friendly, a small amount of bourbon in a recipe like this isn't going to make a difference. Plus, most of the alcohol will be cooked off during the preparation process, leaving only the delicious flavor behind.
Healthy And Delicious
One of the best things about this recipe is that it is healthy without being bland. Most healthy recipes tend to be dry, devoid of flavor, and just not very much fun, in general. This recipe is anything but bland, however. It's loaded with protein which makes it great for a tasty hearty dinner that's heavy on flavor but not on extra carbs, and the leftovers are perfect for taking to lunch the next day.
A Family Dinner Favorite, Simple To Prepare Quickly
It only takes a few ingredients to make, so it's not just delicious, it's easy. If you're anything like us, you're all about the easy. Who wants to spend a million years in the kitchen? No, no. We want our food delicious, fast, and easy. With 30 minutes of prep and 30 minutes of cooking, you'll have a big, fat plate of deliciousness fast and with minimal work. Winner, winner chicken (and shrimp) dinner!
Side Dishes And Food Pairings
This chicken and shrimp is delicious on its own, but it's even better with vegetables like asparagus, green beans, or brussels sprouts. If you aren't the carb-conscious type, pair this dish with rice or a baked potato, for a hefty meal perfect for getting you through the afternoon, a big workout, or just a much-needed recharge after a hard day at work.
An Easy Recipe that Satisfies
Whether you're looking for a tasty new recipe to add to your keto collection or just a hearty, meaty meal to satisfy your big appetite, this bourbon chicken and shrimp has it. Pair it with some vegetables for a healthy, low-carb meal or add rice or a baked potato for an absolute feast of a meal. Either way, you can't go wrong.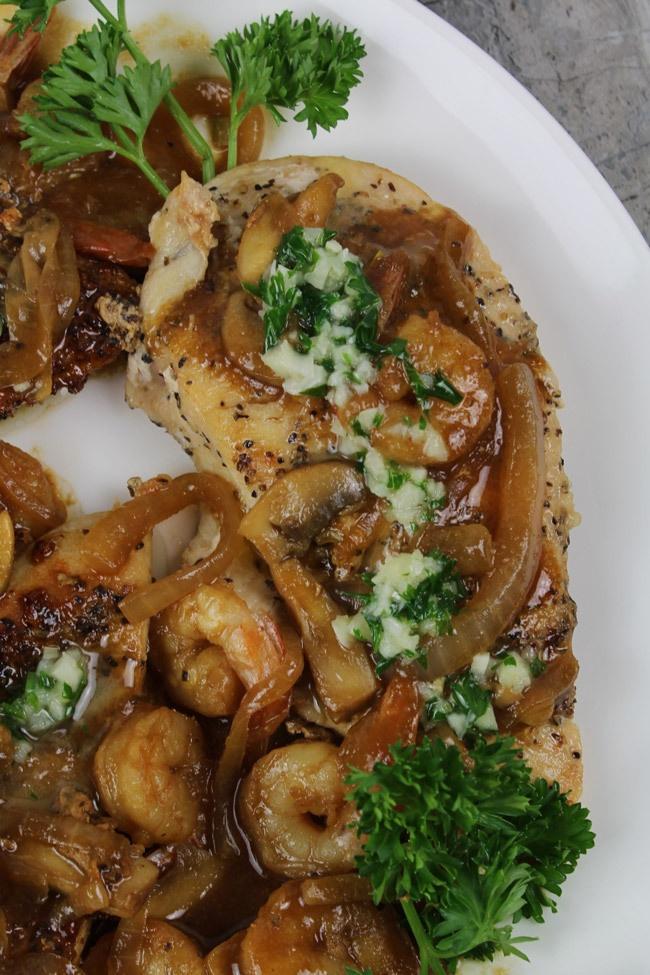 Bourbon Chicken and Shrimp Recipe
prep time: 30 minutes cook time: 30 minutes
serves four
Ingredients:
4 boneless, skinless chicken breasts, flattened to 1/2 inch thick
1 pound of cooked frozen peeled shrimp with tails, thawed, rinsed, tails removed
salt and pepper to taste
2 tbl butter
2 tbl olive oil
for the garnish:
2 tbl butter
1/2 tsp fresh parsley, minced
2 cloves of garlic, minced
for the mushrooms and onions:
2 tbl butter
2 tbl olive oil
8 ounces Portobello mushrooms, sliced
1 medium onion, thinly sliced
for the sauce:
2 tbl sugar (or 2 tbl of 1:1 stevia powder)
1 tbl molasses
2 tbl hickory liquid smoke
2 tbl Worcestershire sauce
1 tsp creamy horseradish
1 tbl lemon juice
1/4 cup of bourbon
1 tsp onion powder
1/2 tsp garlic powder
2 tsp cornstarch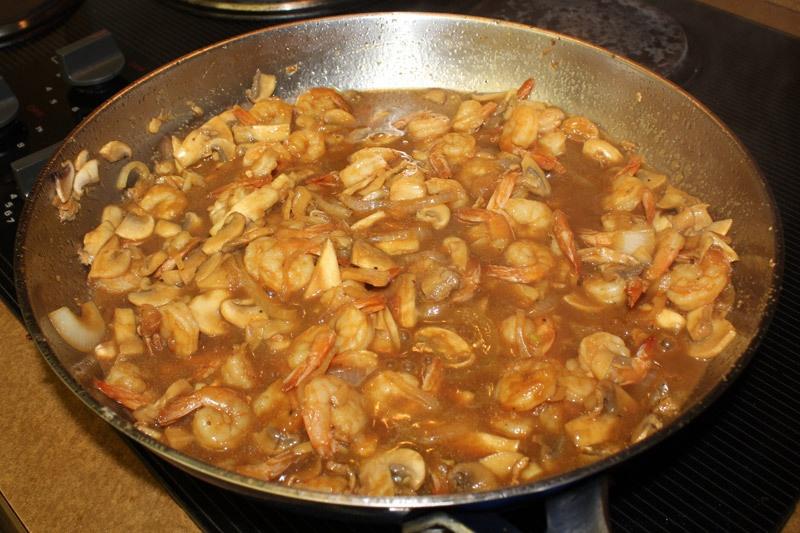 Preparation:
Mince your garlic and parsley and soften 2 tbl of butter in the microwave. Combine the softened butter with the parsley and minced garlic. Cover and place the bowl in the refrigerator to harden while you make the rest of the recipe.
Wrap your chicken breasts in plastic wrap and flatten them to 1/2 inch thickness with the flat side of a tenderizing hammer.
Apply salt and pepper to both sides of the chicken. Let this set for 15 minutes while you prepare the sauce mixture and slice up the mushrooms and onions.
Remove the tails from the shrimp, to save your diners the trouble.
Melt 2 tbl of butter in 2 tbl of olive oil in a large skillet over medium high heat and sauté the chicken until its internal temperature reaches 180 F. I cook each side for about 8 minutes, and if they need it, another 3 to 5 minutes per side.
Remove the chicken from the skillet to a plate, cover with aluminum foil and keep it warm.
Add the mushrooms and onions to the skillet and add more butter or oil, if needed, to make about 2 tbl of oil in the pan. Sauté the mushrooms and onions over medium heat until the onions have pearled.
Stir the sauce mixture well to make sure all parts are well mixed and add it to the skillet with the mushrooms and onions. Add the shrimp at this time, too. Bring the mixture to a boil while stirring and remove it from the heat when the sauce thickens.
Serve the chicken warm and covered with the mushroom and onion sauce and top each chicken breast with a teaspoon of the garlic and parsley butter you made earlier.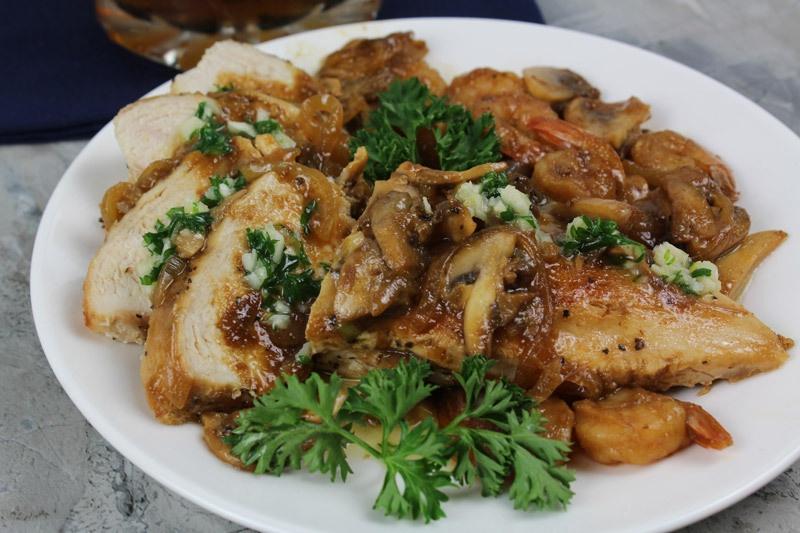 This keto-friendly take on surf and turf is a quick, delicious dinner option that will keep you feeling full. If this sounds like your kind of dish, then find the recipe here! It's easy to make, doesn't require many ingredients (bonus!), can be made in under 30 minutes—and it even tastes good reheated for lunch tomorrow. So go ahead and try out one of these recipes or come up with something new from scratch. No matter what you do, just remember to have fun while cooking! We hope you enjoy this bourbon chicken with shrimp recipe as much as we do!
---