Written by:
James Hills
Created: 10 June 2023 Last Updated: 16 June 2023
Hot!
Hits: 656
Reading time: 15:46
Summer is the perfect time for fathers and sons to bond, create lasting memories, and explore new adventures together. What better place to do that than in New York City, a bustling hub of entertainment, culture, and excitement? In this blog post, we'll take you through some fantastic father-son trip ideas in the Big Apple - from iconic attractions like Central Park and Times Square to thrilling outdoor activities on the Hudson River.
Key Takeaways
New York City is an ideal destination for a father - son trip due to its diverse range of attractions and activities. From iconic landmarks like the Statue of Liberty and Ellis Island to thrilling outdoor activities such as kayaking on the Hudson River, there's something for everyone.
Top attractions in NYC for father - son bonding include visiting famous landmarks like Central Park, Empire State Building, Broadway shows, Times Square and educational experiences such as those available at museums or conservancies that cater to various interests.
For adventure seekers looking for outdoor activities in New York City, biking in Central Park or kayaking on the Hudson River are two must-do options. Exploring High Line Park provides exciting opportunities ranging from walking or jogging to people-watching and admiring art installations.
Note: The article has more than three takeaway points; these are just some of the highlights extracted from it.
Why Choose New York City For A Father-Son Trip?
New York City is an ideal destination for a father-son trip because of its wide array of attractions and activities that cater to different interests. From iconic landmarks like the Statue of Liberty and Empire State Building to thrilling sports events at Yankee Stadium or Madison Square Garden, there's something in this bustling metropolis for every duo looking to create unforgettable memories.
One aspect that makes New York City unique is its diverse food scene, allowing fathers and sons to explore various cuisines throughout their stay. Food tours are available in different neighborhoods, providing opportunities not only to savor mouthwatering dishes but also immerse themselves in the rich culture these areas have to offer.
In addition to these exciting adventures, taking in a Broadway show or attending a comedy club performance can be an enriching cultural experience both will cherish forever.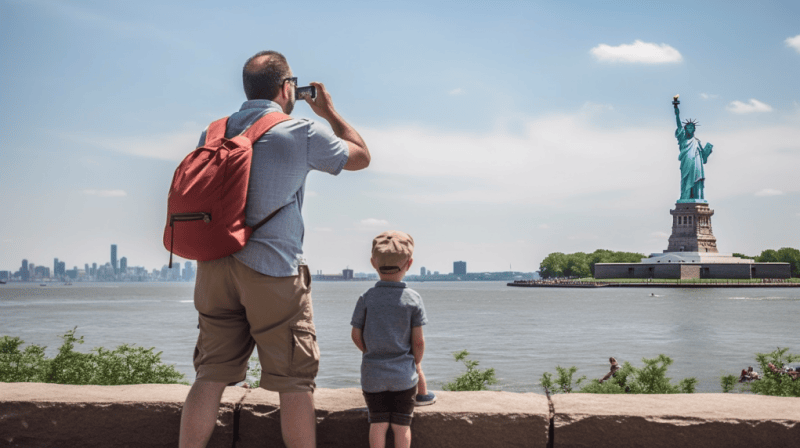 Top Attractions For Father-Son Bonding In New York City
Visit famous landmarks such as the Statue of Liberty and Ellis Island, explore Central Park while biking or walking, stand on top of the Empire State Building for breathtaking views, catch a Broadway show together, and stroll through Times Square - read more to discover additional activities for an unforgettable father-son trip in New York City.
Statue Of Liberty And Ellis Island
A summer guys trip to New York City wouldn't be complete without visiting the iconic Statue of Liberty and Ellis Island. These landmarks offer an incredible opportunity for father-son bonding as you explore the rich history and culture of America together.
The Statue of Liberty, standing tall at 305 feet, symbolizes freedom and has welcomed millions of immigrants since its dedication in 1886.
Ellis Island holds significant importance as it processed over 12 million immigrants from 1892 to 1954. Today, it houses the fascinating National Museum of Immigration where you can trace your ancestors' journeys to America or simply learn about this historical time period through exhibits and interactive displays that provide insights into immigrant experiences during those years.
Central Park
Central Park is the perfect destination for a father-son bonding trip this summer in New York City. This iconic park provides endless opportunities for families to enjoy quality time together, whether it's boating at the Loeb Boathouse, fishing in one of its many ponds or lakes, or simply renting bikes and exploring over 800 acres of green space.
While strolling through the park, be sure to check out educational programs offered by Central Park Conservancy that cater to various interests like horticulture and biodiversity.
Empire State Building
The Empire State Building is a must-visit attraction for any father and son trip to New York City. Completed in 1931, this iconic skyscraper offers an observatory on the 86th floor that provides breathtaking panoramic views of the city.
Standing at a height of over 1,400 feet tall, it was once known as the tallest building in the world until 1971. It has also been featured in numerous films and television shows throughout history, such as King Kong and Sleepless in Seattle.
Besides its impressive stature, the building has a rich history including surviving a plane crash in 1945 and being built during the Great Depression.
Broadway Shows
Broadway shows can be an excellent way for fathers and sons to bond in New York City. From the iconic musicals like Hamilton, The Lion King, Wicked, and Aladdin to plays and dramas that explore a wide range of themes, there's something for everyone.
Watching live performances together provides an opportunity to share emotional experiences as you laugh or cry together with the characters on stage. Fathers and sons get to see top-quality productions with spectacular performances from talented actors, singers, dancers, and musicians.
Some popular Broadway theaters also offer backstage tours where father-son pairs can learn more about what goes into creating these incredible productions behind the scenes.
Times Square
When it comes to top attractions for a summer guys trip in New York City, Times Square is definitely on the list. Known for its bright lights and bustling energy, Times Square offers something for every father-son duo.
From admiring the cityscape from above at the Top of the Rock Observation Deck to catching a Broadway show together, there's never a dull moment in this iconic location. Take a stroll through the area and explore local shops like M&M World or visit Madame Tussauds wax museum for some interactive fun with your son.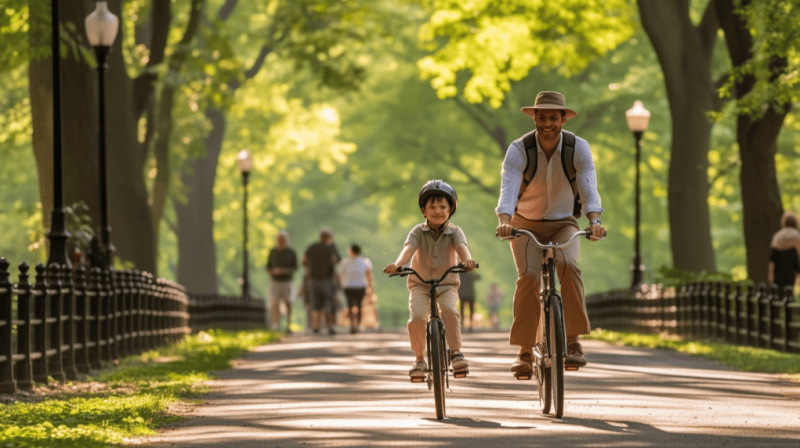 Outdoor Activities For Adventure Seekers
For adrenaline junkies, New York City has plenty of outdoor activities to offer, including biking in Central Park, kayaking on the Hudson River, and exploring High Line Park.
Biking In Central Park
Biking in Central Park is a must-do activity for any father-son trip to New York City. With over six miles of bike paths, you can explore the park's 800 acres of green space and iconic landmarks like Bethesda Fountain, the Great Lawn, and the Central Park Zoo.
Renting bikes, including tandem bikes and guided bike tours are readily available in the park. The Central Park Conservancy offers guided bike tours that provide an educational experience while you pedal through this urban oasis.
You'll also have plenty of opportunity to stop and enjoy everything from playgrounds, sports fields, picnicking areas or even ice-skating during winter times.
Kayaking On The Hudson River
Kayaking on the Hudson River is a must-try outdoor activity on your father and son trip to New York City. The stunning views of Manhattan's skyline, the Statue of Liberty, and various bridges will leave you in awe as you glide through the river.
Hudson River Park is a popular destination for kayaking, offering boat rentals and tours where experienced guides can take you to some of the best spots along the river. Don't forget to bring your camera to capture memorable moments with your dad or son.
Keywords: Kayaking on the Hudson River, Father-Son Trip Ideas, Outdoor Activities in New York City, Summer Guys Trip Ideas
High Line Park
High Line Park in New York City provides an exciting outdoor experience for fathers and sons looking to bond while exploring the city. The park is built on a former elevated railway line, offering stunning views of the Hudson River and iconic NYC buildings like the Empire State Building and Chrysler Building.
The Meatpacking District's High Line Park also hosts events throughout the year for added excitement such as guided tours, stargazing parties and live music performances.
After working up an appetite at High Line Park there are plenty of food vendors and restaurants nearby to grab a bite which makes it convenient for families.
Coney Island
Looking for a fun outdoor activity with your son in New York City? Look no further than Coney Island! This area offers a variety of thrilling rides, games, and food options that are sure to make for a memorable father-son trip.
Take the plunge on the Cyclone roller coaster or Thunderbolt ride, or try your hand at carnival games along the boardwalk. If you're looking to relax, head to the Coney Island Beach and Boardwalk where you can enjoy some sun and sand.
For sports enthusiasts, there are beach volleyball and basketball courts available as well as fishing piers and charter boat options. Don't forget to visit the New York Aquarium which features an array of marine life such as jellyfish, sea turtles, sharks, and more.
Keywords: Coney Island, outdoor activities for adventure seekers in NYC; summer guys trip ideas for fathers & sons; boardwalk with food options; marine life at NY Aquarium; annual Mermaid Parade.
Sports And Recreation
Experience the thrill of watching a Yankee Stadium or Citi Field Baseball Game, play basketball on Madison Square Garden's famous court, or participate in various sports and activities at Chelsea Piers Sports Complex during your trip to New York City.
Yankee Stadium Or Citi Field Baseball Game
Attending a Yankees or Mets game at Yankee Stadium or Citi Field is the perfect summer guys trip idea for fathers and sons alike. These iconic stadiums not only offer exciting sports entertainment but also provide an opportunity to experience America's favorite pastime in a historic setting.
Visitors can take guided tours of either stadium to learn about their rich histories and explore behind-the-scenes areas. Located in convenient locations within New York City, both stadiums are easily accessible by public transportation.
Madison Square Garden
If you and your son are sports fans, attending a basketball game or concert at Madison Square Garden in New York City is an experience that should not be missed. Home to the New York Knicks basketball team and the New York Rangers hockey team, Madison Square Garden is a world-renowned venue with state-of-the-art amenities.
The seating capacity of 20,000 for basketball games and 18,000 for concerts make it one of the largest arenas in the country.
For a truly memorable experience with your son, consider upgrading to VIP packages which can include things like backstage tours where you can meet some players or musicians depending on what event you're attending! Food options are plentiful from classic hot dogs to gourmet cuisine during every event - making sure there's something for all tastes! Plus this iconic venue has undergone several renovations recently- ensuring it's always state-of-the-art and kept up-to-date with modern times.
Don't forget too that it's right in the heart of Manhattan - easily accessible by subway from pretty much anywhere in NYC.
Cultural Experiences
Experience world-class art at the Museum of Modern Art (MoMA), explore the mysteries of space and sea at the Intrepid Sea, Air & Space Museum, or learn about earth's history and biodiversity at the American Museum of Natural History - New York City offers a wealth of cultural experiences for fathers and sons to enjoy together.
Museum Of Modern Art (MoMA)
MoMA is a must-visit destination for any father and son trip to New York City. It is home to over 200,000 unique artworks from all across the globe, including paintings, sculptures, photographs, and media arts.
Some of the most famous artists in history such as Vincent van Gogh, Pablo Picasso, and Jackson Pollock have their works displayed here for visitors to enjoy.
The museum offers free admission on Fridays from 5 pm to 9 pm which presents an opportunity for families on budgets to enjoy this cultural experience without breaking the bank.
Families can also purchase a CityPASS which includes MoMA tickets amongst other attractions throughout NYC.
American Museum Of Natural History
The American Museum of Natural History is a perfect destination for a summer trip with your son in New York City. The museum offers an array of cultural experiences and exhibits covering topics such as evolution, biodiversity, and human cultures.
One must-see exhibit is the famous T-Rex skeleton located at the entrance to the dinosaur exhibit hall. In addition, the 94-foot-long blue whale model hanging from the ceiling in the Milstein Hall of Ocean Life is another popular attraction that visitors can't miss.
Whether you want to learn about prehistoric animals or explore anthropology and human origins, this museum has something for everyone. Guided tours and educational programs are also available to make sure everyone leaves with new knowledge and appreciation for science.
Intrepid Sea, Air & Space Museum
The Intrepid Sea, Air & Space Museum is an amazing place to visit for a father-son summer trip in New York City. Located on the Hudson River, this museum offers exhibits related to history, science, and technology that are sure to fascinate both adults and kids alike.
You can explore the USS Intrepid, a World War II aircraft carrier that's now docked at the museum.
If space exploration is more your thing, then you'll also be delighted by what this museum has to offer. The virtual reality experience here is truly one-of-a-kind! In addition to its exhibitions and displays, visitors can enjoy some delicious food at any of the dining options available within the premises or shop for souvenirs at their souvenir store before leaving.
Food And Drink Adventures
Indulge in New York City's diverse food scene by taking a food tour in neighborhoods like Chinatown and Little Italy, or explore the city's craft beer brewery scene with a tasting tour.
Food Tours In Various Neighborhoods
For a memorable and tasty experience during your father-son summer trip to New York City, consider taking a food tour in various neighborhoods. These tours offer the perfect opportunity for guys' bonding while indulging in some of NYC's best cuisines.
Tour companies like Foods of NY Tours and Urban Adventures provide knowledgeable guides who will take you on an exciting culinary journey through popular neighborhoods such as Little Italy, Chinatown, and Greenwich Village.
You can expect to taste different types of food such as pizza, bagels, dumplings and more while learning about the history and culture of each neighborhood visited.
Craft Beer Brewery Tours
Craft beer brewery tours are the perfect way for fathers and sons to bond over their love of beer and food in New York City. With a rich craft beer scene, there are numerous breweries and brewpubs offering unique and flavorful beers that can be explored through popular tours such as the Brooklyn Brewery Tour, the Brewed in Brooklyn Tour, and the NYC Brewery Tour.
Led by knowledgeable guides who are passionate about the history and culture of beer in New York City, these tours offer an educational experience while tasting some of the best beers around.
Plus, many brewery tours also include stops at local food spots such as pizza places or specialty shops for some added culinary excitement paired with delicious beverages.
Rooftop Bars With Skyline Views
No visit to New York City is complete without experiencing the breathtaking skyline views from one of the city's many rooftop bars. These rooftop bars offer stunning views of some of New York's most iconic landmarks, including the Empire State Building and Central Park.
Visiting the Balcon Rooftop Bar would give you incredible views over the city. As well as views, you can enjoy a luxury experience with their fine drinks list and bold-flavored food menu. You can enjoy a nice lunch or a fancy dinner while sitting back and soaking in the views of NYC.
The vibe at these rooftops are as diverse as the city itself, with each bar offering a unique atmosphere to suit any taste. Whether you're looking for a relaxing spot to unwind with a cocktail or an upbeat rooftop party with live music and entertainment, there are plenty of options available.
Tips For Planning A Father-Son Trip To New York City
Consider staying in a centrally located hotel to save on transportation costs and make it easier to get around the city.
Accommodation Recommendations
For a father-son trip to New York City, finding the right accommodation is key. Midtown Manhattan is a great area to stay in for easy access to popular attractions like Times Square and Central Park.
The St. Regis New York is an ideal luxury hotel option for those who want to splurge on their trip. This iconic hotel offers butler service, spa amenities, and a premier location near Fifth Avenue shopping and Rockefeller Center.
If you're looking for something more budget-friendly, the Pod 51 Hotel in Midtown Manhattan is a great option that doesn't skimp on comfort or style. This trendy hotel features an outdoor rooftop lounge with city views, free bike rentals perfect for exploring Central Park, and cozy pod-style rooms with modern amenities such as flat-screen TVs and individual climate control.
Transportation Options
Getting around New York City with your son has never been easier, thanks to the many transportation options available. The subway system is undoubtedly the most convenient and affordable way to navigate through the city.
With an unlimited MetroCard, you and your son can take unlimited rides on buses and subways.
If you're looking for a more personalized ride-sharing experience, Uber and Lyft services are readily available throughout the city. Biking is another great way to explore different neighborhoods while getting some exercise at the same time.
Finally, walking is perhaps one of the best ways to see what New York City has to offer. With so many attractions within close proximity of each other, taking a leisurely stroll with your son is a great bonding experience as well as a good opportunity for sightseeing.
Budgeting And Saving Money
One of the main concerns when planning a father-son trip to New York City is budgeting and saving money. While New York can be an expensive destination, there are several ways to keep costs down without sacrificing fun experiences.
Consider staying in a hostel or renting an apartment instead of booking a hotel room, as these options can often be more affordable while still providing comfortable accommodations.
Additionally, research free attractions like Central Park and the High Line Park for outdoor activities that won't cost anything. Using discount websites or apps like Groupon or CityPass can also save money on popular attractions and activities such as Broadway shows and museum visits.
Conclusion
New York City is undoubtedly a perfect destination for fathers and sons to enjoy some exciting bonding time. From exploring famous landmarks like the Empire State Building and Statue of Liberty to kayaking on the Hudson River or catching a baseball game, there's no shortage of activities in this city that never sleeps.
But if you're looking for other destinations to consider, try Phoenix with its stunning desert landscapes, Chicago for its art museums and deep-dish pizza or exploring historic sites in the Outer Banks.
---