Written by:
James Hills
Created: 26 July 2020 Last Updated: 20 January 2021
Top Blog
Hits: 2437
Reading time: 03:31
Trying to keep up with work while you are at home during the pandemic and/or quarantine or self-quarantine is difficult enough. It's more problematic when you are trying to balance your duties as a father, a partner and a breadwinner for your family. The following work from home tips for maximizing productivity during quarantine should help.
If Your Children Still Take Naps, Work While They Nap
Sure, most parents would rather be napping while their children nap, but this is actually the best time to be working. You have a general idea of how long they will rest and then you are able to work during that time. The minute you put them down for their naps, begin working. Complete as much as you can in the time they sleep and learn to be flexible when they wake early. If you can multitask what you are attempting to do, such as laundry or dishes in the dishwasher and typing while on the phone, you can have machines do some of the household tasks while you are doing work for pay tasks.
Work for a Few Hours After the Kids Go to Bed at Night
Like naps, or if your kids are too old for naps now, work at night. While you may want to relax rather than work, this may be the only time of day that you can work without interruptions. Set a timer to work about two to three hours, then quit to rest before bed.
Write a Goals List for Work Each Night
Before you go to bed at night, write a list of the tasks you want to complete the next day. This helps you stay organized, stay on task and prioritize work activities and home activities that you know must be done sooner than later. It also helps you remember what needs to be done so that you don't forget and don't forget to do a task. While writing things down seems old-fashioned, studies on productivity suggest that writing things down holds you more accountable for completing those tasks and you are more likely to complete them as you check off each one.
It helps to allocate a certain number of minutes for each task on your list, too. If you know that you have to grocery shop, take the kids to swim lessons, and create a powerpoint presentation for work, assign minutes to each of these tasks based on how long you think it will take for each. Then build a daily schedule around your list.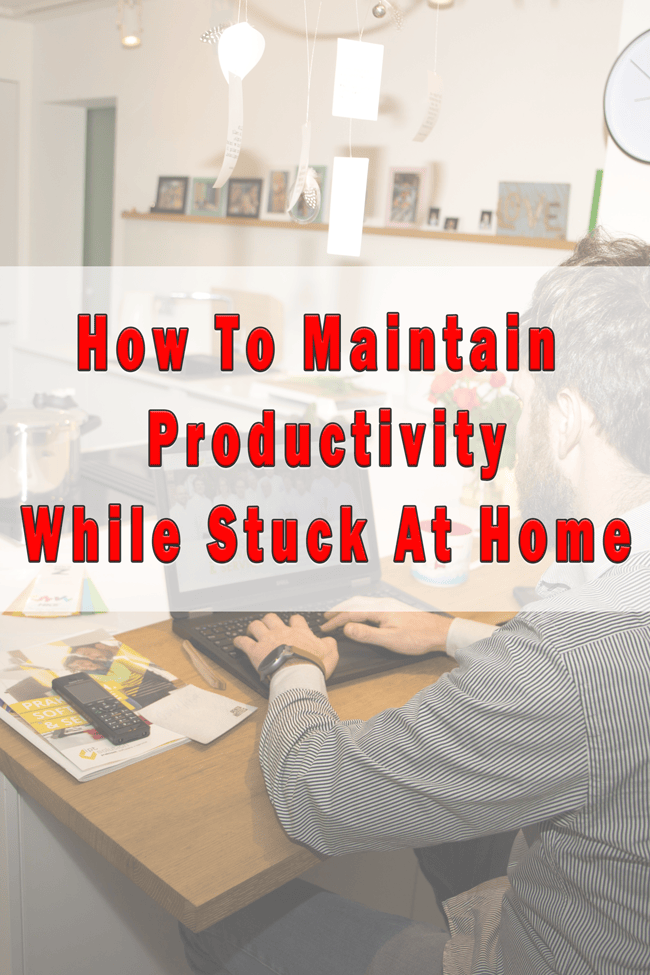 Set up an Area of the House That Is Just for Work
Another important and valuable tip for working at home and productivity is setting up an area that is just for work. If you set aside this one little corner just for working, it helps you stay on task and stay focused. Eliminate distractions in the room, and then make sure the door closes and locks. Put a sign on the door that lets your children know that when the door is closed, you are working and that you will come out at a specific time later.
Take Family Breaks
Kids are often bored in summer, but it's worse right now during the pandemic and quarantine because they can't go many places. They will look to you to keep them entertained. Taking family breaks means that you break for meals and take an hour or two out of each day to have fun. This may be just a cartoon or movie break, or playing some games, or going outside to play and get exercise. (You could probably use the break too!)
The kids will be less disruptive to your work flow when they have gotten the attention they crave from you and are willing to let you go back to work after they have spent time with you. It may not always be easy, but if you get into a routine where the kids can expect you to come out of your work room at a specific time or times each day, then they are more likely to let you do what you need to do. If your children are older or teenagers, this gets even easier to do.
---