The weather is warmer now but that doesn't mean you need to stop making hearty meals that allow for easy to re-heat leftovers. That's exactly what we've created here with our Southwestern Pork Green Chili Soup Recipe. A concoction that is easy for busy dads to make for hungry families.
This is not a recipe for purists, this is a recipe for people who just want something that will fill hungry bellies, is easy to make, and doesn't cost a lot of money. I got inspired by some road trips that I've taken through Colorado and New Mexico where Hatch Green Chili tends to be a dominant flavor but I wanted something that was more of a soup or stew than just a meat dish. I've created this recipe with a blend of local flavors in mind and that's why I've chosen to add beans and corn alongside potatoes, pork, and green chilis to create a recipe that is guaranteed to satisfy.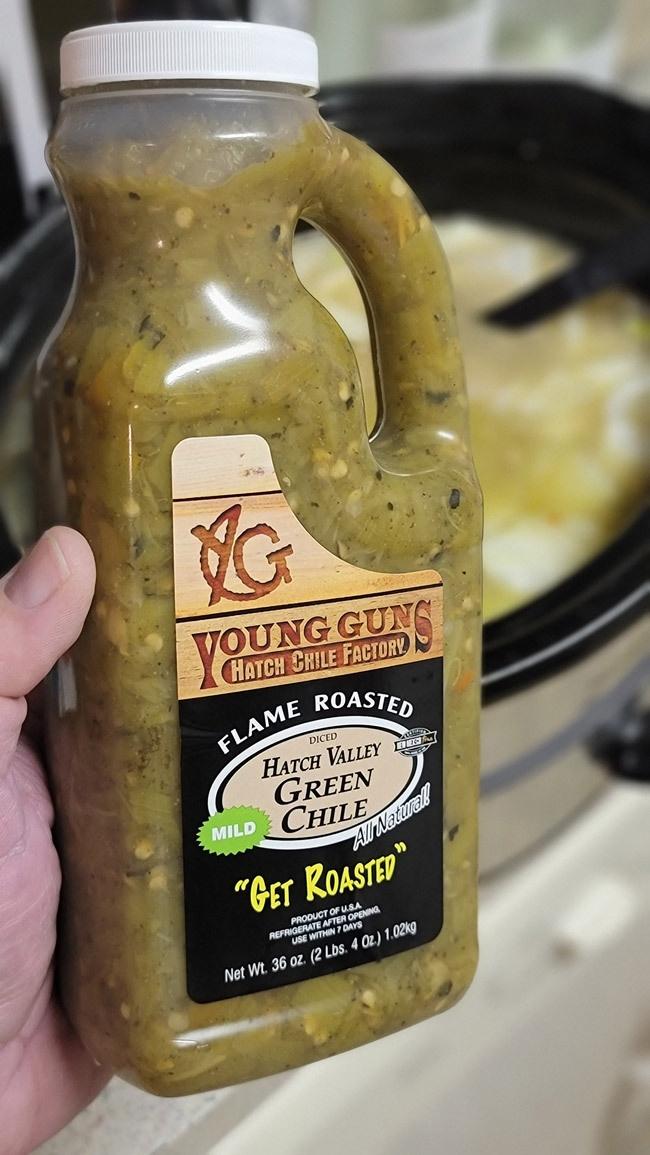 What's Special About Hatch Green Chiles?
Hatch chili peppers are the American generic term for New Mexico Peppers that are cultivated in the Hatch Valley region of New Mexico. They have a wide variation in heat and are more savory than something added to create a bit of sweat on your brow. Typical Hatch Green Chiles range between 1,000-8,000 Scoville scale heat units and this places it right around a spicy Poblano or Anaheim pepper but potentially up to Jalapeno heat levels. For cooking purposes, I generally prefer the mild variety since I'm not looking for heat, I want the nice roasted flavor that these peppers are known for.
That's one of the things I like about Young Guns. They are based right there in the heart of it all along the Hatch Valley and have a wide variety of different chile products including the Hatch Green Chile that we're using above as well as some Red Chile Sauces, red and green mixed, and even beans.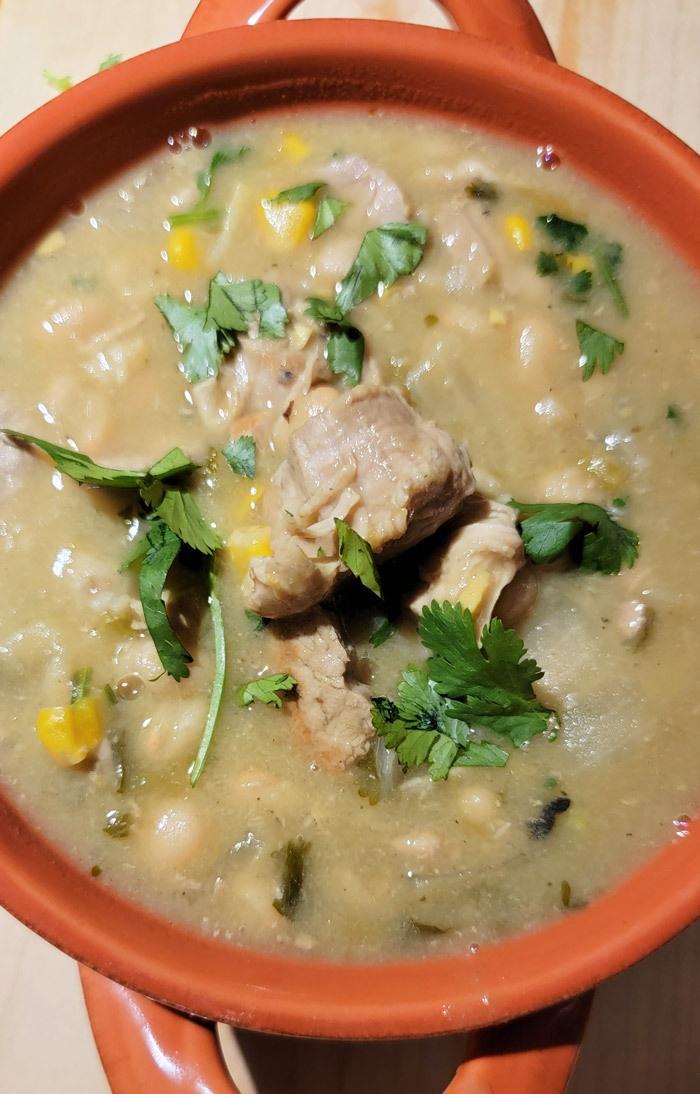 Let's Make Some Pork Green Chile Soup!
So let's sort something out before we get too deep into the recipe. The word Chile and Chili are often confused and used interchangeably, including in this article. The reason for that is simply that different people from different regions refer to words differently and in this case that crosses regions, nationalities, and even languages. According to Merriam-Webster though, Chili is the standard America English word that refers to both the hot pepper and the spicy stew. However, the word Chile is of Spanish origin and is the more common way to refer to Chili Peppers in places such as New Mexico. It is also why the pepper shaped nation of Chile is spelled that way.
Ingredients:
2 pound Cubed Pork Loin (a more traditional choice would be pork but but I like the leaner option here)
1-2 cups Hatch Green Chile
1 pound Frozen Corn
4 large Potatoes (I prefer the taste of Red Potatoes but Gold tends to disolve nicely and provide a nice creamy flavor)
1 pound Pinto Beans
1 28oz can of Las Palmas Green Enchilada Sauce
16oz Chicken Stock
2-3 sprigs of Cilantro
Salt and Pepper to taste
Flour to thicken as needed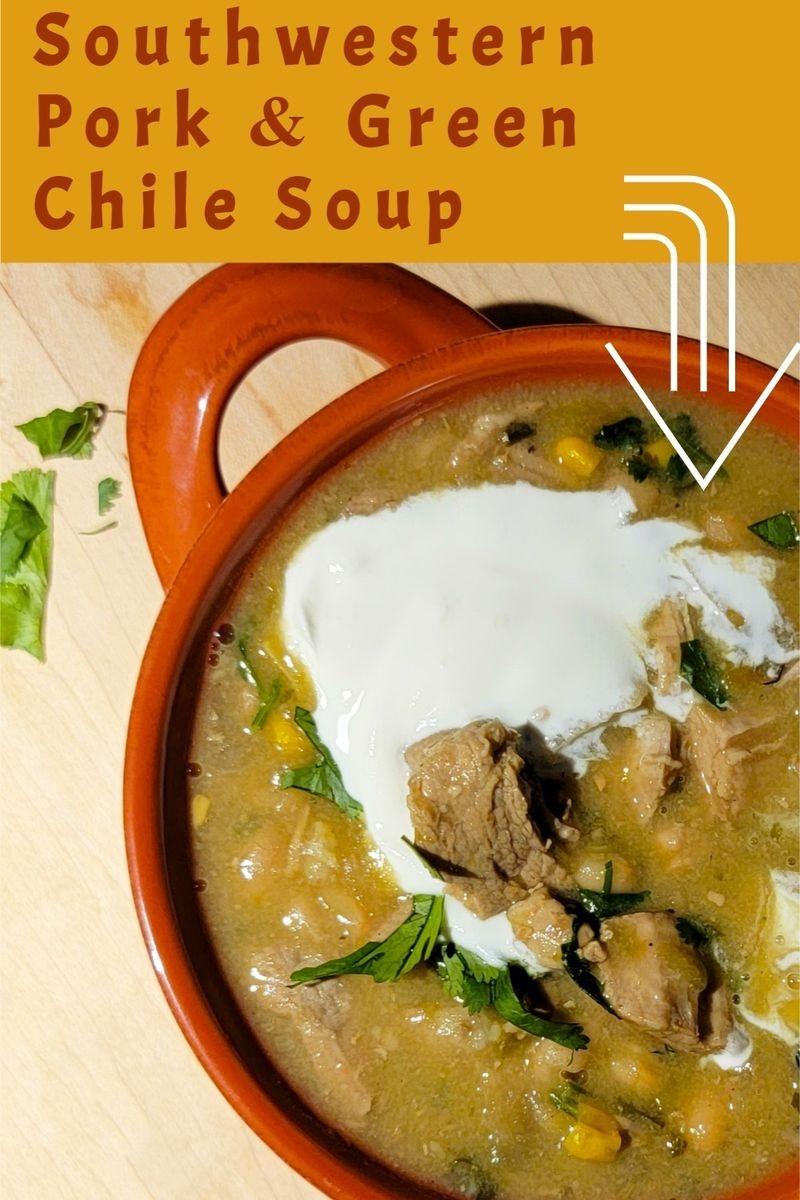 Preparation:
Cube the pork and brown it in a large skillet, you could also just brown them in an Instant Pot if you are using that instead of a cockpot slow cooker. I prefer to give the pork a bit of a browning but this is also completely up to you.
Once the pork is browned, place it and any excess oil in the slow cooker along with chiles, corn, potatoes, and beans. Then pour the enchilada sauce and chicken stock over the mixture and mix.
Cook for 4-5 hours on high and then taste, test for thickness etc. At this point, the ingredients should have cooked enough to be safe to consume but will not be finished in terms of blending of flavors. However, this is a good time to add cilantro, salt, pepper, and other spices if you want to adjust the flavor. It is also an ideal time to decide if you want the chili soup to be thicker or more watery.
If you prefer it to be more liquidy then add additional chicken stock, if you want it thicker then add some flour or possibly even corn starch. However, be VERY CAREFUL, we're going to be cooking for another 2-3 hours on low and this is going to give the potatoes more time to break down and release starches. If you aren't certain at this point then hold off on adding any thickening agents.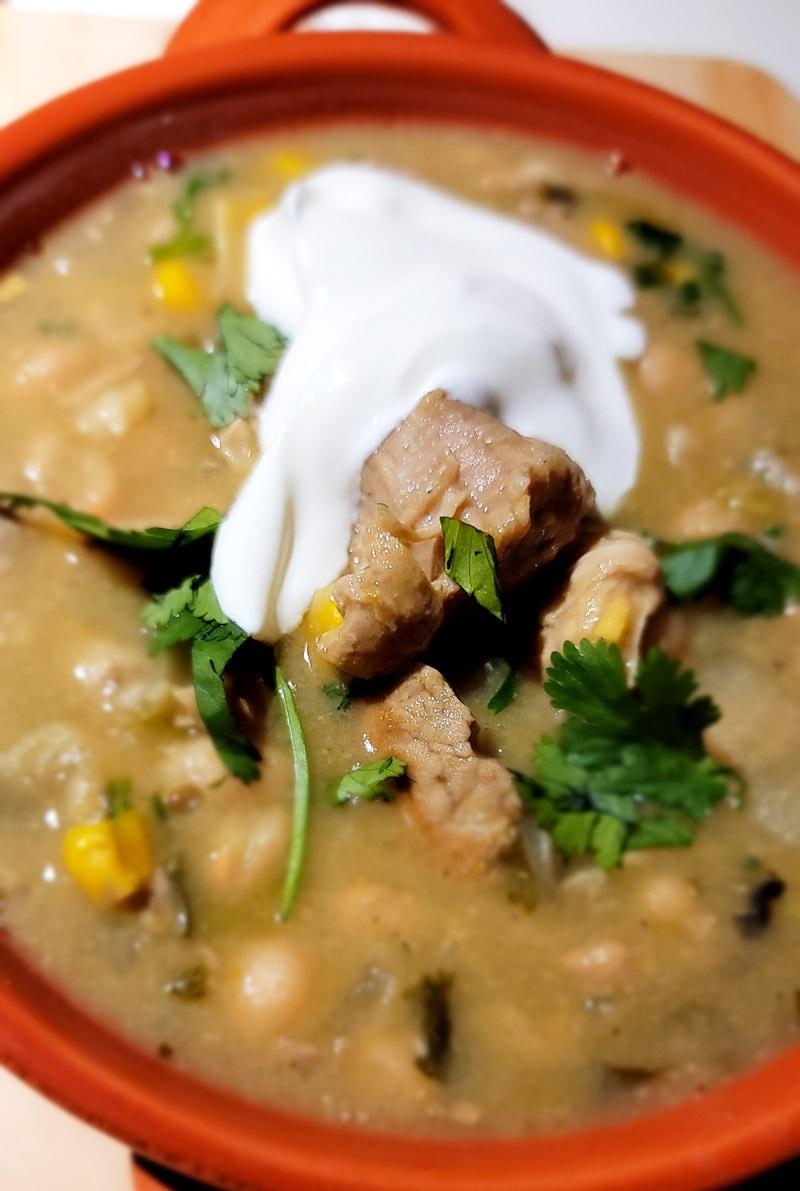 Once the Southwestern Pork Green Chili Soup is finished, serve it into bowls for your family and top with some sour cream or chives. For those folks who want it to be a bit spicier, Tabasco's green pepper sauce works great. Personally though, I prefer this recipe mild so I can enjoy the nice savory combination of southwestern flavors.