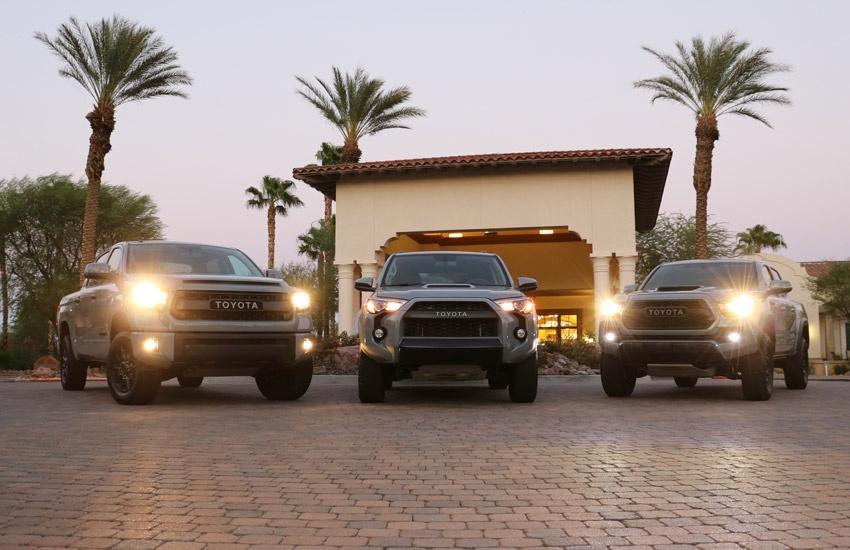 Most people would avoid the extreme heat of the desert - but not us! We're headed to one of the hottest parts of the country to prove our strength, stamina, and fortitude as we explore abandoned gold mines in Joshua Tree National Park and push the TRD Pro Tacoma, Tundra, and 4Runner to the limit.
For this trip, we'll be staying in a luxury villa hosted by Marriott Vacation Rentals at Shadow Ridge.
Thank you to sponsors for this trip who have provided:
Lodging: Marriott Vacation Club - Marriott Shadow Ridge Resort
Vehicles: 2017 Toyota TRD Pro Tacoma, Tundra, and 4Runner
Radios: Midland
Drinks: Khortytsa Ice and Hot Honey Pepper Vodka
Food: Islands Burgers
Tailgater Tire Table was also a great addition since while the Tundra and Tacoma trucks had great tailgates ... the 4Runner needed help.
Here's a video that Mike from The Gentleman Racer created ...
Here's a video that Phil from Gunaxin created ...
Bloggers on this Mancation Adventure Include:
The following are posts created based on experiences on this guys weekend adventure ...
Testing Toyota TRD Pro Trucks at Ocotillo Wells 4x4 Training Park
Marriott Vacation Club - Shadow Ridge Resort Villas are Perfect for a Guys Weekend
Exploring Abandoned Gold Mines
How to Protect Your Eyes In The Desert
Islands Burgers in Palm Desert California
Toyota TRD Pro Off Road Adventure