Written by:
James Hills
Created: 23 May 2020 Last Updated: 06 April 2023
Top Blog
Hits: 3568
Reading time: 02:57
It's "S'mores Saturday" and while I love the warm gooey goodness of melted chocolate and marshmallow sandwiches between pieces of gram cracker shared around a fire ... I also love cocktails. So on our Belfour Bourbon tasting stream earlier this week, Tom from Bourbon Blog and I challenged Ed and Dayne Belfour to create a s'mores cocktail recipe and let you guys decide who's you like best! So with that being said ... let' the games begin!
Belfour Bourbon Whiskey finished with Texas Pecan Wood immediately became one of my favorite bourbon expressions this week. It is a deliciously sweet high corn bourbon that has a gentle finish with notes of smoky roasted pecan from the staves that were added to the barrel after the initial aging. At 92-proof it is a bit higher than the typical bourbons out there but everything balances out perfectly and I can't wait to share this with friends once quarantine is over and we can do a camping, fishing, or hunting trip again.
In fact, just tasting it and talking with the guys from Belfour inspired us all to create a cocktail that brought this sense of comfort and brotherhood to mind and so the Belfour S'mores Cocktail Challenge was created!
While they took the high road with a deliciously elegant creation, Tom from BourbonBlog.com and I (ManTripping) took the route inspired by our love of simple comfort ala the "Quarantine Cocktail".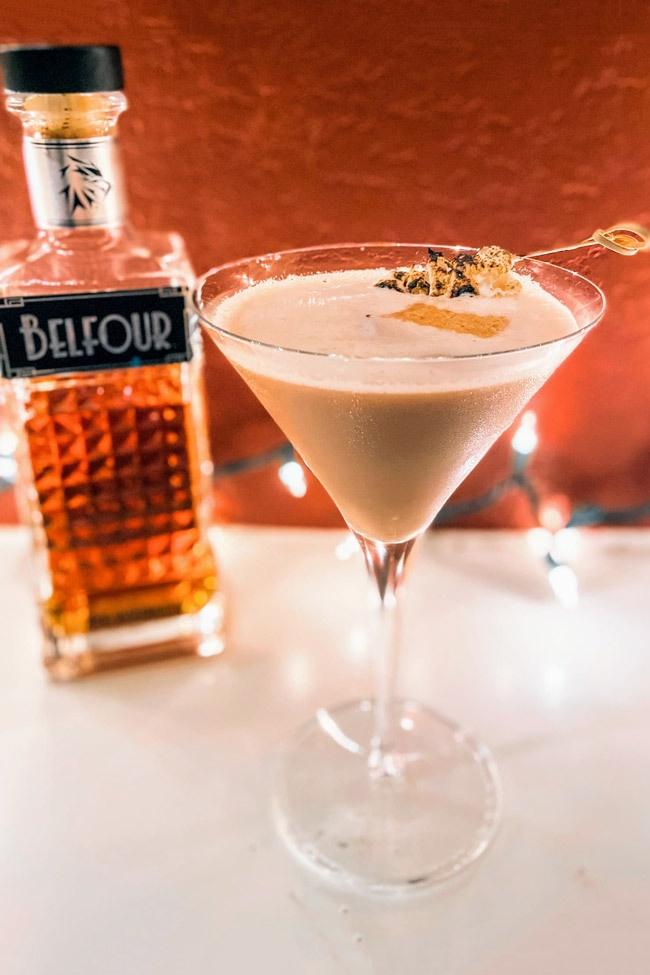 Belfour Spirits: Pecan Smores Martini
1.75 oz Belfour Bourbon Whiskey Finished With Texas Pecan Wood
½ oz Mr. Black Coffee Liqueur
½ oz. Bailey's Irish Cream
1 Egg white
¼ oz. Hershey's chocolate syrup
¼ oz. Simple syrup
Separate egg white in shake and shake until frothy. Add remaining ingredients then ice. Shake and strain into martini glass. Garnish with toasted marshmallow on pick. Float a graham cracker on top.
Tip: add more chocolate by grading/shaving chocolate on top.
#MenWhoBlog: S'mores Bourbon Hot Cocoa
10-16 oz (standard coffee mug) of Hot Chocolate (you can make your own or just use a mix)
2 oz Belfour Bourbon Whiskey Finished With Texas Pecan Wood
A dollop of marshmallow fluff to float on top
Chocolate syrup
Gram cracker crumbs
Pour some chocolate syrup or hot fudge onto a saucer or small plate and coat the rim then do the same with gram cracker crumbs.
Next, add the Belfour Bourbon to your mug and then pour in the hot cocoa and then add a nice big dollop of marshmallow fluff on top.
Then gently torch the marshmallow fluff to give that nice toasty look and feel that you love about roasted marshmallows over a campfire. If you want to add a bit of flare, drip a few drops of your favorite cask-strength bourbon on top before torching. Be careful though, flaming cocktails can get dangerous if not done properly and you want to avoid too much char from the sugars in the marshmallow.
If you're not a s'mores fan, there is no need to worry because you can still enjoy your Belfour Bourbon Whiskey in its original state. All you need is to bring it to a chill, and you'll have an enjoyable drink. Remember, however, that standard cubes will melt quicker, so you need Whiskey ice cubes for your Belfour. Any abovementioned variations will be great whenever you feel up to it.
So, which is your favorite? Which team is your pick?
Let us know below or if you have your own modifications and suggestions let us know that too!
---