Written by:
James Hills
Created: 05 October 2021 Last Updated: 17 August 2023
Top Blog
Hits: 2308
Reading time: 02:05
James from ManTripping.com first met Tait Martin and Chief Distiller David Meaux during Mardi Gras 2019 and fell in love with their rum ... but also their personalities and how they seem to have bottled the spirit of Acadiana so that everyone around the world can enjoy it. Now we've had the opportunity to bring that spirit to you guys virtually with the first of hopefully many appearances with Wildcat Brothers Distilling.
The pair's family roots to southern Louisiana go back to the 18th century after being exiled from Canada at the start of what is now known as Cajun culture. This group of French settlers have gone on to create one of the most fascinating cultures and communities that I've found anywhere in the United States. With fantastic food, a love of celebrating, and a deep rooted sense of family and community, Cajun culture is something that every man needs to experience at least once.
While we can't send you guys to Louisiana for a guys weekend getaway, a virtual visit is about the next best thing.
Wildcat Brothers Distilling evolved from the question that David and Tait asked themselves, "What's the difference between that $7.00 bottle of liquor and that $70.00 bottle of liquor?" Their curiosity evolved and after plenty of research the pair ultimately decided to open a rum distillery that frankly breaks a lot of conventions compared to other rum distillers that I've met but has created some incredible spirits.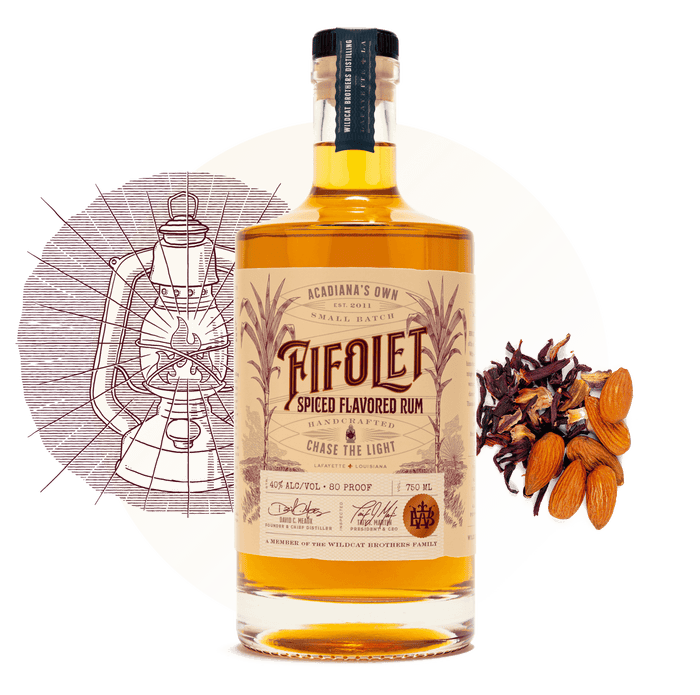 Rums Being Tasted
While Wildcat Brothers has quite a few different iterations and extra-small Small Batch rums, the three that are most popular include: Sweet Crude (white), Fifolet (spiced), and Noire (black). Across the board, what you'll notice is that they all have a very soft mouth feel due to the French-style rum distilling process using a rhum agricole process that uses pure cane sugar instead of black strap molasses as most other rums that you've probably tried do. This gives it a more complex and gentle smoothness that tastes great in the young, white rum ... but also provides a fantastic foundation for adding a gentle blend of coffee, vanilla beans, and cinnamon spices to the Fifolet spiced rum, or the subtle sweetness found in the Noire due to the use of ancestral hardwood and Louisiana fruit tree wood used to age it.
For more information about Wildcat Brothers Distilling, make sure to check out their website and forget to check out their selection of "special edition" rums found in the "Black Magic" section.
---