Summer is an incredible time when everyone enjoys being outside, especially our kids. However, being outside is not all fun and games, especially when it comes to the sun. We all know that the sun can lead to skin cancer and sun poisoning if you do not take steps to protect against it. But have you have stopped to consider the risks of those lotions you put on to provide this protection? You may be surprised by what is hidden inside and what they do to the body.
What's Hidden In Those Sunscreens?
Have you ever considered what is in the products you put on your kids' skin? What you may not know is that your skin is a semipermeable membrane, allowing some molecules to breach it. The size of the molecule determines what makes it past the skin barrier and is held at bay. This is why dermal patches work, allowing medicine to absorb through the skin. Many of the commercially available sunscreens are chemical-type products. These use various synthetic chemicals which absorb into the skin, also absorbing the solar rays to protect the skin and system. The question that continues to be investigated is how much of the chemicals in commercial sunscreens absorb past the skin. Specifically, there are several chemicals of concern the FDA has been seeking additional information on since February 2019. The following are the chemicals commonly used in the United States, and what we know about them.
Ensulizole: According to the Environmental Working Group (EWG), ensulizole may cause excess reactive oxygen. This may lead to cellular changes and interruptions in cellular signaling.
Homosalate: The EWG has cited some studies indicating homosalate has shown some level of endocrine disruption. This means it may inhibit the body's ability to make and use various hormones.
Octocrylene: Like ensulizole, octocrylene is my interrupt cellular signal and lead to cellular changes due to excess reactive oxygen. It is also shown to be bioaccumulative, so the more you use it, the more it accumulates in your system, and causes a stronger response.
Octinoxate: The EWG has collected data this particular ingredient has several concerns:
Liver toxicity
Reproductive system problems
Bioaccumulative
Strong endocrine disruption
Cellular changes due to excess reactive oxygen
Oxybenzone: This is another ingredient with several possible risks and effects:
Endocrine disruption
Bioaccumulative
Possible allergen
Produces excess reactive oxygen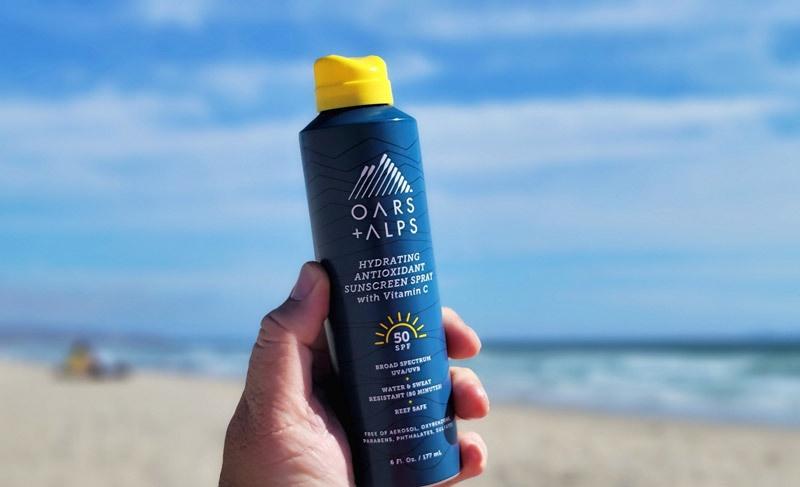 Don't Worry, There ARE Some Good Sunscreen Products Too
Oars and Alps is specifically designed for men's skin but it works great on kids too, when applied properly. The key here is to make sure you apply it well and especially if your family is going to be at the beach or pool, or any other place where you might get wet, make sure to reapply as directed by the manufacturer.
In the United States, the FDA only bans approximately 20 ingredients, compare this to the European Union where they have banned more than 1,300 ingredients. Oars and Alps focuses on developing products with great ingredients that do more than just act as utility products. For instance, while many (most?) sunscreen sprays that are available in the US today simply offer sun protection, Oars and Alps sunscreen spray uses natural ingredients, and acts to help hydrate your skin as well as providing antioxidants and vitamin C to help protect the skin itself. Plus, it uses less alcohol that traditional SPF sunscreen sprays and the can itself is recyclable and non-aerosol.
Plus, it is water and sweat resistant up to 80 minutes.
What Can You Use Instead Of Sun Screen?
Rather than relying on these chemical sunscreens, physical barriers are often a better option when it comes to protecting your children from the sun. You have probably seen the clothes that advertise some SPF protection. These fabrics help deflect the solar radiation before it can impact the skin. However, the parts of your kids' skin these clothes do not cover still need some level of protection.
There are physical barrier sunscreens available, which use titanium dioxide or zinc oxide. Like SPF clothing, these ingredients deflect solar rays before they can absorb into your skin, and are considered much safer than their chemical alternatives. You can also use other physical barriers, such as creating shaded areas to reduce the effects of these rays. Consider using a combination of these options to provide the best protection for your kids as they enjoy the sunny weather.
What About When They Burn?
It is almost inevitable that kids will get a sunburn at some point. The real question is what can you do to help relieve the discomfort and pain they experience when that does happen? A traditional go-to for sunburns has been aloe vera gel. This certainly helps provide some relief due by helping relieve dryness caused by sunburn. We have also found a simple mixture of jojoba oil and lavender essential oil works amazingly in our family.
The lavender helps draw the heat out, and the jojoba oil helps to moisturize the skin. If your kids' skin starts to burn, get out of the sun and begin treating it. Wait to go back out into the sun until after the sunburn subsides, or use physical barriers to prevent further damage. The best way to deal with sunburns is to prevent them in the first place. Do some research to find a quality chemical-free sunscreen, like those from our friends at Oars and Alps. Then be sure to apply as directed, and take breaks to reduce the duration of exposure.