As a dad you've probably noticed that boys and girls face different challenges on some of life's most important rights of passage. Learning to drive is among the most important of these. When it comes to how our brains are wired, men are better equipped for operating machines but you've also probably noticed, boys are more aggressive and more likely to take risks. This makes for a challenging situation when it comes to young men behind the wheel.
Your son learning to drive is a huge moment in their life. Not only will they learn some crucial independence, but you'll also get to hang up your taxi cap and no longer worry about staying up late to pick them up from parties long after you should have gone to bed.
Learning to drive is not always so straightforward, though. You want your child to be a good and safe driver. While they should have had enough lessons, they can always benefit from additional guidance. There are also some skills the average driving instructor will not teach them, so here are ten tips to help your teen become a better driver.
Practice With Them
Your child will not be allowed to drive alone if they have not passed their test. While they will get plenty of chances to drive with their instructor, they can also get extra hours if you practice with them. Letting them drive you around, such as going to the supermarket or dropping you off at work, can build their confidence and make them more comfortable driving with a passenger.
But Don't Become A Backseat Driver
However, many parents will make a scene when their child is driving them around. They act panicked or make too many comments about speed, turning, and more. This can make your child more nervous than driving alone, so being supportive is the best approach. You can still offer advice if you think they are driving unsafely, but don't verbalize every criticism you have. Their instructor should do that for you and they will hopefully be able to iron out any creases in their driving habits to make them test-ready.
Encourage Them To Learn Driving Theory
Teens need to learn their driving theory anyway, but they often see it as a test they will pass with flying colors. This is not the case, though. As many as 55% of young drivers fail their theory on the first attempt. Of course, the theory aspect is not as exciting, but getting a basic understanding of traffic laws and regulations will ensure fewer problems when your young driver can finally get on the road by themselves.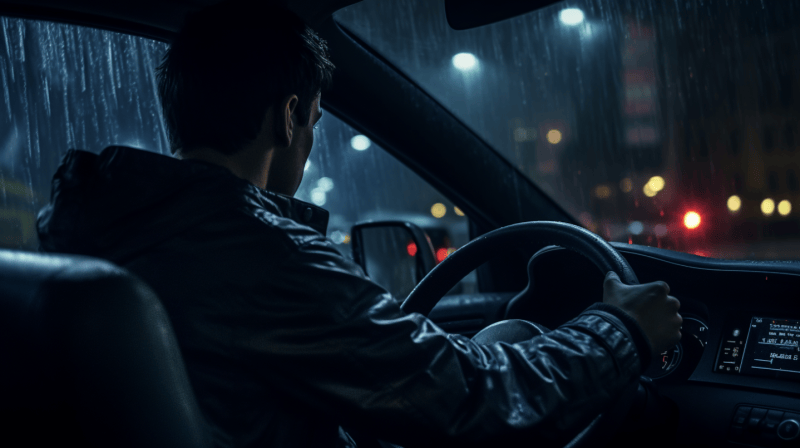 Expose Them to Different Driving Conditions
Everyone would prefer to drive in the middle of the day when the sun is shining, and there are not many cars around. However, experienced drivers know that these conditions are few and far between. This is why it's so vital to expose your teen to various conditions. Night-time driving, rush hour driving, and driving in rain, snow, or sleet are all essential. They may not sound fun (because they aren't) but your child needs to learn how to deal with them eventually, so it may as well be with you in the car to guide them.
| Challenging Driving Condition | Advice for Safer Driving |
| --- | --- |
| Rainy or Wet Roads | Slow down and increase following distance. Use headlights and avoid sudden braking. |
| Snow and Ice | Drive slowly, avoid sudden turns or stops, and use snow chains if necessary. |
| Foggy Conditions | Use low-beam headlights, slow down, and follow road markings closely. |
| Night Driving | Use proper headlights, follow at a safe distance, and be extra alert for pedestrians and animals. |
| Heavy Traffic | Keep a safe distance, stay calm, and avoid aggressive driving. |
| Construction Zones | Follow posted signs, slow down, and be aware of workers and equipment. |
| Gravel Roads | Drive slowly, maintain a safe distance from other vehicles, and avoid sudden turns or stops. |
| Glare from Sun or Headlights | Use sun visors or sunglasses, and adjust mirrors to reduce glare. |
| High Winds | Hold the steering wheel firmly, slow down, and be prepared for sudden gusts. |
These tips can help a new driver navigate challenging conditions with greater confidence and safety. It's also a good idea to encourage practice in different conditions under supervision and to consider taking a defensive driving course.
Teach Them How the Car Runs
It isn't just the driving aspect that can help your teen become a better driver. You should also teach them how the car runs so they know what is happening in case something goes wrong. Work through the manufacturer's manual and give them the chance to test different lights, buttons, and switches, so they know how to activate features when necessary.
Guide Them Through Car Maintenance
While you can rely on a mechanic to solve car troubles, you can also benefit from knowing how to fix these troubles yourself. Teaching your teen DIY car maintenance and repairs could be a lifesaver, especially if they break down in the middle of nowhere. Furthermore, there could come a point when you are not close enough to help them, so knowing how to change the oil or replace brake pads is vital.
Give Them Emergency Details
There will, however, be some issues that are too difficult to solve alone. In this case, a list of emergency numbers is useful. Severe damage, breakdowns, or a car lockout may be too tricky for the average driver to overcome, so knowing who to call will save them plenty of stress and hopefully get them back on the road as quickly as possible.
Help Them Be Confident But Not Cocky
Understandably, your teen will be nervous when driving, especially if faced with an uncertain situation. While this is natural, you need to encourage them to be confident. Confidence will come with experience, but a confident first-time driver can avoid many problems. On the other hand, they could risk being too cocky, especially if they succumb to peer pressure from friends, so make sure you nip that in the bud as soon as possible.
Teach Him The Importance Of Avoiding Distractions
Listening to music in the car is one of life's simple joys, and your teen will undoubtedly be looking forward to this. However, distractions as a new driver could be catastrophic, so encourage them not to listen to music just yet. Similarly, loud passengers or nearby devices could also cause distractions, so it may be best for them to only give a ride to some people initially, while their phone needs to be out of sight until they become more comfortable on the road.
Model Excellent Driving Behavior
Knowing the most common causes of car accidents for new drivers can help you get a good idea about the potential dangers. You may see some of your habits here, and while you know you're a good driver, this can still put your teen at risk. If they spend time with you in the car, they may assume that your way is the best, and they might replicate your driving habits when behind the wheel themselves.
His lack of experience means they don't have the skills or tools to react as quickly or navigate safely, increasing the chances of a collision. So, while they are still learning, model responsible behavior.
Safe driving is essential for teens and novice drivers. The experience will come the more they get behind the wheel, and these tips should give them a solid foundation to build on. While they may still make mistakes here and there, the mistakes should not be as damaging or dangerous, ensuring they stay safe while on the road.