Written by:
James Hills
Created: 01 June 2020 Last Updated: 01 June 2020
Top Blog
Hits: 3560
Reading time: 03:02
Join us on Friday, June 12 for a Virtual Wine Tasting supporting two of our favorite San Diego brands - Rancho Guejito Vineyard and Venissimo Cheese. While we welcome folks from all over the world to join in the conversation and learn more about these two companies as well as how to best pair wine with cheeses, those in California can also order a special tasting pack for delivery and folks in San Diego can also pick up a special cheese tray prepared by Venissimo Cheese.
Make Sure To Press "Set Reminder" and Join us on June 12 at 7pm PT!
We're going to be tasting three wines from Rancho Guejito Vineyards and a four-cheese pairing from Venissimo Cheese, two of our favorite San Diego companies that we are helping as they recover from quarantine days.
Keep reading for more details including the special wine offer so you can join us from home, enjoying the same wines we're featuring on the live stream!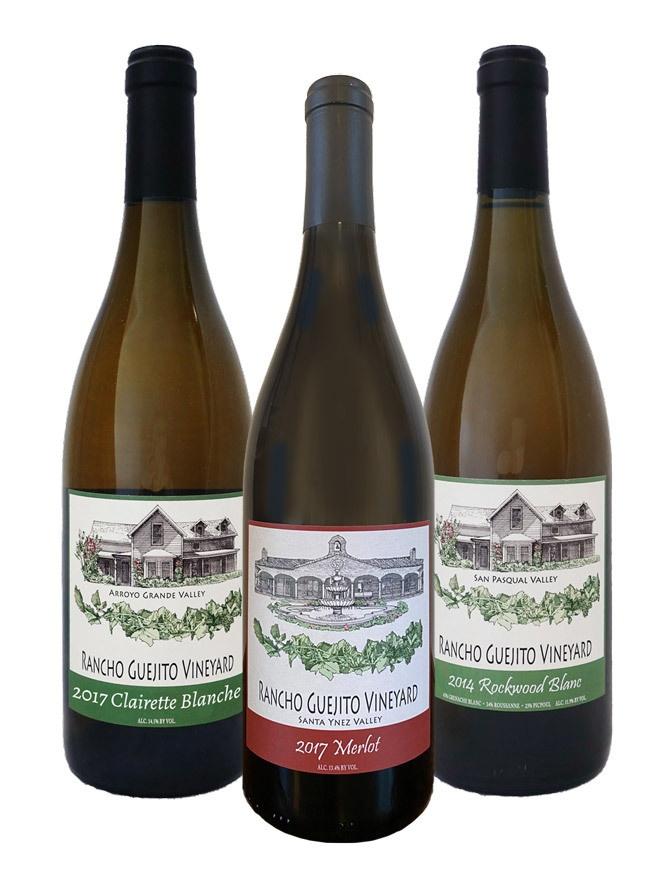 Featured Wines For the Pairing:
2017 Clairette Blanche $34 (estate-grown)
2014 Rockwood Blanc $33 (estate-grown)
2017 Merlot $36 (sourced)
Normally, each bottle is priced at the retail prices above, but we're offering a Special Tasting Pack for only $49 (including delivery) and cheese tray for an additional $20 (pickup only). The Ranch is also extending their $99 case sale so if you already know what you want, that's a deal almost too good to pass up!
We will also be joined by three of San Diego's top blogger influencers including:
Jon from 2DadsWithBaggage.com
Alexa from 52PerfectDays.com
Kevin from PubClub.com
James from ManTripping.com
As always, make sure to leave your comments, questions, and thoughts as comments below so that we can answer them during the show!
Wine Tasting Notes:
2017 Clairette Blanche:
Crisp and clean, tart and ripe Meyer lemon and lime, just ripened green apple with hints of brie cheese rind. Freshly cut lilies on the nose. On the palate, tart and just ripe fruit flavors come through with a limestone like mineral undertone. The finish is mouthwatering and bright, a perfect aperitif!
2014 Rockwood Blanc:
This unfiltered Grenache Blanc, Roussanne, and Picpoul blend spends lengthy time on the grape skins, similar to red wine. This contributes to texture, concentration, and savoriness. It is considered an "Orange Wine," named for the golden color this ancient winemaking process creates. On the nose, freshly squeezed Meyer lemon, apricot, barely ripe mango, and sweet pineapple lead the fruit parade. Night-blooming jasmine opens up into sun-warmed hay. A warm clay earthiness is tempered by a hint of fresh ginger root and just picked thyme. As the wine warms in the glass, orange blossoms, honey, and vanilla suggest a richly textured wine, but the lemon and tart mango return with each sip, refreshing the palate. The Roussanne shines through on the long finish with Golden Delicious apple, beeswax, and just a kiss of clove. This is an incredibly complex wine that will benefit from decanting and warming to room temperature over dinner. Pan-seared scallops with sunchokes and celery root puree would be a marvelous companion, as would any creamy summer corn dish.
2017 Merlot:
A gorgeous color- ruby with light purple hues and great clarity. This oak-free Merlot is stunning with a combination of fruit conditions. Tart blueberries, crushed fresh strawberry, and black cherries on the nose with an herbal tobacco leaf aroma and roasted red chili pepper in the background. Upon tasting, red and blue fruits come through, more about ripe raspberry with a forward lavender/purple violet floral component that finishes long. With air, the complexities and more dusty earth notes come through as the wines tension seems to unravel in layers.
---