Written by:
James Hills
Created: 27 July 2023 Last Updated: 28 July 2023
Hot!
Hits: 622
Reading time: 06:30
Australia, a land of overwhelming beauty, a country so vast it could swallow other nations whole. With hundreds of miles of undeveloped land, this is a destination that even though many millions of people visit each year - few have actually experienced. Now it's your turn - have you ever thought about experiencing it differently than most men do? You're not alone. Many are drawn to its rugged terrain, rich culture, and unique wildlife. But there's so much more to explore beyond the beaten tracks.
This article will guide you through unique ways to uncover Australia's hidden gems. We're not just talking about an ordinary trip, but an extraordinary journey that will etch unforgettable memories in your heart. You'll learn how to immerse yourself in its rich Aboriginal culture, navigate its untamed wilderness, and experience its cities like a local.
So, are you ready to break free from the crowd and embark on an Aussie adventure like no other? Let's dive right in!
Key Takeaways
Explore the raw, unspoiled beauty of Australia's diverse landscapes.
Experience unique and unforgettable underwater adventures on a dive tour cruise of the Great Barrier Reef.
Stay at an eco lodge in a tropical jungle for a unique and immersive rainforest experience.
Venture beyond the beaten path and discover the tranquility and stunning landscapes of the Australian outback.
Why Does Exploring Australia Appeal To So Many Men?
You're probably wondering why so many blokes are drawn to exploring Australia, aren't you? It's not just about the adrenaline rush or the spirit of adventure, mate. Australia's unique charm lies in its raw, unspoiled beauty, its diverse landscapes, and its rich, multicultural society.
Imagine this: you're hiking through the vast Outback, under the blazing sun. Your boots crunch on the red dirt as you pass by ancient Aboriginal rock art, thousands of years old. You're not just walking through a desert; you're walking through the pages of history.
Or picture yourself diving into the Great Barrier Reef, surrounded by a riot of colors – a world teeming with life beneath the azure waves. You're not just swimming; you're immersing yourself in a rich, underwater universe, a testament to the power of nature.
Don't forget the bustling cities like Sydney and Melbourne, where you can experience the warmth and vibrancy of Australian culture, food, sport, and the arts.
So, are you captivated yet? The allure of Australia isn't just about its geographical wonders or cultural heritage. It's about the freedom to explore, to experience, and to truly live. Now, isn't that a journey worth embarking on?
Unique Ways To Explore Australia
Have you ever thought about diving into the depths of the Great Barrier Reef on a dive tour cruise?
Imagine immersing yourself in the lush greenery of a tropical jungle, staying at an eco-lodge, and appreciating the beauty of nature while minimizing your carbon footprint.
Or perhaps you'd love to explore the vast, rugged landscape of Australia beyond where the pavement ends.
Taking an exhilarating outback tour by air offers you a bird's-eye view of the untouched wilderness.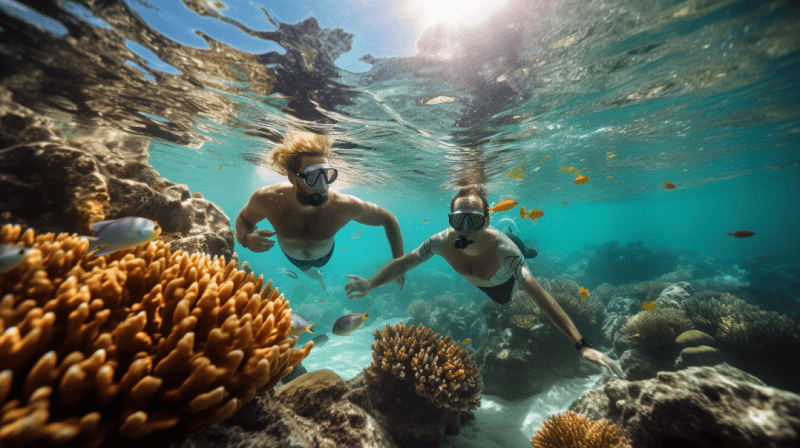 Take A Dive Tour Cruise To Explore The Great Barrier Reef
Take a dive tour cruise to explore the Great Barrier Reef and experience the thrill of diving at Osprey Reef. Marvel at the resident family of giant Potato Cod at Cod Hole, a unique attraction at the Ribbon Reefs. Plus, with luck, you could spot Dwarf Minke Whales and Humpback Whales. This isn't your typical Australian adventure; it's a dive into a world beneath the waves, offering freedom and discovery at every turn.
Stay At An Eco Lodge In A Tropical Jungle
Ready for an experience that's truly out of the ordinary? Consider a stay at the Daintree Ecolodge, nestled within the heart of a tropical jungle.
You'll be living in an eco-friendly bayan, a unique treehouse that's immersed in the rainforest canopy. It's a different way to explore Australia, right in the heart of the World Heritage-listed Daintree Rainforest.
You'll wake up to the sounds of wildlife and may even spot some from your private screened-in patio. Enjoy a sublime degustation dinner with paired wines, or breakfast by a lagoon teeming with local fauna.
The staff are praised for being professional, helpful, and accommodating. And did we mention the private onsite waterfall? It's a green getaway that's far from your average hotel stay.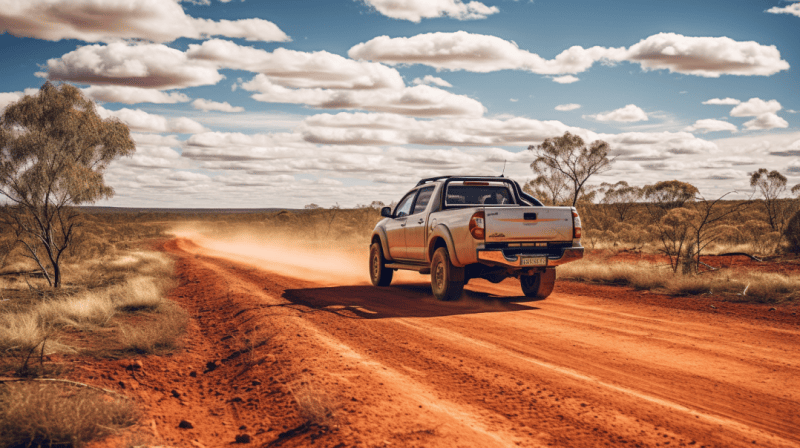 Explore Australia Beyond Where The Pavement Ends
Venturing beyond the beaten path in the land down under is a thrilling experience that'll stir your adventurous spirit like never before. Swap the city's hustle for the tranquility of the outback, where the pavement ends and the real adventure begins.
Try your hand at 4WD driving, navigating through remote landscapes, and honing your off-road skills. Remember, it's not about the destination, but the journey. So take your time, soak in the diverse Australian landscapes, and appreciate the stunning view of Litchfield National Park's waterfalls. There are many places in the major cities of Australia where you can rent or hire a good off-road capable vehicle with ute canopies and portable cookers suitable for your trip.
Ensure your vehicle is in top shape, pack light, carry enough fuel, and prepare your meals. Remember, there's no rush. You're here to explore, to experience, and to enjoy the untamed beauty of Australia.
Outback Tour By Air
Ever thought of seeing the mighty Outback from a bird's eye view? With Outback By Air, that's exactly what you'll get! This experience gives you a different perspective of Australia, one that most men rarely explore.
You'll gain insights and essential details about the Outback like never before. The breathtaking visuals, documented in captivating images, bring the raw beauty of the Outback alive. Trust the excellent reviews; they reflect the high customer satisfaction.
If you have any questions, don't hesitate. Engage fully with this unforgettable experience. After all, exploring isn't about following the well-trodden path. It's about carving your own.
So why not chart your own course through the Outback skies? With industry-leading safety standards, you're in good hands. Let your Outback adventure take flight!
Australia Is A Land Best Experienced In Person
Australia is a land best experienced in person. Like Frodo journeying through Middle-earth, you'll find that Australia's true beauty and magic can only be fully appreciated when experienced up close and personal. Sure, you can admire the stunning landscapes from a plane window or through the lens of a camera, but there's something uniquely captivating about stepping foot on the sun-kissed sands of Bondi Beach, or feeling the cool spray of the Great Barrier Reef against your skin.
Immerse yourself in the rich tapestry of cultures that make up the 'Land Down Under'. Connect with the deep-rooted Indigenous traditions in the Northern Territory, or lose yourself in the hustle and bustle of city life in Sydney or Melbourne. Savor the unique flavors of Aussie cuisine – from succulent kangaroo steaks to creamy Vegemite on toast. Feel the thrill of the annual AFL Grand Final, or the soothing serenity of a sunset over Uluru.
But the most powerful part of the Australian experience isn't just about the sights, sounds, or tastes. It's about the spirit of freedom that resonates throughout the land. The chance to explore at your own pace, to blaze your own trail and create your own adventure. That's the true magic of Australia, and it's waiting for you to discover.
Conclusion
So, mate, don't just dream about it, get out there and explore the Land Down Under. Remember, Australia isn't just a spot on the map, it's a treasure trove of adventures waiting to be unearthed.
Let curiosity be your compass, and you'll discover more than you ever imagined.
It's time to blaze your own trail and experience Australia in a way that's as unique as you are.
---