When you're on vacation, the last thing you want is to be stuck inside because of rain. But don't let a rainy day ruin your plans! There are plenty of fun activities that you and your family can do while staying at a vacation rental home. Here are five great ideas for making the most out of a rainy day.
Last month I stayed at an amazing vacation rental property in Cardiff, California (North County, San Diego). The visit was supposed to be a two-night staycation and the host - Cardiff Vacations - wanted to show us how incredible the location was. He was right it was fantastic. His Seacottage Villa was close to the beach, easy to walk to things like the nature trails at the San Elijo Lagoon, and super close to tons of other outdoor activities such as the San Diego Botanic Garden as well as simply being able to kick back and enjoy some Seaside Market "Cardiff Crack" tri-tip that I could grill outside in the fresh air while enjoying one of the local craft beers.
Rain isn't really something we worry about in San Diego. On an average year, we only get 21 days with "some precipitation" and that's usually less than an inch of accumulation ... typically measured in hundredths of an inch! Unfortunately for us, we booked our stay during what turned out to be one of the rainiest Januarys in San Diego history and it POURED while we were there.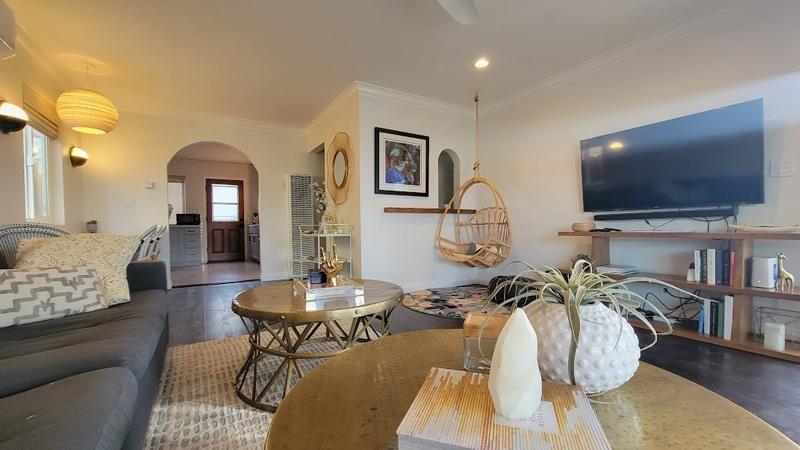 Luckily though his property was absolutely fantastic. There was a big-screen TV with plenty of channels, an awesome kitchen, a comfortable couch for lounging, and a covered front porch where we could relax while listening to the rain come down. In addition to a family getaway, this location would be perfect for a romantic couples getaway too.
The owner was also incredibly accommodating and offered us a couple of extra nights so we could do our staycation review over on ManTripping.com the way he hoped we'd experience it.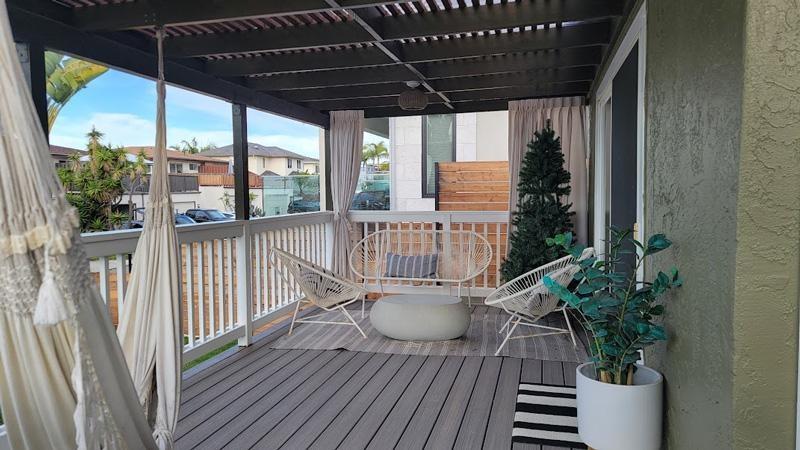 However, during the rainy days, it struck me that it actually wasn't so bad. Being stuck inside wasn't the terrible thing that some people make it out to be. Plus, life is what you make of it. While some folks would prefer to complain ... I like to make the best out of situations.
So, with that in mind ... here are some indoor activities ideas for kids while stuck inside on vacation when it's raining ...
Baking on a Rainy Day
If you've gotta be stuck inside with the kids, why not turn it into a baking day so that the house smells great! Plus, this is a great way to get some of that energy out of their system as everyone chips in stirring, kneading, and carrying various baking components.
At the end of the process you've got some great treats that can be used as refreshments during your indoor dance party or movie marathon!
Turn A Day Inside Into A Spa Day At Home
First, why not turn your rainy day into a spa day? You can find all sorts of DIY spa treatments online that use ingredients found in most kitchens, like honey, oatmeal, and avocado. Or if you're feeling extra indulgent, treat yourself to some luxurious store-bought products. Put on some relaxing music and spend the afternoon pampering yourselves with facials, manicures, and pedicures.
While this might seem like something more for the female members of the family, don't worry guys ... we can benefit from good skin care treatments too!
Throwing a Dance Party at Home
An indoor dance party is another fun activity for kids on a rainy day and in terms of indoor activities for kids, that the who family will enjoy … this is probably the easiest.
All you need is to clear some space in the living room or a covered porch and turn on some music. Bring in some refreshments from the baking fest you did earlier and you've got the perfect rainy day activity that the whole family will love.
Not only does this dance party idea provide a fun and engaging way to burn off energy, which is especially important when outdoor activities are not an option due to the weather, but dancing is a great form of exercise that promotes physical fitness, coordination, and balance.
Secondly, dancing encourages creativity and self-expression. Kids can explore different types of music, learn new dance moves, and even create their own routines. This can boost their confidence and self-esteem, as well as their appreciation for music and the arts.
Finally, a dance party simple and easy to organize. All you need is some music and a safe space to dance. You can even add some decorations or themed costumes to make it more exciting. Thus, an indoor dance party is not only a great way to keep kids entertained on a rainy day, but it also offers numerous developmental benefits.
Teach Your Kids How To Make Paper Airplanes And See Who Can Fly Farthest
Another idea you might consider is to teach your kids some basic physics and engineering lessons by having a lesson on how to build a paper airplane and then see who can make the one that flies furthest.
Easy Science Experiments For kids
Or if you want to take that science concept a step further, some easy science experiments that kids can do on a rainy day while staying in a vacation rental include making a homemade lava lamp, creating a DIY rainbow, or building a homemade barometer.
Homemade Lava Lamp: All you need is a clear glass, water, vegetable oil, food coloring, and an effervescent tablet. Fill the glass halfway with oil, then top it up with water. Add a few drops of food coloring and then drop in the tablet. The kids will be fascinated as they watch the colorful bubbles rise and fall like a real lava lamp.
DIY Rainbow: This experiment requires a glass of water, a white paper, and sunlight. Fill the glass with water and place it near a window where sunlight is coming in. Place the paper on the other side of the glass. The sunlight will refract through the water and create a beautiful rainbow on the paper.
Homemade Barometer: This experiment involves a glass jar, a balloon, a straw, and a piece of cardboard. Cut the balloon to fit over the top of the jar and secure it with a rubber band. Attach the straw to the balloon with tape, leaving one end hanging over the side of the jar. Place the jar on the cardboard and mark where the straw's end points. As the air pressure changes, the straw will move and the kids can learn about weather prediction.
These experiments are great family activities because they not only entertain the kids, but also provide educational value. They teach children about scientific principles such as density, light refraction, and air pressure in a fun and engaging way. Plus, they encourage teamwork and cooperation as the whole family can get involved in setting up the experiments and observing the results. Moreover, these activities can be done with household items, making them convenient and cost-effective for a vacation rental scenario.
Stir Things Up And Cook Something New
Speaking of science experiments - baking and cooking is a great way for kids to experiment, so why not cook up some fun? Rainy days are the perfect time to try out new recipes or make old favorites and when you're staying in a house like we were ... wow ... the kitchen is so much better than what I have at home!
So, gather everyone around the kitchen table and have each person contribute something to the meal - whether it's helping chop vegetables or stirring up a sauce. Not only will this be an enjoyable activity for everyone involved, but it will also result in a delicious dinner!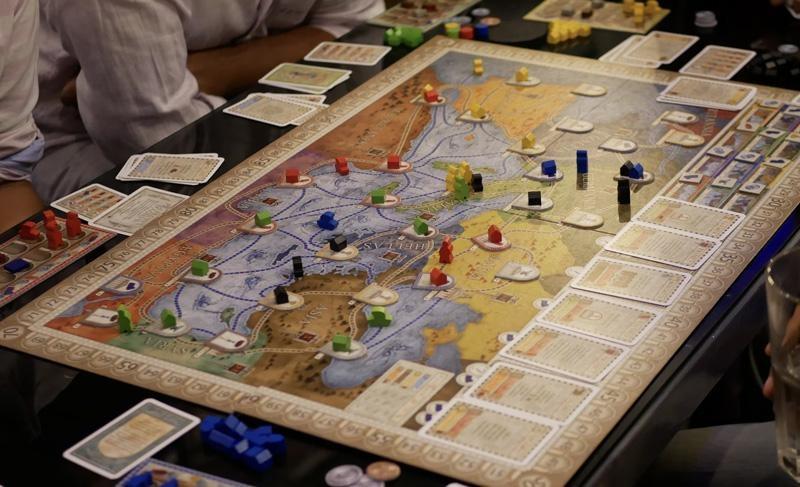 Board Games Are A Classic Pastime For A Reason
Third, board games are always a great way to pass the time when stuck indoors due to rain.
Whether it's classic games like Monopoly or Clue or more modern ones like Catan, Concordia, Ticket To Ride, or Cards Against Humanity for older family members, there's something for everyone to take part in. And if you don't have any board games handy at your vacation rental home, you can often find fun games to be played on tablets or phones instead.
Easy Indoor Craft Ideas for Kids
Nobody wants to be stuck indoors but creating a craft project is a great way to pass the time as a family. Kids will love the creativity and fun, so let's go and look at some potential easy indoor craft activities for families to do on a rainy day.
Building a Cardboard Castle: Gather some old cardboard boxes, cut out windows and doors, and let your kids decorate it with markers, paints, or stickers. Not only is this a fun craft activity, but it also results in a new play area for the kids.
DIY Slime: Kids love slime, and making it at home can be a fun and easy craft activity. All you need is some glue, baking soda, and contact lens solution. You can even add food coloring to make it more exciting.
Paper Plate Animals: This is a simple and creative activity. All you need are some paper plates, paints, and glue. Kids can paint their favorite animals on the plates and use them as wall decorations.
Homemade Playdough: Playdough is easy to make at home with flour, salt, water, and food coloring. Your kids can help with the process and then have fun shaping and molding the dough.
Popsicle Stick Crafts: Popsicle sticks can be used to create a variety of things, from picture frames to birdhouses. This activity encourages creativity and can be done with materials you likely already have at home.
String Art: With some nails, a wooden board, and string, you and your kids can create beautiful string art. This activity is better suited for older kids and can be a fun way to spend a rainy afternoon.
DIY Kites: While you can't fly them indoors, making kites can be a fun project. All you need is some paper, sticks, string, and glue. Once the rain stops, your kids will be excited to go outside and fly their homemade kites.
Origami: This ancient Japanese art is a great way to teach kids patience and precision. Start with simple shapes and gradually move on to more complex designs.
Make Necklaces: A tried and true easy craft idea is to make `or bracelets. While this might seem like something more suitable for girls - boys can have fun doing it too!
While some kids craft ideas might require special planning, you can usually pull together something quick if you didn't plan on being stuck inside. For instance, just do a delivery order from the supermarket for paper plates and colored markers … you've got the start of your rainy day arts and craft ideas right there!
Remember, the goal of these activities is not just to keep the kids entertained, but also to spend quality time with them
If Your Kids Want To Play Outside In The Rain - Let Them!
Fourth, why not let your kids play and dance in the rain? If it's just lightly raining outside then grab some umbrellas and take them outside for some fresh air (just make sure they stay dry). They can splash around in puddles and jump through mud piles—it might not sound like much fun but believe us when we say they won't be able to resist!
While I strongly advise you to be respectful of the vacation home you're staying in and not track mud, sand, or water into the house - here at the Sea Cottage - there was a back entrance and even the washer / dryer was outside under an awning.
This means that you can bring out some dry towels to wrap up in and take off your wet and muddy socks and such before coming in so that you can have your fun without causing a mess.
Building an Indoor Obstacle Course
Building an indoor obstacle course for your kids to play in on a rainy day at a vacation rental can be a fun and creative activity. Here's how you can do it:
Planning: Start by assessing the available space in the rental. Consider areas like the living room, dining area, or even a hallway. Draw a rough sketch of the layout, and decide where each obstacle will be placed.
Gather Materials: Look for safe, non-destructive items you can use to create obstacles. This can include pillows, blankets, chairs, boxes, and even soft toys. Remember, safety is paramount, so avoid sharp or breakable objects.
Create the Course: Start setting up the course based on your plan. You can create a tunnel with chairs and blankets, use pillows for stepping stones, and boxes for climbing. Be sure to create a variety of challenges to keep it interesting.
Rules and Safety: Once the course is set, explain the rules to your kids. Make sure they understand how to navigate each obstacle safely. It's also a good idea to do a test run with them.
Time for Fun: Now that everything is set, it's time for the kids to enjoy. You can even time them to add a competitive element to the game.
Remember, the goal is to keep the kids entertained and active, even on a rainy day. Always supervise them to ensure they are safe while having fun.
Maybe It's Time For Some A Movie Marathon
Finally, movie marathons are always great fun and a great way to pass the time when it's raining. The owner of Sea Cottage actually had subscriptions to virtually every streaming service imaginable so there was no shortage of movies to choose from.
So why not grab some popcorn, some candy and cuddle up with blankets while fading away into a magical world?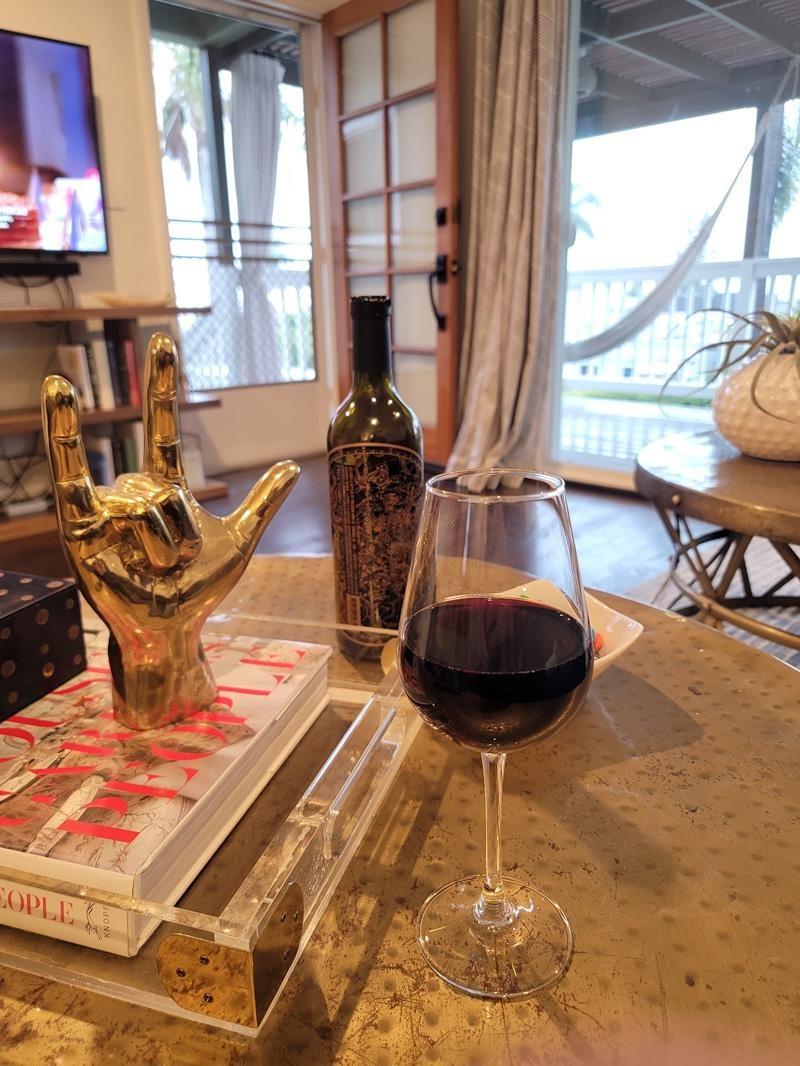 Whatever you do ... just make sure that you look for the silver lining in your rainy-day vacation and make the most out of whatever comes your way! Nothing beats memories made in unexpected circumstances. Whether you are planning a quick weekend getaway or a family spring break trip, enjoy every second and take lots of pictures — they'll be sure to bring a smile anytime you look back on them later.
Also, without a doubt ... this may be stressful for the kids so make some time to relax and enjoy your time away from home with a glass of wine or whatever you enjoy and take a moment to decompress too.
No matter what kind of weather comes along during your vacation stay at a rental home, there are plenty of ways to make sure that everyone has an enjoyable time indoors as well as outdoors! With these five ideas for things to do when stuck inside due to rain while staying at a vacation rental home, you can rest assured that no one will get bored during their stay.