If you're new to a neighborhood, it can be tough to meet people. You don't always know where the best places to go are, and everyone seems busy with their own lives. But meeting your neighbors is important - they can introduce you to new friends, help you in a crisis, and make your neighborhood feel like home. This blog post will discuss four useful ways to start connecting with people in your new neighborhood.
Be Active On Hyper Local Social Media:
One of the best ways to meet new people is by being active on hyper-local social media. Join networks like Next Door, neighborhood Facebook groups, and engage with local businesses on Instagram. This way, you can learn about upcoming events and get recommendations from your neighbors.
If you see someone post about an event that looks interesting, reach out and introduce yourself! Most people are happy to chat with someone new, you never know where a conversation might lead. You can also use social media to find out about volunteer opportunities in your area. Giving back to your community is a great way to meet new people and make friends.
Go For Walks Around Town:
Depending on where you go, walking is a great way to explore your neighborhood and meet your neighbors. Make it a point to go for walks regularly, especially in the evening in busy parts of town when people are more likely to be outside. Strike up conversations with the people you meet along the way – you never know who you might meet!
Get A Dog And Visit Dog Parks
While getting a dog is anything but a minor commitment, the fact is that women love dogs, most guys do too, and dog owners tend to be very social with each other - the same way that real parents tend to socialize at PTA events, school meetings, and kids birthday parties. Getting a dog and walking it, visiting local dog parks, and attending dog-friendly bars and restaurants is an excellent way for single guys to meet people.
Attend Community Events:
Another great way to get to know your neighbors is to attend community events. Check out your local community center or library for events that might be happening in your area. Events are often open to everyone, so this is a great way to meet new people. Also, attend block parties, farmers markets, or coffee mornings at your local café. Getting involved in your community is a great way to make friends and get to know the people around you.
Play Online Games:
One way to connect with new people in your neighborhood is to play online games together. This can be a great way to meet people who share your interests and be a lot of fun. There are many different online games that you can play, so you should check out some of the available options. You may even find that you make some new friends through this activity. If you're not sure where to start, a few websites with survival minecraft servers can help you find online games to play.
Join A Club Or Organization:
There are usually many clubs and organizations in most neighborhoods. This is a great way to meet people with similar interests as yours. It is also a great way to get involved in your community.
Joining a club or organization is a great way to meet people with similar interests as yours. There are usually many clubs and organizations in most neighborhoods, so you should be able to find one that fits your interests. Joining a club or organization is also a great way to get involved in your community.
For example, if you're interested in gardening, you could join a local gardening club. If you're interested in art, you could join an art group or visit local galleries. If you're interested in politics, you could join a regional political party or attend community meetings.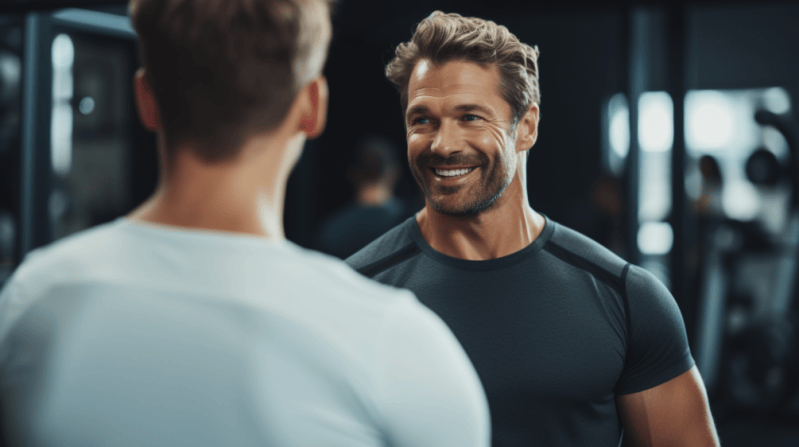 More Ways For Single Men To Meet New Friends
If you are relatively creative and looking for social interaction, there are lots of ways for single guys to meet new friends in the community. This isn't about finding a partner for physical relations - though that can come later. This is about finding new friends who share common interests.
Let's take a look at some additional ideas for ways to meet people that you might want to try ...
Join a Sports Team or Fitness Class: Participate in local sports leagues or fitness classes that interest you. It's a great way to bond over shared interests.
Volunteer for Community Service: Volunteering for local charities or community events can connect you with like-minded individuals.
Attend Social Meetups: Look for social meetups or hobby groups in your area that align with your interests.
Take a Cooking or Art Class: Enroll in classes that interest you, such as cooking or painting, to meet others with similar passions.
Join A Gym: Gyms are for working out and getting in shape but they are also fantastic social opportunities if you join the right one. Many gyms will have social events as well as enrichment classes that you can join and meet new people.
Join Professional Networking Events: Attend industry-specific networking events to meet professionals in your field.
Participate in Outdoor Activities: Join hiking, biking, or running groups to enjoy nature and meet fellow enthusiasts.
Attend Cultural Festivals and Events: Explore local cultural festivals and events to meet people who appreciate the same cultural experiences.
Become a Regular at a Local Café or Pub: Regularly visiting a local spot can lead to friendships with other regulars and staff.
Attend Religious or Spiritual Gatherings: If you're religious or spiritual, attending gatherings can connect you with others who share your beliefs.
Join a Book Club: If you love reading, a book club can be a great way to discuss literature with others.
Travel Solo and Stay in Hostels: Solo travel and staying in hostels can lead to meeting other travelers.
Take Dance Lessons: Dance classes can be a fun and social way to learn a new skill and meet people.
Attend Gaming or Trivia Nights: Participate in local gaming or trivia nights at bars or community centers.
Join a Community Garden: If you enjoy gardening, joining a community garden can connect you with fellow gardeners.
Participate in Local Theater or Music Groups: If you have a flair for the arts, local theater or music groups can be a great outlet.
Attend University or College Alumni Events: Reconnect with old classmates or meet new people through alumni events. This doesn't have to be boring either - if you went to a big school that has a popular football team and you now live in a large city, there is probably a bar that caters to alumni from that school during the fall football season.
Co-Work at Shared Office Spaces: If you work remotely, co-working spaces can be a great place to meet other professionals.
Become a Mentor or Find a Mentor: Engaging in a mentorship relationship can lead to meaningful connections in your field.
Knock On Your Neighbors' Door And Say Hi!: While there are tons of ways that we've shared to meet new people, it is important to not ignore the easiest and most fundamental ... regardless if you live in an apartment building or a residential neighborhood, walk over to your neighbors' door and knock. Say hi, introduce yourself, and get to know them. While this won't always be successful and some people just simply don't want to make new friends, this is your opportunity to put yourself out there and try!
Remember, the key to making new friends is to be open, approachable, and genuine. Engage in activities that you enjoy, and friendships are likely to form naturally.
These are just a few valuable ways to connect with people in a new neighborhood. There are many other great ways to meet people, so get out there and start exploring!