It can be tough to have a healthy lunch at work. Often, we are tempted by the fast food options around us or we simply don't have enough time to prepare something nutritious. In this blog post, we will share some tips to help make your workday lunches more nutritious and satisfying.
Why A Healthy Lunch Is Important For Men
Whether your idea of the best healthy lunch ideas involves gluten-free or vegetarian, as long as your body gets the nutrients needed to support brain and muscle activity, the rest almost doesn't matter. Cold lunches are going to be as good as something freshly prepared at a fancy restaurant but we believe that with the proper meal prep, you can find some great options that will also save you money and time.
A nutritious lunch provides the energy and nutrients you need to power through your afternoon. It can also help you stay focused and productive at work. And, if you're trying to lose weight or eat healthier, a healthy lunch can help you stay on track.
While we often focus on protein-packed recipes when it comes to healthy lunch ideas for men but the best healthy lunch ideas are actually a well-balanced combination of healthy carbs, protein, and fats. For instance, instead of focusing just on a baked chicken breast, consider adding brown rice, sweet potatoes, or cauliflower rice to your meal and use fresh herbs to enhance the flavor rather than relying on salt and sauces to make things taste good.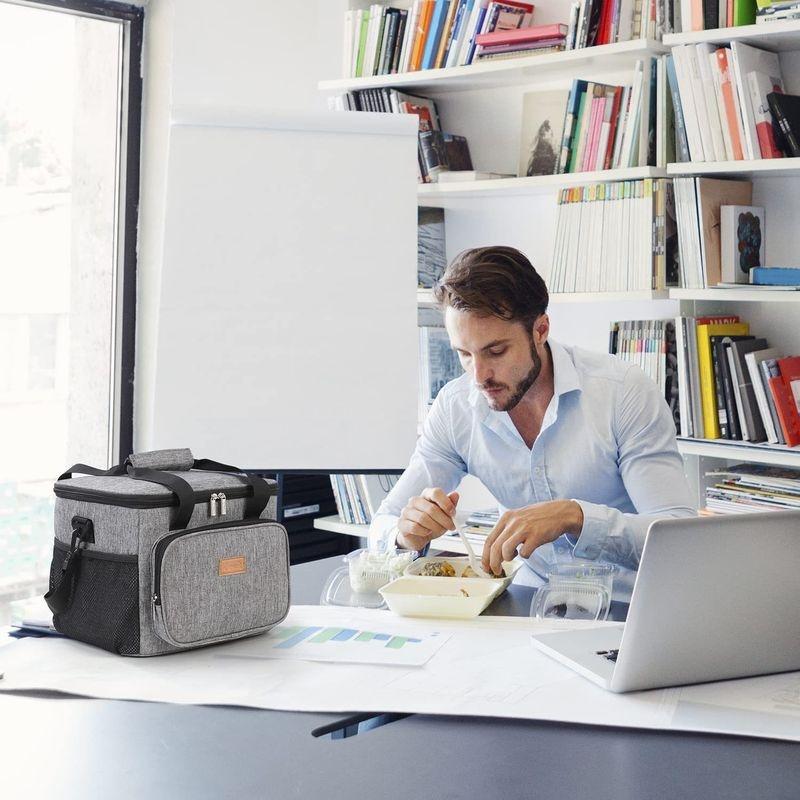 Have The Proper Gear To Carry Your Healthy Lunch:
Ham sandwiches are easy to pack - simply wrap them in plastic and toss it into a paper bag but when it comes to healthy lunch recipes that you'll be able to enjoy at work it is time to invest in the proper gear.
insulated lunch bag
One thing that is going to be an adjustment when you start planning healthy lunch ideas to enjoy at work is that many food items tend to need refrigeration or at least need to be kept cool for a long period of time. For example when you think about tasty cold lunch ideas like feta cheese, tuna salad, or even keto-friendly cream cheese and salami roll-ups, making sure to maintain the proper temperature is essential.
We like the Lifewit insulated lunch bag and use it and the larger insulated cooler to bring healthy lunches on the road with us when we travel. There are plenty of pockets and it looks stylish as well. When a lot of guys think of "lunch bags" or "lunch boxes" the image of stuff they send their kids to school with comes to mind but you deserve something made for an adult.
washable meal prep bowls
If you are brown bagging it and bringing your own food to work then you want to be able to properly store everything so that it doesn't get squished. No one wants a mushy salad or a soggy sandwich. That is why we recommend getting some high-quality meal prep bowls with lids that can be washed easily in the dishwasher. These are great for packing salads, fruit, rice dishes, pasta dishes - anything you can think of.
These bowls, though are for more than just preventing the items from being squished. As you put together your healthy lunch recipes you will quickly notice that some items such as perhaps your tender shredded chicken with green beans need to be heated but your cold sesame noodles or cucumber salad need to be kept nice and cold until it's time to eat.
By keeping them separated until it's time to eat, you can ensure that your healthy lunch ideas taste as good as you imagined during meal prep the night before!
insulated water bottle
While explicitly a "lunch" idea, one easy way to eliminate unhealthy eating habits at work is to switch from coffee and soda to drinking more water as part of your healthy lunch program. A nice insulated water bottle is an important part of this since you can leave it filled with ice-cold water while you are working and eating lunch.
washable utensils
Sure, you can use plastic forks and spoons but making an effort to introduce healthy lunch options into your routine at work is also about improving the overall experience. There are some great options today when it comes to washable utensils that can be cleaned easily. Beyond plastic or metal, bamboo utensils are also a great sustainable option.
From a practical standpoint, you will also notice that as part of your meal prep, some items need a fork or spoon and others will need a knife. By reducing trash you can contribute to the overall spirit of your healthy recipes beyond just improving your individual health.
Tips For Planning A Healthier Lunch:
Planning healthier lunch recipes may require some practice as you shift from ordering lunch delivery or simply packing dinner leftovers but if you are determined to introduce healthy lunch recipes into your daily routine then it will start to get much easier very quickly. When defining what to include in healthy lunch recipes you should remember that it needs to work for you. If you don't love it then you probably won't eat it!
This plan for healthy lunches needs to include a variety of perspectives and there's nothing saying that you have to do everything all at once. For instance, simply reducing the amount you eat and adding a focus on packing a light lunch is one way to address the situation since you can always buy something extra if needed or store healthy snacks in your desk. Another perspective might be to work on eliminating carbs.
If this is your goal, make sure to pack a low-carb lunch or one that is keto-friendly but include fresh herbs as an alternative to the meal simply being meat. By using different herbs, you can make your simple boneless, skinless chicken breast have a wide variety of flavors instead of simply the same thing every day.
Something like that can be a delicious cold lunch idea for a hard-working man, or you could prepare it with a microwave-safe bowl and it is an easy-to-heat delicious hot lunch.
Work lunches have some unique considerations but if you start to focus on planning your lunch recipes ahead of time, you can make an easy lunch that will help you be a healthier and more productive part of your team at work.
Plan your meal prep routine ahead of time:
Take some time on the weekend to meal prep or cook a few healthy meals that you can pack for lunch during the week. This will save you time and money and help you make healthier choices. Making a meal plan is probably the biggest thing that will help you find success when creating healthy lunch options.
Protein is important:
Protein helps keep you feeling full and satisfied. Good sources of protein include lean meats, beans, tofu, hard-boiled eggs, nuts, and seeds.
Don't forget about including a healthy snack:
A healthy snack can help tide you over until lunchtime. This will help you avoid unhealthy vending machine snacks or office birthday cake. Choose something high in protein and fiber, such as nuts, seeds, fruit, or fresh vegetables.
Delicious lunches get eaten and not wasted:
If your lunch is not delicious, you're less likely to eat it and more likely to waste it. Make sure to pack foods that you actually enjoy eating. This may take some trial and error but eventually, you'll find a few healthy lunch recipes that you really love.
Easy To Prepare Healthy Lunch Ideas Men Love
As mentioned above, what your healthy lunch recipes look like will be different from mine. The key with healthy lunch ideas that men like you want to eat at work is focusing on healthy lunch ideas and mixing and matching. Experiment with lunch ideas that fit your personality. Before long, you will certainly have more healthy lunch ideas than you can shop for!
Healthy Lunch Ideas:
The following are a few thought starters that you can include as part of your meal plan to create some easy recipes that are also healthy. If you are trying to change your lifestyle, creating a series of healthy and easy lunch menus like this can be a good start.
Veggies ...
Roasted Sweet Potato Hash
Fresh Veggies - sliced bell peppers, carrots, broccoli
Lentil Soup
Spinach Salad
Butternut squash
Proteins ...
Chicken Salad Prepared With Greek Yogurt
Baked Chicken Breast
Plain Pork Chop
Baked Salmon
Black beans
When it comes to healthy lunch ideas for work, it is often easier to plan your meal prep as part of a big batch. For instance, if you like chicken then bake several chicken breasts on a sheet pan in the oven and then prepare them differently throughout the week - shredded, chicken salad, or even as fajitas with bell peppers, onions, and garlic so you have all the flavors that you know and love.
When you have these items prepped ahead, it is easy to add in fresh ingredients such as veggies that you might pick up at a local farmers' market.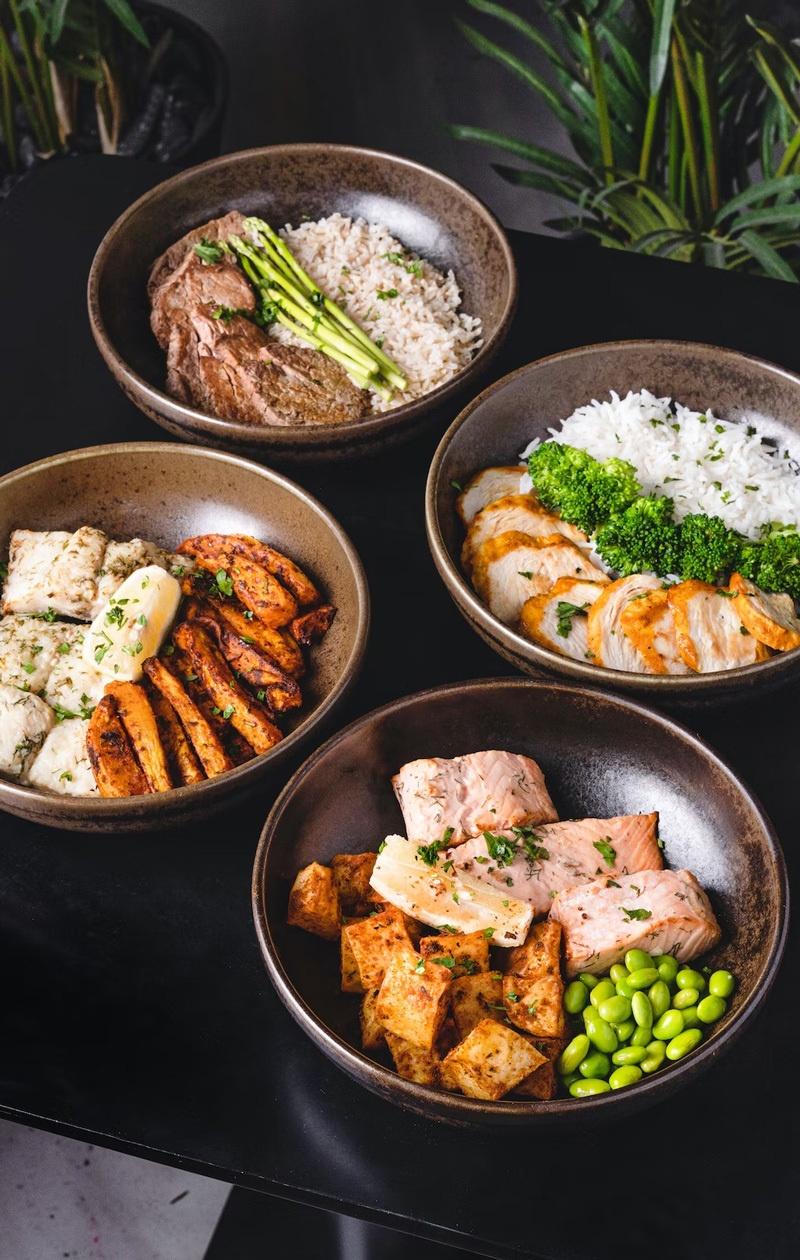 Tips For Ordering A Healthy Lunch From A Restaurant
While bringing your own lunch to work is a great idea and can help eliminate some temptation, there are many instances when you will want to dine out and still seek a healthy lunch.
Tips for ordering a healthy lunch at a restaurant:
Start with a salad:
A salad is a great way to fill up on fiber and nutrients.
Choose a lean protein:
Choose lean protein such as grilled chicken or fish when ordering your main dish.
Limit high-calorie sides:
Sides such as French fries add a lot of calories without much nutritional value. If you order a side, choose something lighter such as a small salad or steamed veggies.
Watch your portion size:
It's easy to overeat when dining out, so be mindful of your portion size. You can always take half of your meal home in a doggy bag.
Avoid sugary drinks:
Sugary drinks add empty calories to your meal. Stick with water, unsweetened tea, or sparkling water.
These tips can help you make healthier choices when dining out for lunch. By following these tips, you can enjoy a delicious and nutritious meal without sacrificing taste or breaking your budget.
Yes - It is Possible To Plan A Delicious Healthy Lunch At Work
When it comes to improving your health, there are small changes that you can make in your daily routine that can have a big impact. One area where you can really make a difference is the food that you eat. What you put into your body directly affects how you feel both physically and mentally. If you're looking for ways to improve your health, one place to start is by making sure that you're eating a healthy lunch.
A lot of times, people think that eating healthy means that they have to sacrifice taste or convenience. But that doesn't have to be the case! There are plenty of healthy lunch ideas out there that are both delicious and easy to prepare.
Eating a healthy lunch at work is possible and doesn't have to be boring. By following the tips above and mixing and matching some of your favorite recipes, you can easily create delicious and nutritious lunches that you will love eating.