Written by:
James Hills
Created: 26 February 2018 Last Updated: 07 July 2022
Top Blog
Hits: 9244
Reading time: 01:37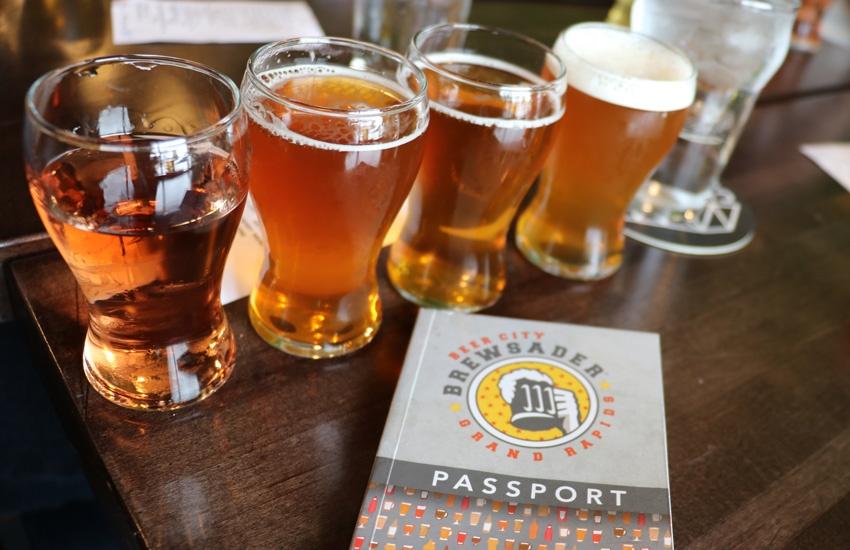 Grand Rapids Michigan is "Beer City". While many cities around the country boast an impressive number of craft breweries, this one is special and easily located just a few hours drive from major population centers in Chicago, Indianapolis, and Detroit. With the mighty Brewsader Passport in hand and guidence from Experience Grand Rapids, we set off to explore what makes this city a great beercation destination.
About our Grand Rapids Beercation ...
Home base for this trip was the fantastic Amway Grand Hotel providing incredible views of the Grand River and centrally located to the action downtown. While we visited during the winter, during the summer months many of the breweries we visited would be walking distance too.
Aside from the goal of spending time with other awesome men and exploring a new city, our mission this time was simple. We needed to visit eight craft beer breweries and get stamps in our Brewsader Passport so that we could get a special gift from Experience Grand Rapids. Since we are overachievers, we collectively smashed that goal and all of us wished we had more time to visit others we couldn't sample on this trip. Hopefully we'll be back again soon!
Grand Rapids Breweries Visited:
Bloggers on this Beercation Adventure Include:
The following are posts created based on experiences on this guys weekend adventure ...
ManTripping:

Exploring Grand Rapids Michigan - aka Beer City USA
Guys Gab:

We Checked Out Grand Rapids' Beer Scene and I'm Still Pretty Buzzed
Dad of Divas:

Grand Rapids is the Perfect Spot for a Beercation!
Even More Amazing Breweries in Grand Rapids, Perfect for a Beercation
Divine Lifestyle / Foodie Father:
Grand Rapids Brewery Crawl (YouTube link)
Bucket List Publications:
5 Bucket List Grand Rapids Breweries
---