Written by:
James Hills
Created: 21 April 2023 Last Updated: 21 April 2023
Trending
Hits: 1505
Reading time: 09:49
As some of you may know, I just bought a new condo and we're moving from San Diego to Southwest Michigan. While a great electric screwdriver is something that every homeowner needs to have in their kit of tools for random DIY projects, to be honest ... I had usually relied on manual racheting screwdrivers as well as screwdriver bits locked into my drill. For the vast number of projects that I'm preparing with our new condo though I felt it was essential that I take things to the next level and invest in the right tools for the job. That's why I've been shopping around to find the best electric screwdriver that I can. Here's what I've found ...
Here are some reasons why you should use an electric screwdriver instead of a drill with a screwdriver bit or a manual screwdriver:
Speed: With an electric screwdriver, you can complete your project quickly, saving you time and effort compared to using a manual screwdriver. It's also much faster than a drill with a screwdriver bit as you don't need to switch out bits or adjust settings.
Ease of use: An electric screwdriver is much easier to use and requires less physical exertion compared to a manual screwdriver. It's especially helpful for people with hand or wrist problems or for larger projects where manual screwdriver use can lead to hand fatigue.
Precision: The electric screwdriver allows you to be more precise in your screw placement than with a drill or manual screwdriver. This is especially important for tasks that require a delicate touch or consistent torque.
Convenience: Electric screwdrivers are cordless, meaning you can use them without needing an outlet or extension cord. This makes them convenient to use in hard-to-reach places, such as when assembling furniture.
Versatility: Many electric screwdrivers come with interchangeable bits, making them versatile for a wide range of screw-driving tasks. Some can even be used for drilling or sanding, making them a more versatile option than a manual screwdriver.
Cost-Effective: Electric screwdrivers can be a cost-effective option as they are usually more affordable than cordless drills. Additionally, they can save you money in the long run by reducing the likelihood of damaging your screw or the material you're working with, which can cost time and money to fix.
Overall, an electric screwdriver is an efficient, versatile, and cost-effective tool that can save you time and effort while delivering precise and consistent results. Unfortunately, not all electric screwdrivers are the same. Thankfully after trying a few different options I was able to find one that worked nearly perfectly.
Are you looking for the best electric screwdriver to help with all of your DIY home projects? You're in luck! This buying guide will provide you with information about the different types and features so that you can make an informed purchase. Whether it's assembling furniture or making improvements around the house, having a reliable electric screwdriver is essential. It'll save you time and energy so that you can focus on living life to its fullest - something we could all use more of these days!
By reading this guide, not only will you be able to find a tool that meets your needs, but also one that makes you feel proud and confident. After all, there's nothing quite like knowing that you have the right tools for the job – it helps us create an identity as handy people who are part of a community that loves getting things done quickly and efficiently. Let's get started!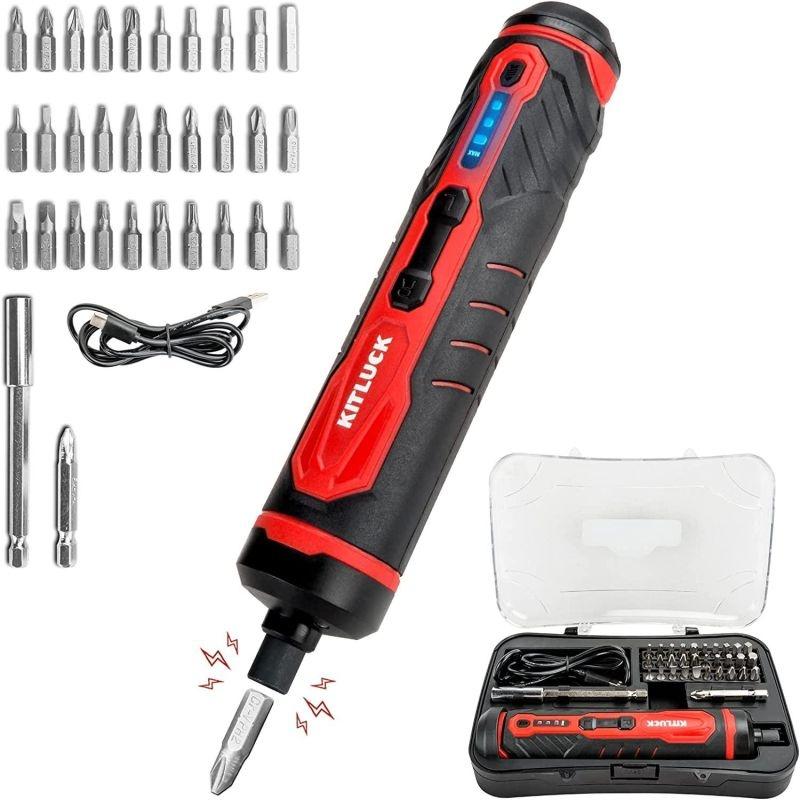 KITLUCK Power Cordless Screwdriver
The KITLUCK Power Cordless Screwdriver is a fabulous tool for nearly all DIY home projects. With its outstanding features, superior performance and unrivaled durability, this cordless screwdriver is the perfect choice for anyone looking to take their DIY skills up a notch.
To begin with, the KITLUCK is equipped with three torque level modes - 0.5/2.5/5 N.m which can be switched instantly by pressing the "Drill" button on the end. Furthermore, it boasts a spindle lock that allows users to fasten and loosen screws manually without any difficulty. The ergonomic design of this mini electric screwdriver makes it easy to carry around while its compact size ensures ease of storage - making it ideal for electrical repair, switch installation, or bicycle repair, amongst other tasks!
Additionally, KITLUCK's rechargeable Li-ion battery power provides long-lasting performance as well as superb service life; coupled with the TYPE-C charging cable included in the box and LED lights that turn on when working – you know your work will get done quickly and efficiently every time! Finally, let's not forget about its magnetic hex chuck which helps keep drill bits from falling out whilst working; plus 31 drillbits and an extension rod are also included in the set ensuring you have everything you need for even small drilling works in narrow spaces!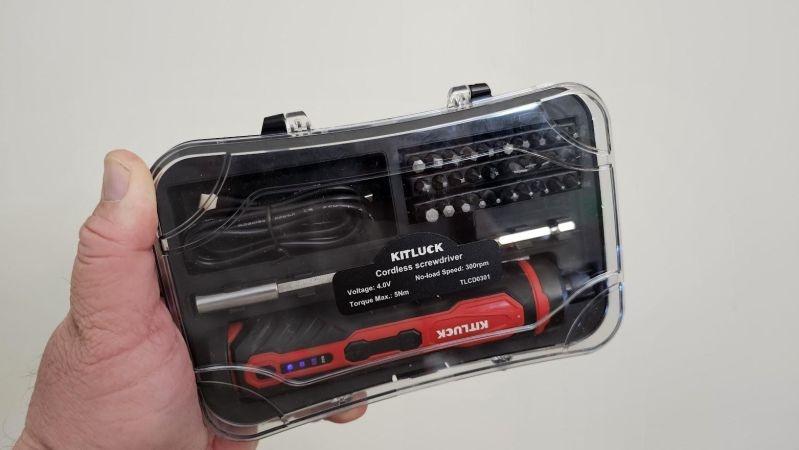 Features That Made The KITLUCK Screwdriver My Top Pick:
There are many options out there when you search for electric screwdrivers. However, this one from KITLUCK was my top pick for a few different reasons ...
1) USB - C Charging: Simply put, this is the new standard for charging and I don't want to worry about needing to search for a micro-usb plug, much less a proprietary charging cable.
2) Compact and easy to hold: While some of the other electric screwdrivers in this review roundup are angled like a drill or are lighter and more streamlined to look closer to a traditional screwdriver, this one strikes a nice balance between the two.
3) Good carrying case: Sometimes you don't need to worry about a case but I do like the nature of this one. It holds everything together and while it isn't the most fancy it does have a nice feel to it that doesn't feel too cheap.
4) LED Light: This may be an under-rated feature for most people but I really found this to be essential for projects involving dark spaces.like working under counters or behind couches.
Now, let's take a look at some other electric screwdrivers that I considered ...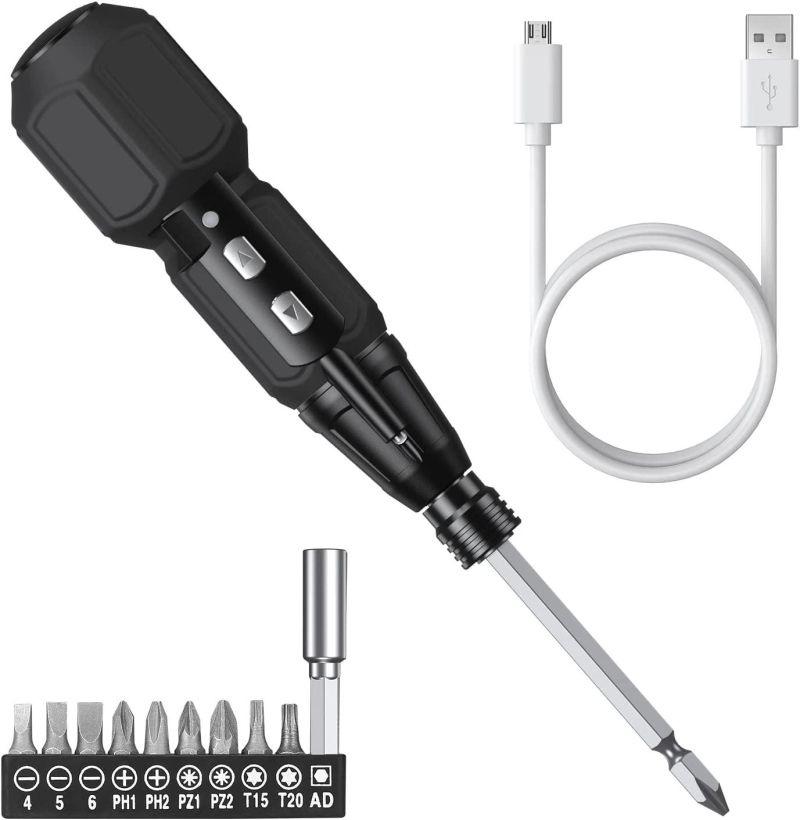 Amir Rechargeable Electric Screwdriver Set
The AMIR Rechargeable Electric Screwdriver Set is a great choice for DIY projects at home. With its 2-in-1 function, it can be used both electrically and manually with maximum torque of up to 10NM when working manually. It comes with an LED work light that illuminates dark corners enabling ease of use while the USB charging feature offers battery life to power through your project without interruption. Additionally, this compact cordless screwdriver is lightweight and portable making it perfect for any task requiring portability. Whether you're assembling furniture or hanging pictures in your house, this electric screwdriver will make sure you get the job done quickly and efficiently!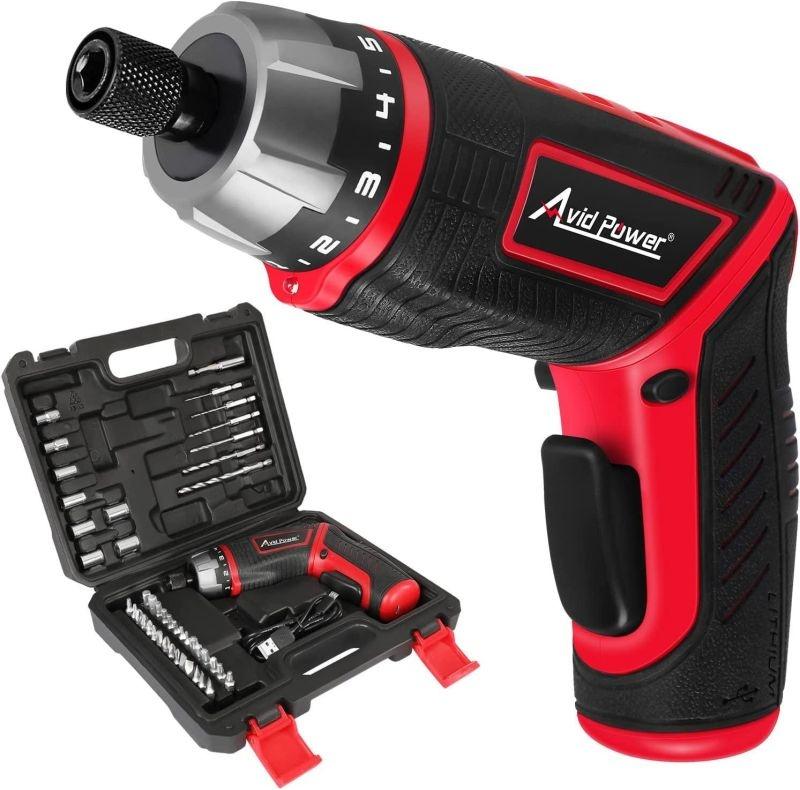 Avid Power Electric Screwdriver Set
The AVID POWER Electric Screwdriver Set is the perfect tool for DIY home projects. Featuring a powerful motor that delivers up to 50 in-lbs of torque, this cordless screwdriver offers superior performance and efficiency when fastening or drilling into wood. It comes with a 1/4" metal chuck, making changing accessories easier. Additionally, its dual-position handle allows you to switch between straight and pistol grip positions depending on your task at hand.
This electric screwdriver also boasts an ergonomic design with a lightweight body to comfortably operate with one hand. It has bright LED lights that provide illumination even in dark environments, allowing you to work accurately and precisely. Furthermore, the built-in 1300mAh rechargeable lithium-ion battery provides long lasting power - making sure you never run out during a job! Finally, the set includes 44 pieces of rich accessories such as 8x Sockets, 28x 1" Screwdriver bits and 6x HSS Drill Bits – giving you everything you need for any project around the house.
The AVID POWER Electric Screwdriver Set is an ideal choice for anyone looking for a reliable and versatile tool for their DIY needs. With its strong battery life, wide selection of screw bits, and ergonomic design – this set will make quick work of any project!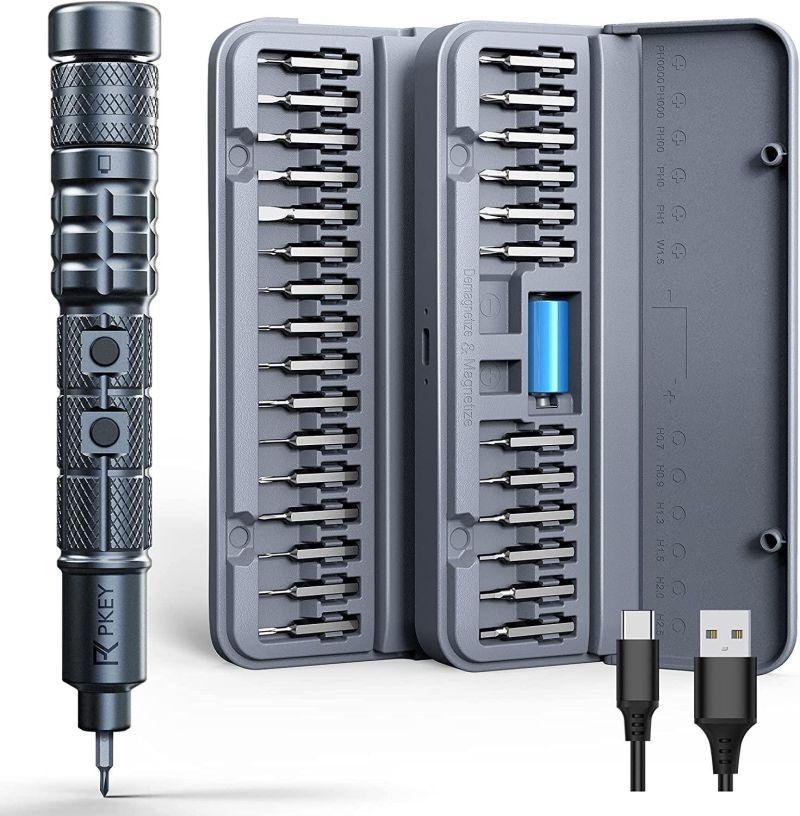 Pkey Electric Mini Electric Screwdriver
The PKEY Electric Mini Electric Screwdriver is a great choice for any DIY project, and especially those where you might need more precision and smaller screwdriver bits. I also absolutely love the hight-tech look and feel of this one.
This electric screwdriver offers three adjustable speeds and an overload protection feature to make sure your equipment stays safe while you work on it. It also comes with 28 magnetic precision bits making it perfect for a range of tasks, from repairing small electronics to assembling furniture. The best part about the PKEY Electric Mini Electric Screwdriver is its battery life and torque settings, which offer up to 300 minutes of use on one charge and provide precise control over how tight or loose screws are tightened or loosened. Its ergonomic design makes it comfortable to hold and use in even the smallest spaces without fatigue.
The entire package has been designed with convenience in mind, offering both manual mode as well as electric mode so that users can switch between them quickly and easily when needed. With these features at hand, this electric screwdriver is a must-have tool for anyone who loves tinkering around their home!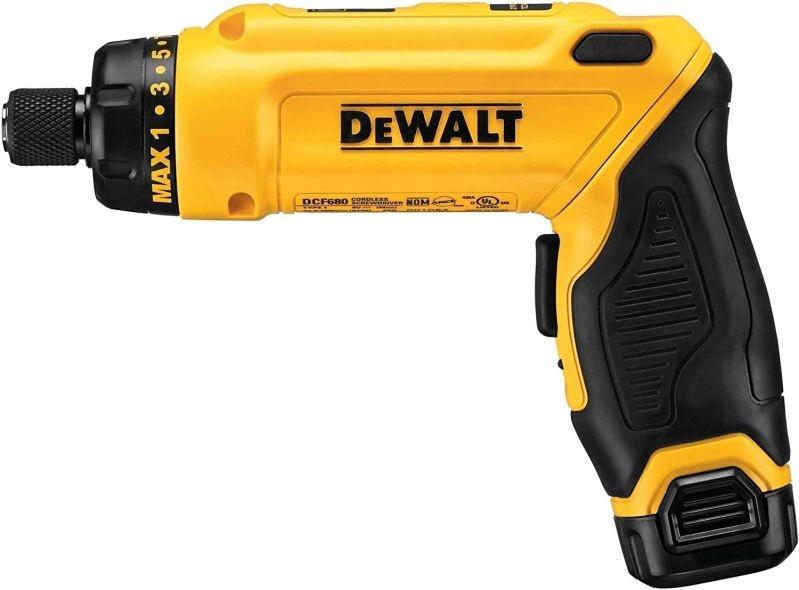 Dewalt 8v Max Cordless Screwdriver Kit
The DEWALT 8V MAX Cordless Screwdriver Kit is perfect for any DIY home project. With impressive features and powerful battery options, this screwdriver has everything amateur handymen need to get the job done quickly and efficiently. This is the big daddy of electric screwdrivers and while the others are between $20-$50, the $100+ price point here is warranted for a product offering premium features like 8V power and the quality you expect from the Dewalt brand of power tools. That isn't to say that our pick - KITLUCK - isn't a good brand, but you can't ignore that Dewalt is a trusted brand that American men have used for more than 100 years.
From its adjustable two-position handle for in-line or pistol grip operation to its motion-activated variable speed up to 430 RPM, this cordless tool will make a valuable addition to your arsenal.
This technologically advanced device can also reach torque levels up to 150in/lbs and features LED illumination so you don't have to worry about shadows while working in confined areas. Plus, with easy bit changes thanks to the 1/4 inch hex design, you'll be able to switch out bits fast without missing a beat.
It's no wonder why so many people swear by the DEWALT 8V MAX Cordless Screwdriver Kit - it packs all the power needed for light fastening applications into one convenient package, while also having ample power for more complex jobs that require a bit of elbow grease to drive screws into stubborn boards. Whether you're a professional contractor or just getting started on your first home improvement project, this dependable kit should definitely be at the top of your list!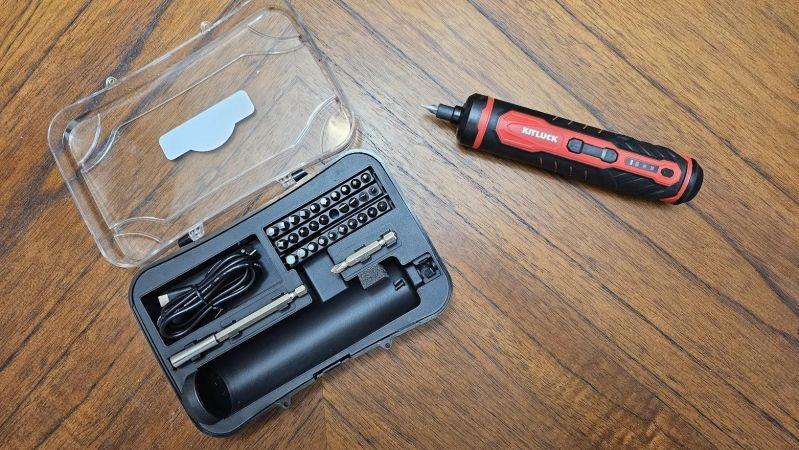 The Best Electric Screwdriver Is The One That Fits You Best
If you're looking for the best electric screwdriver to help with all your DIY home projects, then these five options are a great place to start.
Not every tool is right for every man and that's why I included a few of the options that I considered before purchasing the KITLUCK screwdriver for our projects. For instance, while USB-C charging was an absolute requirement - not everyone feels that way. Likewise, since 90% of our projects require simple screwing like assembling IKEA furniture for instance, those who need something with more power should potentially invest in the much more expensive and robust DEWALT model instead.
If you have any questions, you can always reach out to us and for more advice on picking the best tools for home improvement.
---