Written by:
James Hills
Created: 24 July 2015 Last Updated: 27 July 2015
Top Blog
Hits: 4289
Reading time: 05:32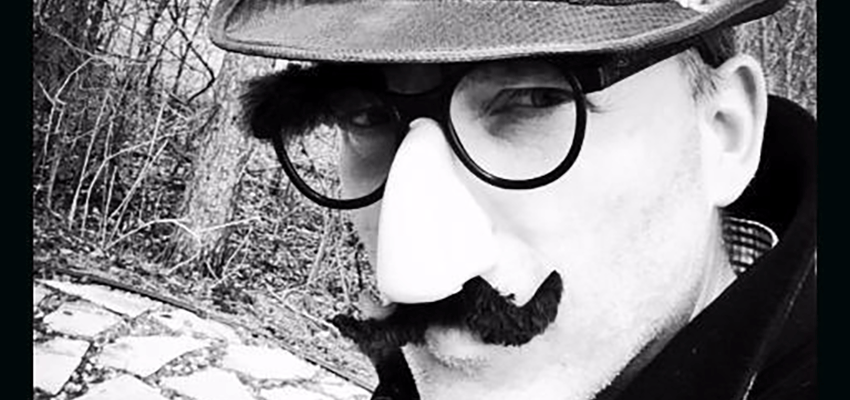 Last fall I met an interesting guy on a press trip and we hit it off. While I've very rarely met a guy who was "boring", most bloggers are out to promote themselves in one manner or another with selfies and such. Instead, this guy is simply known as "The Product Poet" and he hides behind "Groucho mask" and a hat. Like Batman and Superman, no one knows his real name and he likes to keep it that way. However, what struck me as impressive is his incredible talent for building a brand and creating something awesome through poetry - on Twitter.
BTW kudos to Mike Driehorst from Fiat Chrysler America for including this guy on the trip where we met. Mike always does a great job of mixing "traditional" bloggers with unique characters like this guy. It makes his trips a blast and I suspect it works great for the brand too ... instead of just promoting to the same audience all the time!
Clouds & sky collide. My sun is somewhere dancing. The rain is crying. #haiku #senryu #GoodMorning #amwriting pic.twitter.com/CQ35LkGVjo

— The Product Poet (@ProductPoet) July 26, 2015
Why "Product Poetry"?
I noticed that on social media (especially Twitter), brands have a difficult time crafting a message, including a picture or a link, within 140 characters. By using a simply rhyme or a haiku, I could craft a message of my favorite brands' products and educate my followers at the same time.
Off in the distance 'twas my tranquility, behold my @JimmyJohns was waiting for me. #LoveYa #LunchMunch pic.twitter.com/djjInbmhxH

— The Product Poet (@ProductPoet) June 16, 2015
How did you get started?
As a former CEO of a social-networking related company, I knew a fair amount about social media engagement. My real first tweet was just a little over three years ago and since that time, I've tweeted out over 74,000 times, with the vast majority being in haiku or rhymes. Oops, I rhymed. Yet each day I am on social media, it is about understanding your follower base and building a highly-engaged community. Just because one person has more followers than another, doesn't necessarily translate into greater engagement.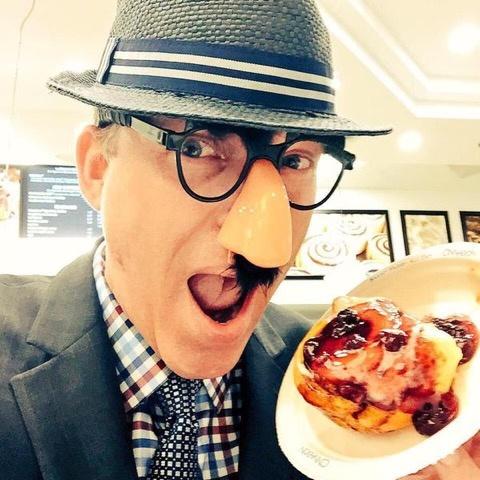 What's your favorite poem that you've created? (which was the most difficult?)
Many of the haiku or Twitter poems I write, could perhaps be a little risqué, but the right brands gobble it up.
I often will do series of haiku, such as my #50ShadesOfCinn series, which was actually my favorite. It is somewhat of a story/ode to Cinnabon. Some of my more difficult poems to create are when I ask for a prompt from my Twitter followers where I ask for three different words. I then use their words and craft a poem. The simply tilted poem "Asymmetry" is a perfect example of using others' words to create a poem.
All kidding aside, one of the biggest challenges in social media is to "break through" and create a product people want. You've done that. Why do you think you've been so successful?
I am asked this question all the time of how I have essentially built a brand "One Tweet At A Time." For me, there are multiple rules that I have, kind of like my 10 Commandments of Engagement. One example is, "I don't complain, but if I do, it will always be, in rhyme or haiku." You see, I rarely, ever ever complain on social media, which actually endears me to many of my interacting brands and followers. I generally am alway promoting the products I use every day or adore, so there is a genuine nature to how I wax on poetically for products. Lastly, regardless of which social network you are using, you must have the same "voice" regardless. Many of my followers follow me across multiple social networks, so consistency is the key to my product placement poetry. Hey, I rhymed again.
Why the groucho mask?
For nearly two years there had never been a picture of me taken. I like to say that I am the antithesis of the selfie generation that we live in today and I want to de-emphasize the focus on "me" but instead showcase perhaps a new product no one had ever heard of before. However, in April 2014, I was the guest speaker at Hilton Hotel's Sociallite Bootcamp in New Orleans. Given that I was just a logo (my original avatar), no one knew what I looked like. They didn't know if I was a hemp eating, dread-locked wearing bike messenger or the pinstripe suit, button down suit professional that I really am in real life. As part of the Bootcamp, the Hilton team did a team building exercise where they had the Groucho mask. When they wanted to Instagram and Tweet out a picture of me, I said what the heck, give me the mask. That was the first picture of myself on social media (with the exception of one non-masked picture taken during one of my presentations that has since been deleted) and it helped to perhaps humanize myself a bit to my followers. Oddly enough, even with the avatar I use today, many people still think I am a woman. It happened today in fact. However, the downside of wearing a mask and very few people knowing your real identity, is I have had several people impersonate me by wearing a Groucho mask and walking into a coffee shop or restaurant trying to earn favor with the establishment. Unfortunately this is one issue I am constantly affecting my brand.
Standing still is time. I'm in awe of her beauty. The stars are aligned. #Haiku @MercedesBenz pic.twitter.com/llWuzyzuH3

— The Product Poet (@ProductPoet) August 7, 2014
Branding is probably as critical to your success as talent. What advice do you have for people who are looking to take a "good" experience and make it something that is "own able".
There was a great article that I read a while ago that said that on Twitter, people that complain to a brand receive a response rate of approximately 29% of the time. But for me, I choose to do the exact opposite and always praise my great experiences. I recently started actually writing reviews on my website (www.theproductpoet.com) where I began writing more about my experiences. In doing so, I then drop the links on to the brand pages and communicate that articles via various social media channels. By doing so, the consistency of "owning" a positive experience can be taken from a short Twitter poem to a full-fledged article. Personally for me, this has been critical for my branding.
---