Written by:
Aaron Turpen
Created: 03 January 2023 Last Updated: 09 January 2023
Hot!
Hits: 683
Reading time: 03:41
We were recently sent a sample bottle of Dos Hombres new Espadin Mezcal. Mezcal is a less abrasive form of tequila for those not in the know. For people like myself, who aren't straight tequila fans, it's a more palatable option with less sugar in the taste and more smoothness to the pull.
Espadin Mezcal is made with maguey espadin (agave angustifolia). This plant's sugars differ from those in other agave species, such as the Blue Agave used in premium tequilas, lending themselves to the unique taste of mezcal. From there, the Dos Hombres process of turning that agave into mezcal creates the taste profile they've built into this artisanal brew.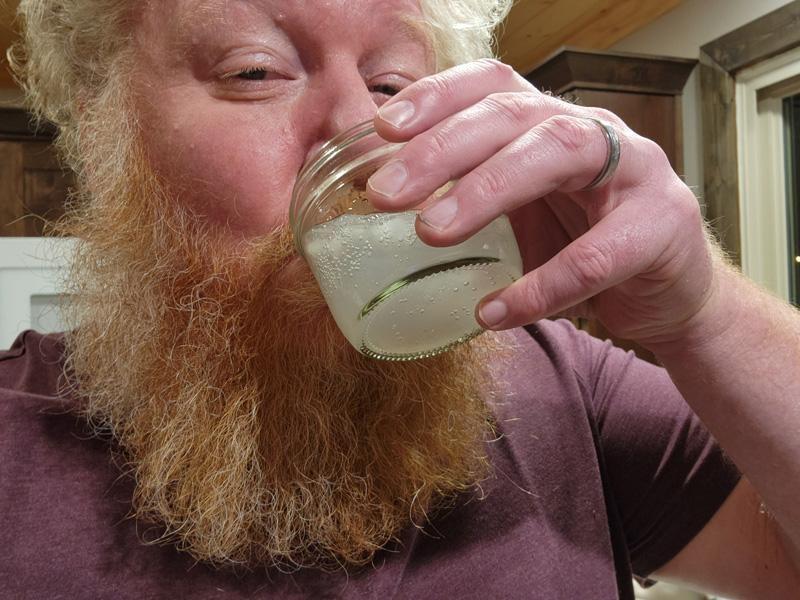 My first try with Dos Hombres Espadin Mezcal was straight as a shot. The best way to test any liquor right out of the bottle. A short pour into a glass with a little time to breathe and then a swish around the palate before swallowing. The flavor is definitely unique and while reminiscent of straight tequilas, it's much silkier on the tongue and less sugary in the throat. A smoky aftertaste finishes the feel. Which is what made me fall in love with this one.
The next was to try it as a mix, which is how most tequilas are consumed. Mezcal, in particular, is prized in a Paloma. This is usually mixed using tequila or mezcal, grapefruit juice, and lime. Or, if you're a lazy American, you can just use Squirt. Which is basically grapefruit juice and lime, carbonated into a bottle. This is what I did.
Call me a heathen if you must. But it was good. Really, really good. Be aware that this mix, while very tasty with the beautiful smoky aftertaste that comes with this mezcal, sneaks up on you. I didn't realize how much I'd had until I felt the buzz. But it was a nice buzz and, unlike most sugary alcohols, didn't return the next morning as a hangover. I place that as top-shelf material.
The basic mix for a Paloma is simple. Fill a shaker or glass of ice with your drink mix and stir or shake. Then filter off into a glass with a couple of ice cubes at the bottom. The recipe is simply like amounts of mezcal and grapefruit juice, half as much honey or simple syrup, and club soda to taste. Drop a slice of lime in or attach to the rim. If you're going heathen, just do one part mezcal and one-and-a-half parts Squirt. In either case, the glass' rim can be salted if you like, but that's not necessary with mezcal versus the tequila version of this same drink.
Once you've tried a mezcal Paloma, you'll want to drink it fast. Don't. Savor it. Then experiment with the flavor by changing ingredient levels and/or adding squirts of lime juice to the mix. The smokiness of the Dos Hombres mezcal will definitely lend itself to extra lime or less soda watering it down.
More Dos Hombres Mezcal Cocktail Recipes
While a Paloma is one of our favorite choices for quick and easy cocktails, mezcal is a spirit that offers many diverse options in terms of it's use in mixed drinks. Here are some other recipes that the brand sent us.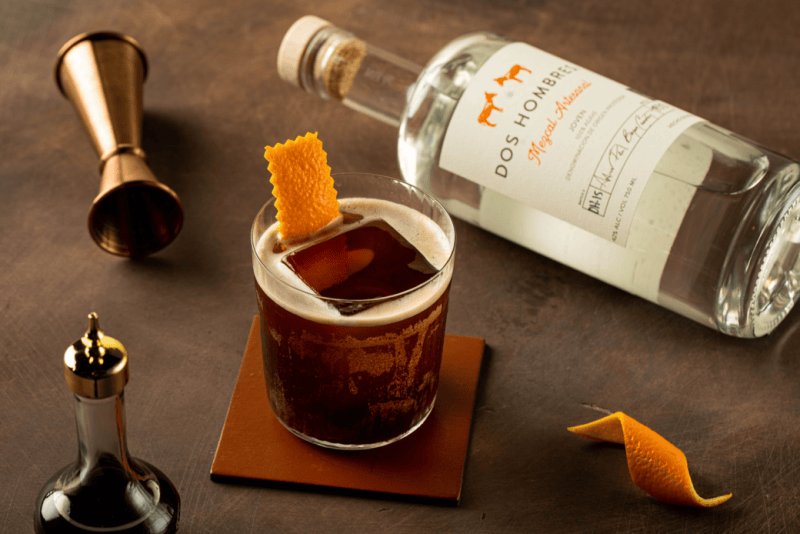 Oaxacan Coffee
1.5oz. Dos Hombres Mezcal
1/4oz. Demerara Syrup
1oz. Cold Brew
3 Dashes Chocolate Mole bitters
3/4oz. Amaro
Directions: Add ingredients to a shaker filled with ice. Shake and strain into a rocks glass over a large ice cube. Garnish with expressed orange peel. Enjoy!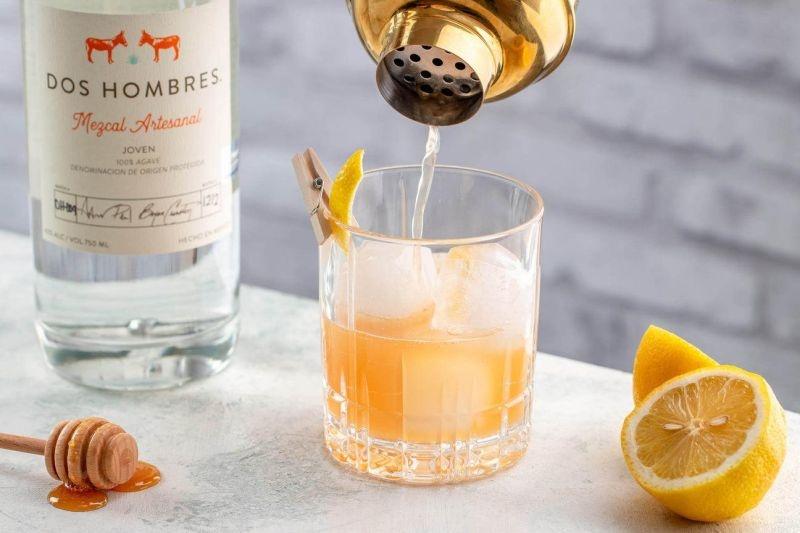 Smooth As Honey
20z. Dos Hombres Mezcal
1oz. Honey Syrup (honey and water)
2 Dashes aromatic bitters
¾oz. Fresh lemon juice
Directions: Add all ingredients into a mixing tin. Shake and strain into a large rocks glass. Add lemon peel for garnish. Enjoy!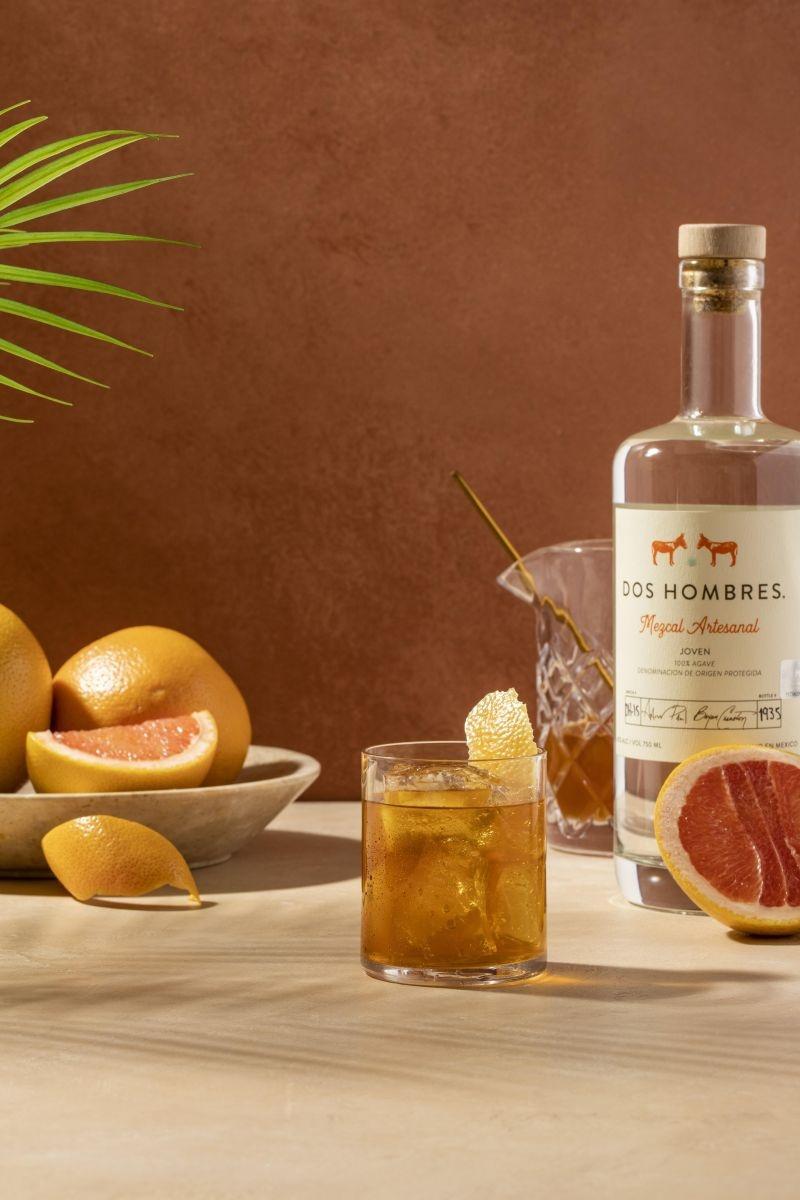 Naughty Toddy - can be served warm or chilled!
1oz. Dos Hombres Mezcal
1/2oz. Fresh lemon juice
1/4oz. Honey
1oz. Whiskey
20z. 100% Natural apple juice
Directions: Mix all ingredients, pour into a teapot or pot on a stove, and heat. Use caution as the cocktail will be hot. Pour into a coffee glass. Garnish with a lemon wheel. Enjoy!
This article also appeared on ManTripping.com
---