Written by:
James Hills
Created: 17 June 2023 Last Updated: 17 June 2023
New!
Hits: 423
Reading time: 07:35
Forget what you might have heard about cruising being full of old people and cramped quarters ... this family vacation is going to be far from "stuck on a boat". Instead, imagine a family vacation packed with endless excitement, adventure, and activities for all ages - that's what you'll find on a Royal Caribbean cruise. From the adrenaline-pumping FlowRider Surf Simulator to bumper cars, this is a luxury family vacation experience offers unforgettable memories and unparalleled fun for everyone.
Key Takeaways
Royal Caribbean cruises offer a wide range of exciting activities for all ages, including the FlowRider surf simulator, bumper cars, trapeze school, sky diving, rock climbing and zip line.
These cruises are ideal for families because they offer exceptional entertainment and dining experiences that cater to everyone's tastes and budget.
Royal Caribbean Cruise provides an excellent value for money as everything is included in the cost of the cruise fare - from food to accommodations to onboard activities.
Families can experience multiple destinations without constantly packing and unpacking thanks to their trusted travel agent.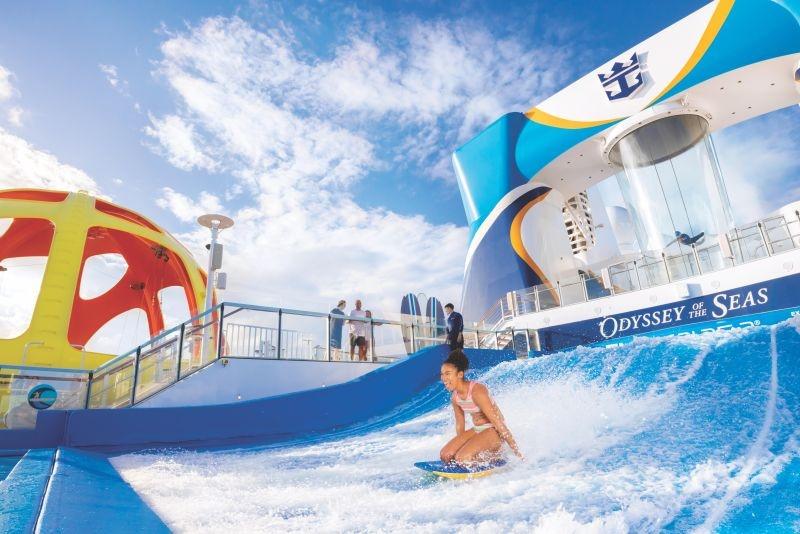 Fun-Filled Activities Found On Different Royal Caribbean Cruise
Royal Caribbean Cruise offer a plethora of exciting activities, ranging from the FlowRider surf simulator and bumper cars to trapeze school and sky diving. While different ships may have different activities, every ship from the upcoming Icon of the Seas to their older, smaller ships, are packed with adrenaline pumping activities that are sure to tire out even the most energy packed kid in your family.
FlowRider Surf Simulator
One of the most exhilarating attractions on a Royal Caribbean Cruise is undoubtedly the FlowRider Surf Simulator. This 40-foot-long feature allows guests to experience the thrill of ocean wave simulation as they either "bodyboard" or "flowboard", with fast-paced water propelling them across an impressive artificial wave. Not only is the FlowRider packed with 100,000 liters of water moving at a whopping 20 mph to create a powerful surf wave, but it is also free for all Royal Caribbean Cruise passengers to enjoy. For the ultimate experience though, you can also reserve private sessions.
From our experience, the first few days of the cruise is spent getting into the groove, so if you want to maximize your time on the cruise - why not prepare before you head out to sea.
For instance, check out some Onewheel reviews and grab one of these boards that suit you, then use them both at home and during the day to practice your technique - soon enough you'll be riding waves like an expert and setting foot in the FlowRider will feel perfectly natural!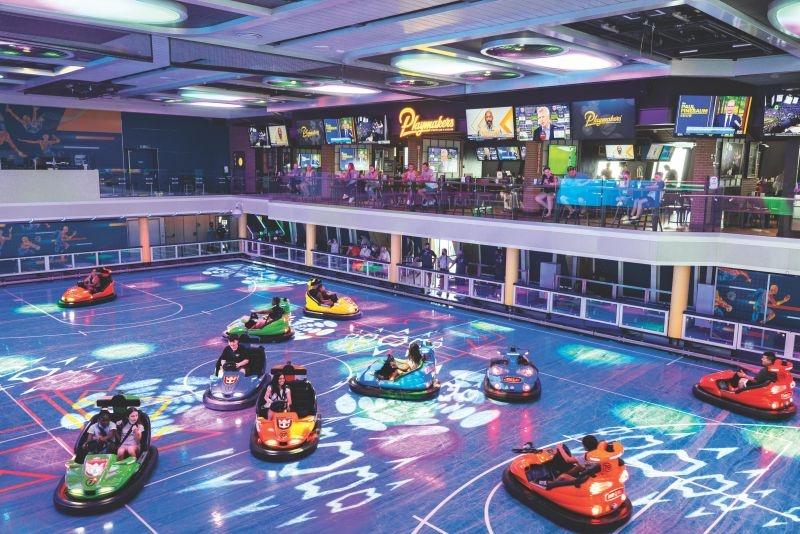 Bumper Cars
One of the most exhilarating experiences on Royal Caribbean cruises is the inclusion of bumper cars as part of their fun-filled activities. Found in SeaPlex, an indoor games arena, these amusement park rides provide high-energy thrills for kids and adults alike.
The best part about Royal Caribbean's bumper car experience is that it comes without any extra cost to guests since it's already included in the cruise fare. This helps ensure families have a worry-free vacation while enjoying each other's company through various entertainment options like group activities and recreational facilities.
Trapeze School
Step right up and experience the exhilaration of aerial skills at the Trapeze School on select Royal Caribbean cruise ships. This unique circus activity offers high-flying adventures for guests who want to add a dash of thrill and excitement to their family vacation.
With their emphasis on fun-filled activities and novel entertainment options, Royal Caribbean Cruises' Trapeze Schools are perfect for adrenaline-inducing adventures while sailing through picturesque destinations.
Sky Diving Simulator
One of the most exciting and thrilling activities found on a Royal Caribbean Cruise is skydiving. With RipCord® by iFLY®, guests can experience the feeling of flying in a groundbreaking simulator, unlike any other cruise line's experience.
You'll be suspended above a fan-powered flight chamber that simulates free fall without actually jumping out of an airplane.
Moreover, what makes this activity even more special is that it's perfect for both thrill-seekers and those who are afraid to jump from high altitudes since you'd not come into direct contact with heights at all! The world-class technology used in RipCord guarantees safety while delivering maximum entertainment at the same time, making it a must-do activity when cruising on Royal Caribbean vessels.
Zipline
The zipline is one of the most exciting adventure activities on a Royal Caribbean cruise. Guests can strap in and soar high above the ship as you cross over "Central Park" approximately nine decks below you. This thrilling attraction is perfect for families looking to create unforgettable memories together. The experience is available on several Royal Caribbean ships, including Oasis-Class ships, Symphony of the Seas, Allure of the Seas, and Wonder of The Seas.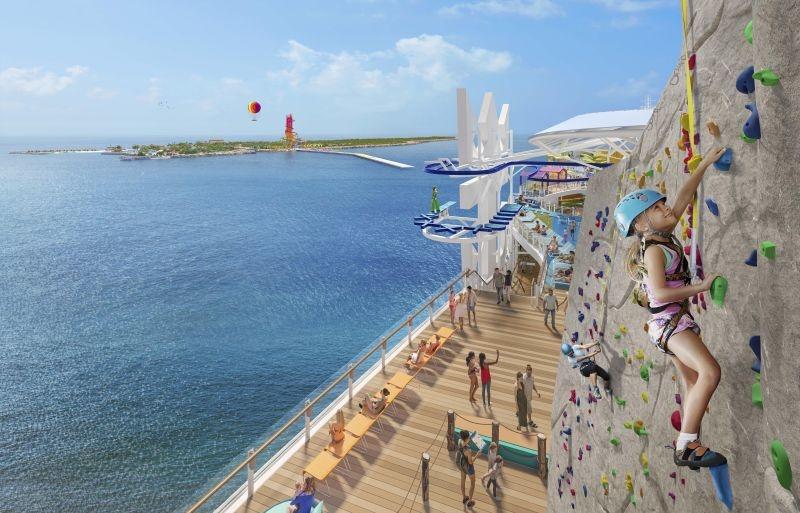 Rock Climbing
Rock climbing on a Royal Caribbean cruise is an adventure activity that families of all ages can enjoy. With their signature Rock Climbing Wall, beginners and experienced climbers alike can climb to new heights with the ocean as their backdrop.
The experience not only provides an adrenaline rush but also gives breathtaking views from the top. This is one of many unique features found on Royal Caribbean's ships, making it easy for families to find the perfect vacation for them.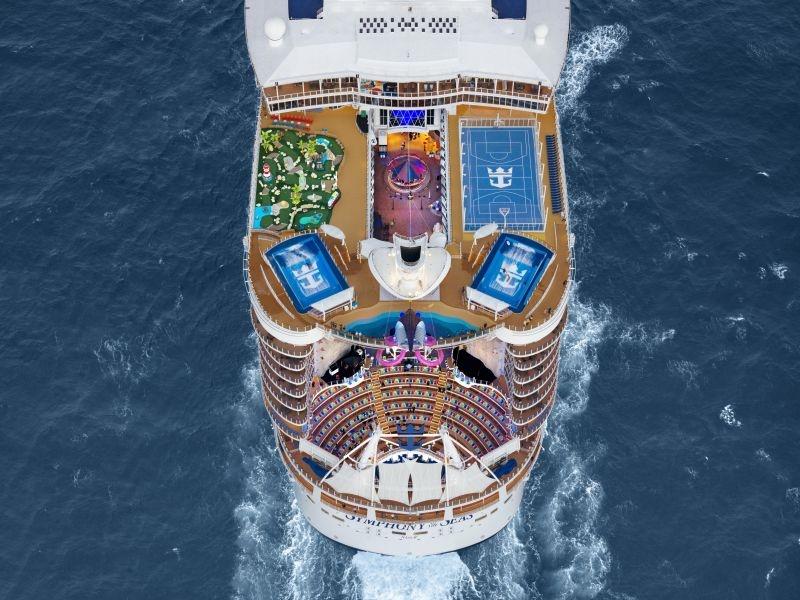 Why Royal Caribbean Cruise Is Ideal For Families
While you have a lot of different options when it comes to cruises. We believe that a Royal Caribbean Cruise is the perfect family vacation because your travel agent has your back and so do the on-board staff who's literal job is to make each guest feel special. A Royal Caribbean cruise offers a variety of activities for all ages, exceptional entertainment and dining experiences, excellent value for money, and an opportunity to see many different locations without unpacking.
Less Vacation Stress Because Your Travel Agent Has Your Back
Planning a family vacation can be stressful, but it doesn't have to be. By working with a travel agent, families can eliminate much of the stress that comes with vacation planning. Travel agents are experts in their field and can provide valuable insights into all aspects of the trip, from choosing the right destination to booking tours and activities.
Royal Caribbean cruises offer an added layer of convenience for families because many travel agents specialize in cruise vacations and can provide expert guidance on which ship and itinerary is best suited for different ages and interests.
This means that parents don't need to spend hours researching cruise ships or comparing prices online - they can rely on their travel agent to do the work for them.
Offers A Variety Of Activities For All Ages
One of the best things about a Royal Caribbean cruise is that there are activities for everyone, regardless of age or interests. From adrenaline-pumping experiences like FlowRider surf simulator and bumper cars to more relaxed options such as basketball and arcade games, there's something for everyone.
The Ovation-class ships takes it to a new level with SeaPlex, which is considered the largest indoor activity space at sea. Here you'll find everything from roller-skating and trapeze school to video games and even flying trapeze lessons.
Exceptional Entertainment And Dining Experiences
Royal Caribbean Cruise offers exceptional entertainment and dining experiences that are perfect for families. With a wide range of dining options, you can indulge in cuisines from around the world without ever having to leave the ship.
When it comes to entertainment, Royal Caribbean Cruise goes above and beyond with Broadway-style shows, live music performances, comedy clubs, and much more. The onboard activities cater to both adults and children alike--from scavenger hunts for kids to dance classes for adults--ensuring that everyone has a great time during their vacation.
And if you're looking for a more relaxed evening after all of the excitement during the day, head over to one of the many bars on board where you can sip cocktails while taking in breathtaking ocean views.
Excellent Value For Money
A Royal Caribbean cruise is an exceptional value for families seeking a stress-free and enjoyable vacation. With all the activities, onboard entertainment, dining options, and unique experiences offered by Royal Caribbean, families receive more for their money compared to other family vacation options.
For instance, with everything included in the cost of the cruise fare - from food to accommodations to onboard activities - there are no unexpected expenses or surprises for families.
Additionally, Royal Caribbean Cruise offers a budget-friendly travel option that provides many opportunities to see different locations without unpacking.
Opportunity To See Many Different Locations Without Unpacking
One of the biggest advantages of a Royal Caribbean cruise for families is the opportunity to see multiple destinations without constantly packing and unpacking. Imagine waking up in one exciting destination, exploring all day, and then going to sleep as you sail towards your next adventure.
Not only does traveling on a Royal Caribbean ship save time and reduce stress by eliminating the need to travel between destinations separately, but it also opens up opportunities for unique experiences that aren't possible when staying in just one place.
---