Welcome to the ultimate guide for family-friendly vacation ideas in Maui! With its stunning beaches, incredible activities, and world-class accommodations, this Hawaiian paradise provides unforgettable experiences for families of all ages. All too often, the role of family vacation planning comes down to our wives but we're passionate about taking a leading role in shaping our own destiny as well as finding great vacation spots where we can have as much fun as the rest of the family. One of our favorite spots to spend a few days playing in the sun and surf is the tropical paradise of Maui.
Many people who dream of a family vacation to Hawaii dream about island hopping so they can see all the amazing things that they've heard about from the volcanos on the Big Island to Pearl Harbor and Waikiki Beach in Oahau but that really isn't possible to. While you could spend half of your vacation going back and forth to the airport, packing, unpacking, and checking into a new hotel ... we think it's better to pick a destination and explore each island individually.
With that said, Maui is probably one of the best islands for a family vacation since it has a wide range of activities for all ages, beautiful scenery, and has plenty of hotel and resort options for a variety of budgets.
Key Takeaways
Maui offers a variety of family-friendly activities and attractions, including calm beaches perfect for swimming and snorkeling, the Maui Ocean Center with its exhibits featuring marine life native to Hawaii, Haleakala National Park for outdoor adventures, and the scenic drive along the Road to Hana.
Families visiting Maui can choose from a range of accommodations such as family resorts and hotels like Ka'anapali Beach Hotel or rental homes that provide ample space. Plenty of dining options also cater to all tastes and budgets, including kid-friendly restaurants like Cheeseburger In Paradise or Aloha Mixed Plate.
Planning ahead is key when it comes to budgeting wisely for flights, lodging, and activities. It's recommended to book in advance during peak travel times like school breaks while looking for vacation packages or discounted activities. Packing essentials such as reef-safe sunscreen and water shoes will ensure everyone has a safe but fun time on their family-friendly Maui vacation.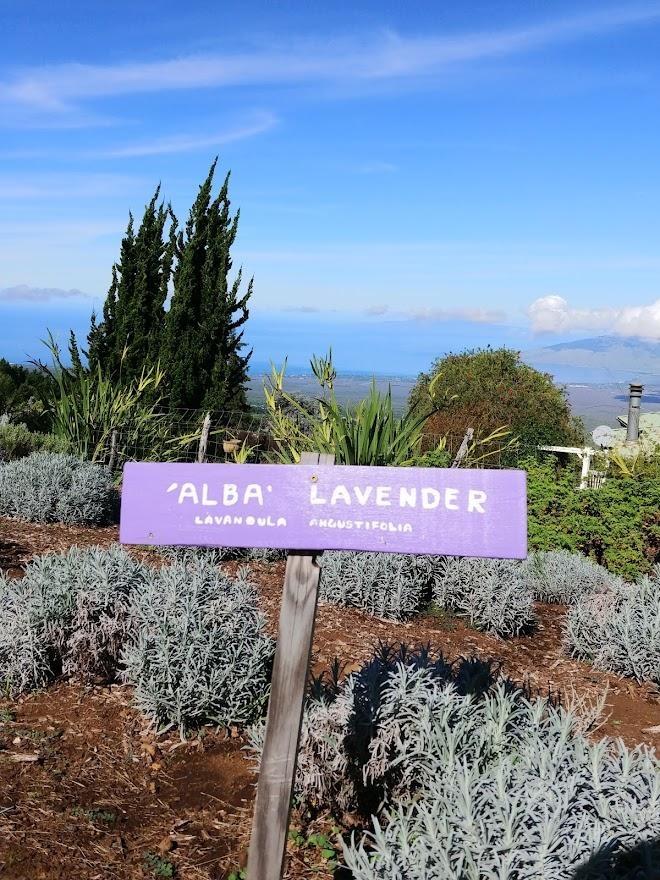 Top Family-Friendly Activities And Attractions In Maui
Maui offers a variety of family-friendly activities and attractions, including beaches with calm waters for swimming, snorkeling, and playing in the sand.
Beaches With Calm Waters For Swimming, Snorkeling, And Playing In The Sand
Maui is well-known for its pristine beaches, offering the perfect getaway for families seeking fun and relaxation. One of the top spots to visit with your little ones is Napili Beach, known for its calm waters that make it ideal for swimming and snorkeling.
Another family favorite is Kapalua Bay Beach, which boasts excellent snorkeling opportunities thanks to its abundant sea creatures residing in offshore coral reefs.
For an even safer option with reliably fewer waves, head over to Baby Beach in Lahaina – a true hidden treasure perfect for swimming with kids. Families looking to try their hand at surfing can find calmer surf conditions at Ka'anapali, Lahaina, or Kihei beaches.
Maui Ocean Center
A visit to the Maui Ocean Center is a must for families seeking an educational and entertaining experience on their Maui vacation. This top family-friendly activity and attraction in Maui offers a spectacular glimpse into the marine life of Hawaii, with exhibits featuring sharks, turtles, colorful fish, and even mesmerizing jellyfish.
Not only does the Maui Ocean Center provide unique experiences through its numerous exhibits and presentations, but it also offers guided tours that allow families a more intimate look at what goes on behind-the-scenes.
These tours give you exclusive access to areas usually off-limits to regular guests while providing fascinating insights into animal care and conservation efforts put forth by this world-class facility.
Haleakala National Park
Haleakala National Park is a must-visit destination for families exploring the beautiful island of Maui. As one of Maui's top family-friendly activities and attractions, this breathtaking park offers an array of outdoor adventures, perfect for creating unforgettable memories with your kids.
From hiking the famous Sliding Sands trail to marveling at natural wonders, Haleakala has something for every nature-loving family.
With its stunning scenic views and numerous hiking trails, even little ones can enjoy getting up close and personal with Maui's unique flora and fauna.
Road To Hana
The Road to Hana is a must-see destination that should be on every family vacation itinerary in Maui. This scenic drive takes you through lush forests, past cascading waterfalls, and along breathtaking coastal views.
Along the way, there are plenty of opportunities for outdoor activities such as hiking to hidden waterfalls and swimming in freshwater pools. Families can also experience Hawaiian traditions and culture by stopping at local food stands or watching fire dancers perform at night.
Ali'i Kula Lavender Farm
If you are looking for something completely different, the Ali'i Kula Lavender Farm offers stunning views from the hillside of one of the two volcanic mountains here on the island. The pathways are fantastic for learning about lavender and even though this might not be the most masculine of adventures in Hawaii - I've enjoyed it myself and I know kids will too.
Planning your trip ahead of time with resources such as maps and checklists can ensure a safe and enjoyable journey for everyone in the family.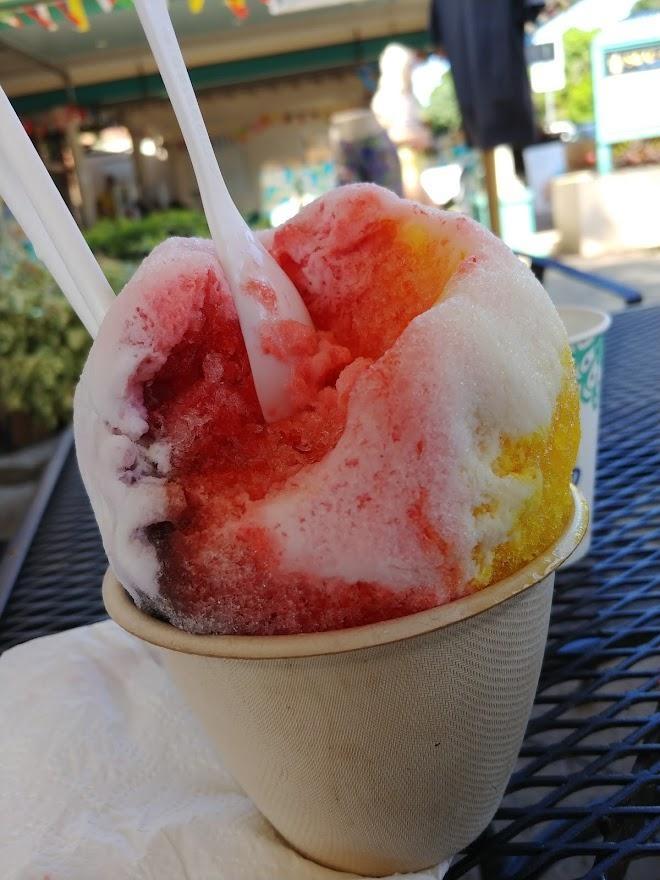 Best Accommodations And Dining Options For Families
Families visiting Maui have a variety of accommodation options, including family-friendly resorts and rental homes that provide ample space for everyone. From ice cream shops where you can try authentic Hawaiian Shave Ice such as Tobi's to gourmet options for a fancy dinner, there are plenty of family-friendly dining options throughout the island that cater to all tastes and budgets.
Family Resorts And Hotels
When it comes to planning a family-friendly Maui vacation, choosing the right accommodations can make all the difference. Luckily, there are plenty of resorts and hotels that cater specifically to families with kids.
Some of the best options include:
Ka'anapali Beach Hotel, which offers daily cultural activities and hula lessons for kids
Hyatt Regency Maui Resort and Spa, which has a kid-friendly pool area complete with waterfalls and slides
Wailea Beach Resort - Marriott, Maui, that provides beach nannies for supervised playtime in the sand
Four Seasons resort where they have pupu parties around their firepits at night and Fairmont Kea Lani where you could interact with turtles at their lagoon.
Whether you're looking for an all-inclusive package or simply want easy access to nearby beaches and attractions, there's sure to be a family-friendly hotel or resort in Maui that meets your needs.
Vacation Rental Homes
If you're looking for more space and privacy, renting a vacation home can be an excellent option for families visiting Maui. Many vacation rental homes come with amenities like private pools, outdoor grills, and fully equipped kitchens, making them perfect for families who want to cook their meals or enjoy some downtime together.
There are plenty of great options all around the island, from Kihei to Lahaina. Some popular websites to search for Maui vacation rental homes include Airbnb and Vrbo. Keep in mind that prices can vary widely depending on location and size; however, generally speaking, you'll find that staying in a vacation home is often less expensive than booking multiple hotel rooms.
Family-Friendly Dining Options
When you're on vacation with the family, it's essential to find restaurants and dining options that cater to everyone. Maui offers a variety of family-friendly eateries that provide scrumptious meals for all ages.
Some of the best kid-friendly restaurants in Maui include Cheeseburger In Paradise, Kihei Caffe, and Aloha Mixed Plate. These places offer menus with something for everyone, including gluten-free and vegan options.
If you'd like some time alone, consider checking out adult-only dinners at The Mill House or Fleetwood's on Front Street while your kids enjoy fun activities at the resort's "kids night out" program.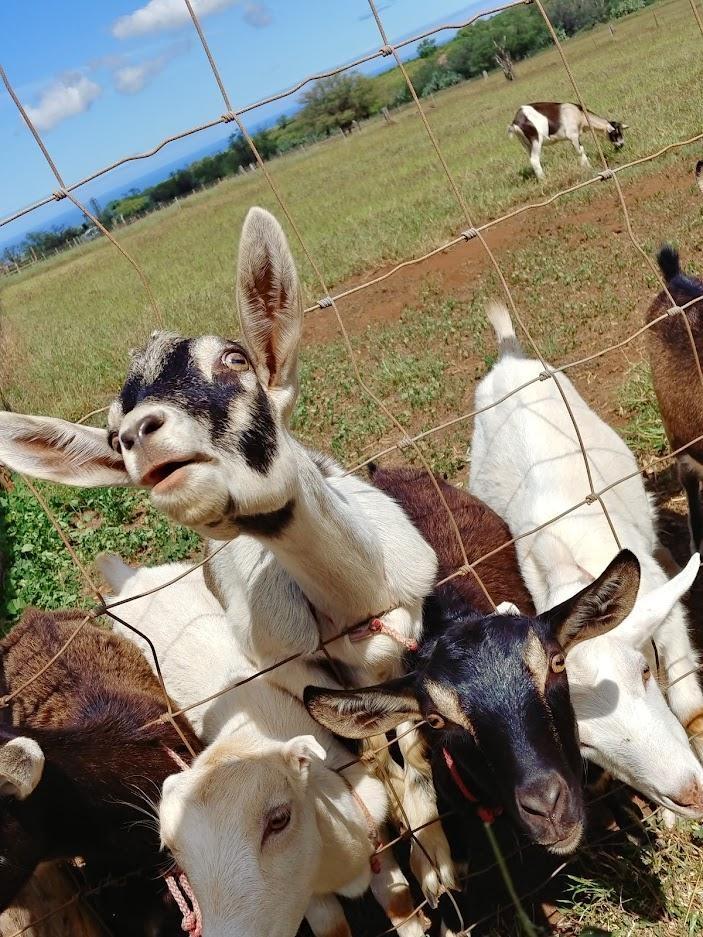 Surfing Goat Dairy - Maui Hawaii
Tips For Planning The Perfect Family-Friendly Maui Vacation
Plan your family-friendly Maui vacation like a pro with these tips! From choosing the best time to visit, budgeting wisely, packing smartly, and staying safe, we've got you covered.
Choosing The Best Time To Visit
The best time to visit Maui for families is during May through September. These summer months offer the perfect weather conditions with less rainfall, sunny skies and calm waters, ideal for swimming, snorkeling and other family beach activities. Visiting during these months also mean fewer crowds on popular attractions such as Haleakala National Park and Road to Hana, providing more room for your family to explore without any rush.
When planning a trip to Maui with your family, keep in mind that there may still be occasional rain showers or high humidity levels even during peak season. Packing lightweight clothing made of breathable materials will help you stay comfortable in any weather condition.
Budgeting And Booking In Advance
Planning a family vacation to Maui can be an amazing experience. To make the most of your trip, it's important to budget and book in advance. Here are some tips to help you plan your family-friendly Maui vacation:
Research the peak and low seasons in Maui: Knowing when to travel can help you save money on flights and accommodations. Mid-April through May and September through November are considered the shoulder season, meaning that lodging and airfare prices are generally lower.
Book flights early: Booking your flights early will help you secure cheaper rates.
Consider Vacation Packages: Many hotels offer packages that include airfare, lodging, and activities. These packages can be less expensive than booking everything separately.
Look for Discounted Activities: Many activities like snorkeling, surfing lessons and hiking have packages that offer discounts for families.
Find Budget-Friendly Accommodations: There are many affordable accommodation options, including vacation rental homes or condos that provide more space and amenities for families at a lower price than hotels.
By budgeting and booking in advance, you'll have more control over holiday expenses while maximising fun activities with your loved ones in Maui without breaking the bank!
Essential Packing List For A Family Vacation
Are you planning a family vacation to Maui? Don't forget to pack these essential items:
Reef-safe sunscreen: Protect your family's skin and the coral reefs by using reef-safe sunscreen.
Rashguards: Keep your kids safe from sunburns while they swim with long-sleeve rashguards.
Water shoes: Protect your feet from rocky beaches and hot sand with water shoes.
Beach towels: Pack at least two beach towels per person for all the water activities on your itinerary.
First aid kit: Be prepared for any accidents or injuries by bringing a first aid kit with essentials like band-aids, antiseptic wipes, and pain relievers.
Snorkeling gear: Take advantage of Maui's crystal-clear waters by packing snorkeling gear for everyone in the family.
Portable charger: Keep your devices charged on-the-go with a portable charger to capture all those memories.
Reusable water bottles: Stay hydrated while reducing waste by bringing reusable water bottles for each family member.
Insect repellent: Avoid pesky mosquito bites during hikes and outdoor adventures with insect repellent.
Swimsuits & cover-ups: Of course, don't forget swimsuits, cover-ups, and other necessary clothing for enjoying Maui's beaches!
With this checklist, you'll be well-prepared for a fun-filled and stress-free family vacation in Maui!
Safety Precautions And Tips
Maui is a beautiful destination that offers many family-friendly activities and attractions. However, it's important to keep your family's safety in mind during your trip. Here are some safety precautions and tips to consider:
Always supervise children when they're in or around the water, even if they know how to swim.
Protect your skin from the sun with sunscreen and appropriate clothing. Remember that the sun can be stronger in Hawaii than in other parts of the US.
Stay on designated trails when hiking and avoid approaching wildlife.
If you plan on engaging in water sports, consider taking a lesson or hiring a guide to ensure your safety.
Keep valuables secure and out of sight while exploring Maui.
Take caution when driving the Road to Hana - it's a picturesque drive but has many winding roads and one-lane bridges.
By keeping these safety precautions and tips in mind, you can enjoy a relaxing and fun-filled family vacation in Maui while prioritizing your family's wellbeing.
Conclusion
If you're planning a family-friendly vacation to Maui, this ultimate guide has got you covered for an unforgettable experience. From the best kid-friendly activities and attractions to the top accommodations and dining options for families, there's no shortage of things to see and do in beautiful Maui.
Be sure to plan ahead, pack smartly, and take necessary safety precautions before embarking on your adventure.