Written by:
Dave Taylor
Created: 02 June 2023 Last Updated: 26 October 2023
New!
Hits: 360
Reading time: 06:37
Back in December of 1933, it's hard to imagine any of the original founders of Nissan Motor Company in Yokohama, Japan, anticipating that someday they would sell a vehicle with a curb weight of over 6,000 pounds, but here we are. Ninety years later, I'm test driving the 2023 Nissan Armada Platinum and finding lots to like and a few things that could be improved. Where the vehicle really shined is when I loaded it up with six adults; all of us found it roomy, comfortable, and quiet enough that we could all participate in the same conversation. If you remember Nissan's modest Datsun, you're poised for some sticker shock with the Nissan Armada, but we'll get to that a bit later.
Nissan kindly loaned me a fully outfitted Armada for a week, which gave me ample opportunity to drive it through the Colorado mountains, both loaded up with passengers and cargo and just by myself. Suffice to say, anyone who's driving a full size SUV like the Armada without passengers and cargo really needs a second vehicle in their life; it's a lot of vehicle if you don't need the space or towing capacity. Powered by a hefty 5.6L Endurance V8 engine pushing out 400 horsepower and 413 lb-ft of torque, it's got plenty of power to spare and can tow up too 8,500 pounds. That's a lotta boat or a nice trailer, depending on your preferences. It's also a fun vehicle to drive because it does have so much power to spare. You'll have no problems getting up to speed on the highway, even with four or five adults in the vehicle.
The Armada I drove was "Coulis Red Pear" exterior with a beautiful and luxurious Almond interior. The weather, however, was not cooperative for sunny driving, which meant most of my driving experiences were on cloudy or rainy days:
There's no question that this is a substantial vehicle with a solid road presence. Surprisingly, it's also quiet and comfortable inside, with many of the luxury appointments you would expect to see in an expensive SUV. Then again, it is an expensive SUV, with this model pricing out at about $73,000. In fact, it's so big and solid that I had an inadvertent fright when I went to park it in a structure that had the following entrance sign: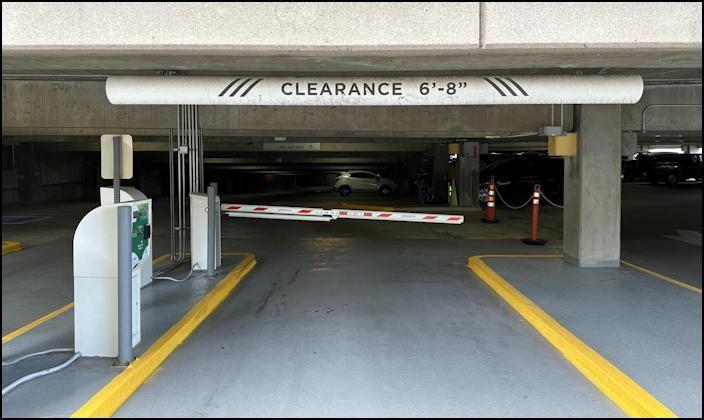 I realize that the warning pipe hangs down a good 6" lower, but the vehicle did indeed scrape the bar as I pulled in! I checked and there was at least 4" of clearance from the top of the roof rack crossbar and the concrete, but in many years of driving all sorts of vehicles including some mighty big trucks, this is the very first time I touched the top bar.
Before we go further, I have to ask who thought that "Armada" was a good name for a sport utility vehicle. An armada, if you're not up on naval nomenclature, is a fleet of warships, like "The Spanish Armada". Would people buy a vehicle called a tank or battleship? Ah, probably, yeah, people would. Nevermind.
Anyway! Swinging into the interior, the Armada has a very luxurious design, particularly the pleated seats and door panels, as you can see in this photo: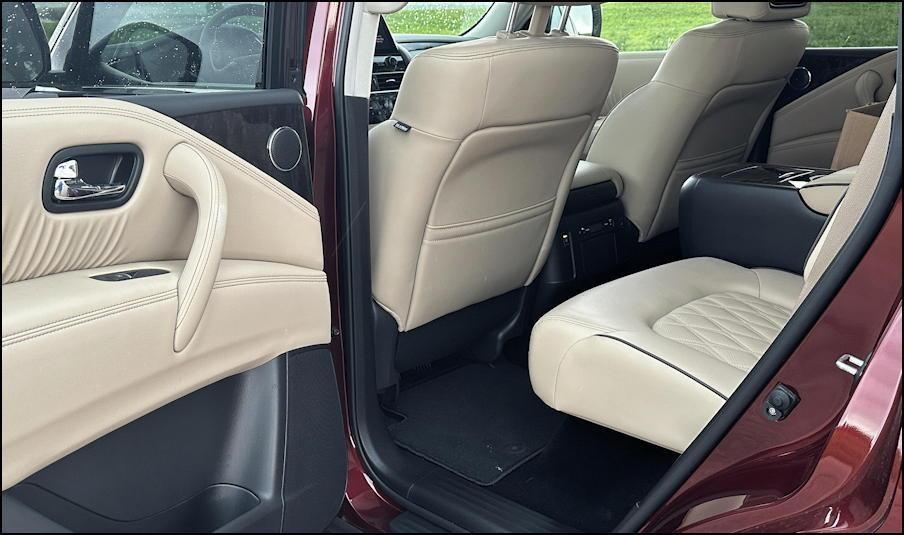 Note especially the legroom. In fact, we found the Armada quite comfortable and roomy, even in the third row (my 5'8" daughter was quite comfy having the third row to herself). This particular Armada Platinum model includes the Captains' Chairs Package, which replaces the second row bench with two Captain's Chairs and a center console. More comfy, for sure, but total passenger count then drops from 8 to 7. Depending on your crew, this might be one of the easiest upgrades to justify.
The second row passengers have access to a surprisingly sophisticated climate control panel:

Whether your additional passengers are adults, teens, or children, letting them have control over their own climate is a huge win for the driver and a sure way to minimize parental headaches. What was surprising, however, was that I didn't see any obvious charging ports, either USB-C or USB-A, something that's become a standard part of most passenger comfort and utility packages.
Moving into the driver's seat, the dashboard layout is clear and logical: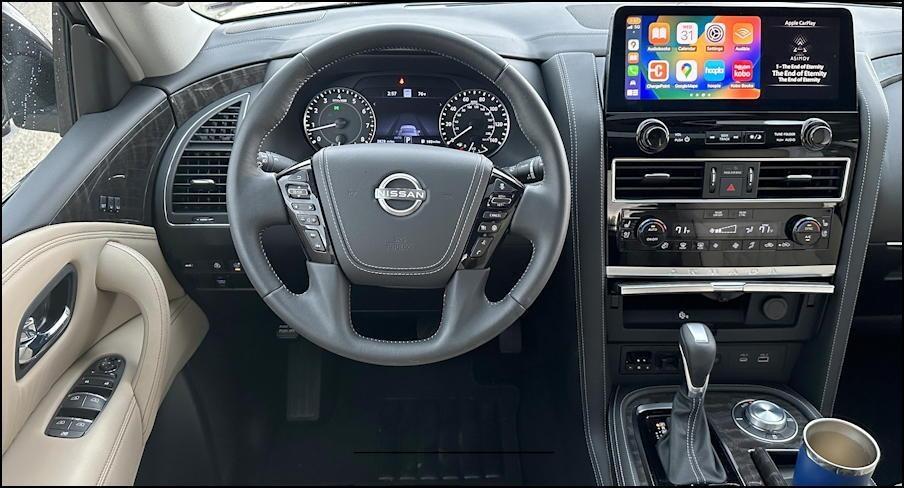 The above shows a vehicle that fits neatly within the Nissan design language, but also highlights my biggest peeve with the Armada: It lacks an actual personality as a vehicle. Most of the great manufacturers have a personalization that goes further than a logo medallion in the center of the steering wheel, but with the Armada, I've seen every instrument cluster, every control, every dial in a different vehicle. Luxurious, comfortable, entirely functional, yes, but there's no fun here, no whimsy, no surprises for the driver or passenger that raises a car from functional to personal.
And then there's the fuel efficiency. Or lack thereof...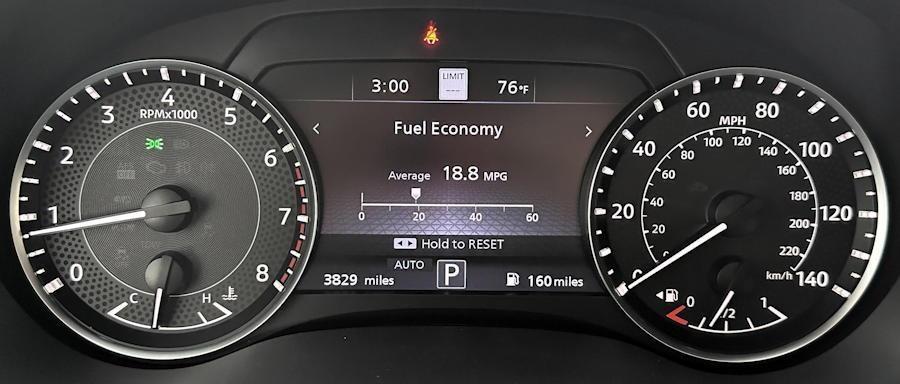 18.8 mpg for a V8 pushing out 400 horsepower? Maybe if you need that much power and towing capacity, but how many people really need that? A typical family of four should be able to get away with a roomy and comfortable SUV vehicle that delivers 30+ mpg at this price point. It's like the people you see who have a fully tricked out Ford F350 but never have anything in the flatbed nor load it up with passengers. The logic escapes me.
Note the gauge layout and display, with the center digital display. This is essentially identical to what we have seen in vehicles for the last 25 years. Where's the innovation in the driver experience, Nissan?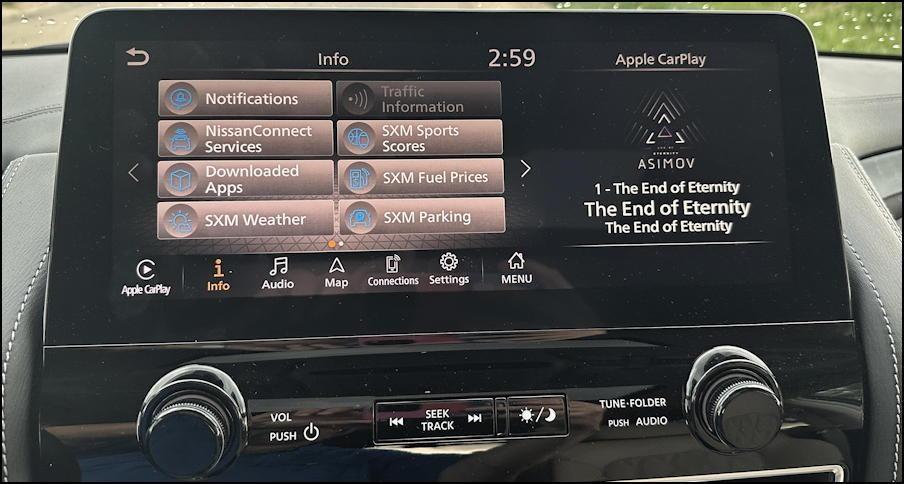 This lack of design verve comes through even in the infotainment system: Look at the main information interface above. This is a $73,000 luxury vehicle? I know, functionality is critically important when designing a system that drivers will inevitably interact with at 80 mph, but something with a bit more style would undoubtedly be appreciated by potential buyers who will compare this to some of the best designed vehicles in the world from competitors like Porsche, BMW, Mercedes, Lexus, and even Infiniti (a Nissan brand).
The Armada is darn roomy, though, as you can see in this photo with the third (60/40 split) row mostly up: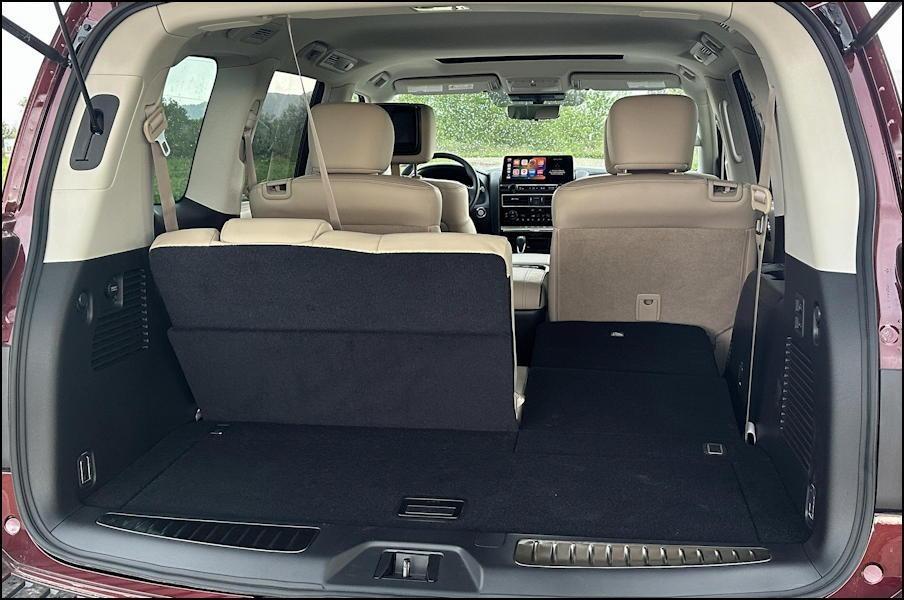 Like most optional third row vehicles, once you opt to raise the third row seats (which is automated and accomplished at the single push of a button. So nice!) you lose most of your cargo capacity. With maximum passengers, you'll be tying suitcases onto the roof of the vehicle and then trying to avoid low clearance parking structures as a result. Still, you could definitely do a fun road trip in the 2023 Nissan Armada Platinum with four adults and a couple of kids. You can even opt for the Rear Seat Entertainment System and get display screens on the back of the driver and front passenger's headrests (as shown).
The exterior is attractive and entirely functional, though I found it was a bit of a trick to hoist yourself up and into the cabin if you were in a parking lot and the adjacent vehicle was parked a bit too close. It's big: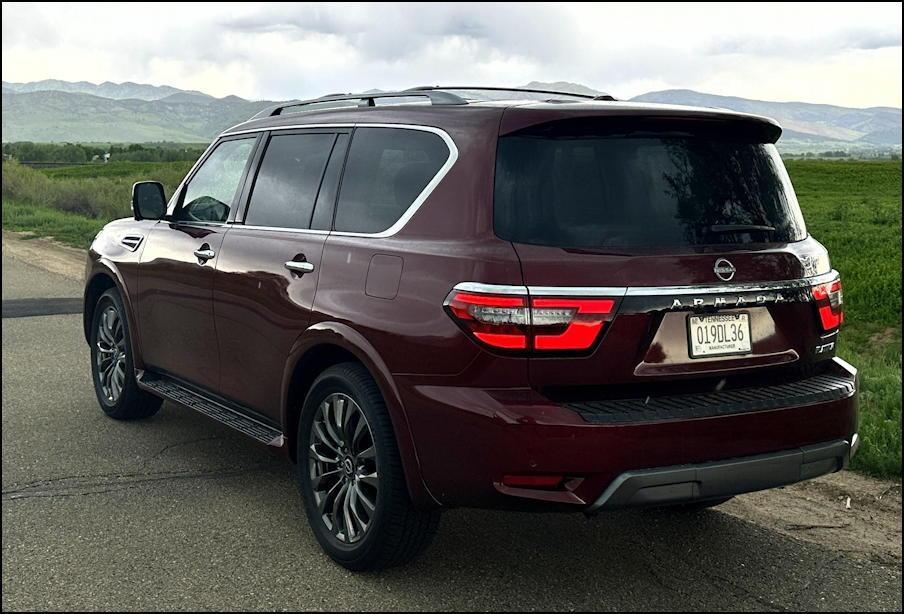 If you're in the market for a utilitarian SUV with lots of luxury features, solid comfort, and plenty of towing capacity, the Nissan Armada should definitely be on your list. It's just hard to get excited about a vehicle that checks off all the boxes without demonstrating any modern design elements or eagerness to embrace the future of vehicle use.
2023 Nissan Armada Platinum 4WD SUV with 5.6L Endurance V8 engine and 7-speed automatic transmission, featuring a 4WD selector switch and 4Hi, 4Lo gearing options. Also included Nissan Safety Shield 360. BASE PRICE: $69,720.00. Options Included: Captain's Chairs Package, Premium Paint, Rear Seat Entertainment System, Cross Bars, Carpeted Floor Mats. AS DRIVEN: $73,320.00.
Disclosure: Nissan loaned me the Armada for a week in return for this candid review. Thanks, Nissan!
This article originally appeared on PlanetDave.com as The Hulking 2023 Nissan Armada Platinum 4WD SUV and is republished with permission.
---