Written by:
Dave Taylor
Created: 27 June 2023 Last Updated: 17 July 2023
New!
Hits: 443
Reading time: 07:34
Land Rover was founded in 1947 by Maurice Wilks, who apocryphally sketched out the design for this ultimate off-road vehicle on the sands of a Welsh beach. It grew into a famously tough beast of a vehicle that could master any terrain it encountered, from Sub-Saharan Africa to the Amazonian jungle. The company introduced its more upscale Range Rover brand in 1970, and in 1980 the "Defender" line of mid-range vehicles was launched. Defenders retained the off-road pedigree but added luxuries suitable for drivers who wouldn't dream of getting their 'Rover dirty. I've driven various modern Land Rovers over the years and have to admit to not being very impressed. Sure, they were rugged and very off-road capable, but comfortable? Not so much.
When Land Rover Jaguar (now a subsidiary of Indian car behemoth Tata) offered me a 2023 Land Rover Defender 130 for a week, I was game to give it another whirl and see what was new. I'm really glad I did because this latest generation offers lots of comforts and modern luxury features along with the expected sure-footedness in rougher terrain. The vehicle I drove was Fuji White with a Light Oyster/Lunar interior: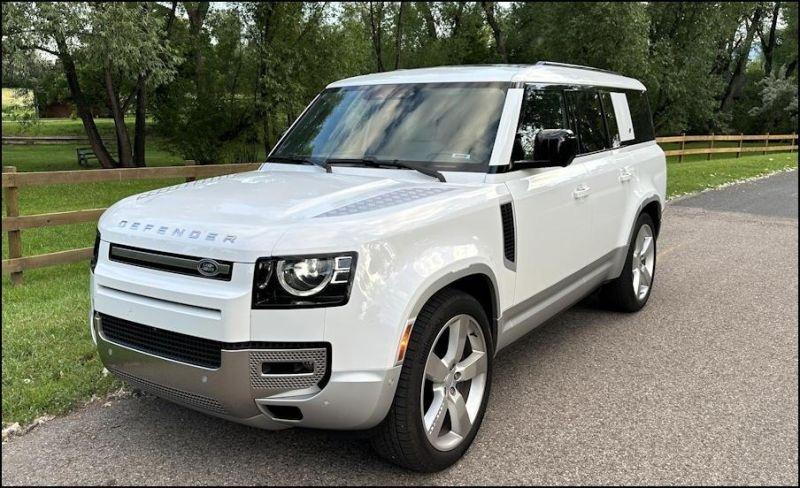 It's still a big, boxy vehicle that sits up above the road surface, but everything's been streamlined and rounded off, giving it quite an attractive appearance. One of the signature design elements is the white panel behind the passenger windows along the side; they're purely decorative, but serve to both break up the long expanse of black glass and hint at the smaller vehicle of its heritage. Early Land Rovers definitely didn't have a third-row seat.
The drive experience with its 3.0L 6-cylinder MHEV engine with its 395 horsepower, 405 lb-ft of torque, and 8-speed automatic transmission was smooth and definitive, though it had almost no acceleration at all. Indeed, flooring the gas from a stop seemed to take ages until the engine kicked in and started pushing the vehicle forward. This is not a racing machine. The "MHEV" is something I hadn't encountered before, a so-called mild hybrid electric vehicle. It uses a battery-powered electric motor to supplement the conventional gas engine, delivering improved efficiency and reduced emissions. There's no power plug either, it uses regenerative braking to charge the battery while driving. In practice, there wasn't much I noticed that was different, though the MHEV system might explain the poor acceleration from zero.
Jumping into the Defender 130, the dashboard was distinctive and very well laid out: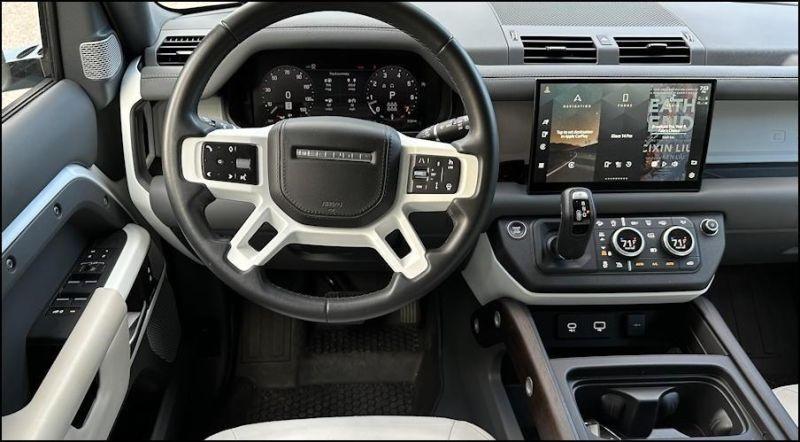 The roll knob for volume control on the steering wheel is worthy of special praise; it was the easiest control I've ever used for this task, far easier than a +/- rocker control that seems to have become the standard on steering wheels. The gear shift is in a slightly odd location, jutting at 45º from the center of the dash, but since it's an automatic, you only use this when getting started or parking. Still better than a bunch of buttons or a control stick jutting out of the steering column.
The infotainment display was big, bright, and attractively set off: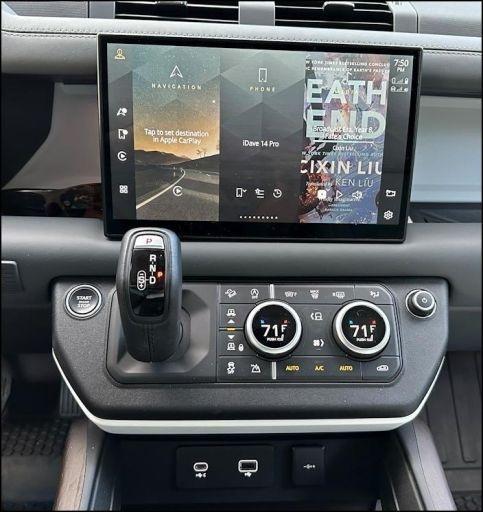 This is an 11.4" "Pivi Pro" infotainment system and it worked very well with Apple CarPlay, offering a taller display than most vehicles. This worked particularly well in map view with an expansive rendering of your location and destination that aided navigation. The climate control center also utilized temperature adjustment knobs with an on-knob display of desired temperature and, at the push of the knob, controls for seat heating or cooling. The music volume adjustment knob is a bit far afield on the right side, but it worked well when the passenger wanted to adjust the music, and the driver, of course, has that roller knob on the steering wheel.
Speaking of the steering wheel, there were a few cryptic icons on the bar. Can you decipher them all?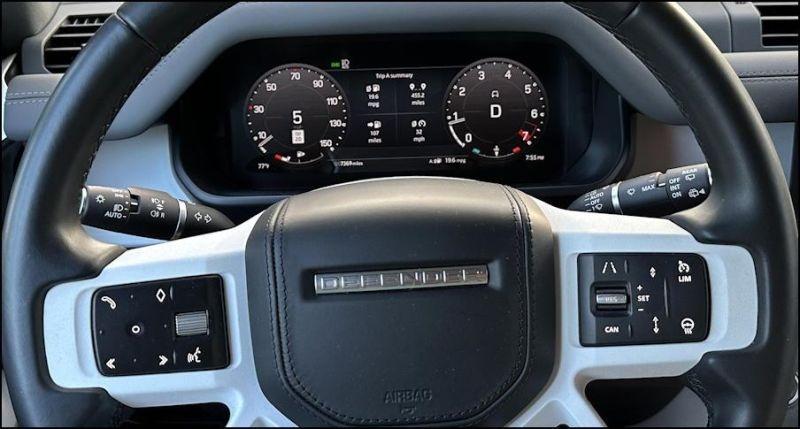 It took me a while to figure it out and I had a few miles of highway driving where I was pushing the wrong knobs and unable to engage cruise control at all. I finally figured it out and was able to use the adaptive cruise control feature. Probably not much call for that in the Kalahari, but the Defender 130's design is most assuredly not for that environment but instead for the wealthy soccer mom (and dad) seeking to transport their spawn to school with the maximum of safety and comfort.
And comfortable it is. I was surprised by how comfortable the Land Rover Defender 130 was in practice, particularly since my previous Land Rover vehicles had been rather uncomfortable. Then again, more than one person climbed into the vehicle and complained that they felt the seats weren't comfortable, so perhaps it's a subjective thing.
One great feature that I wish my own car had was a long storage tray built into the front dash: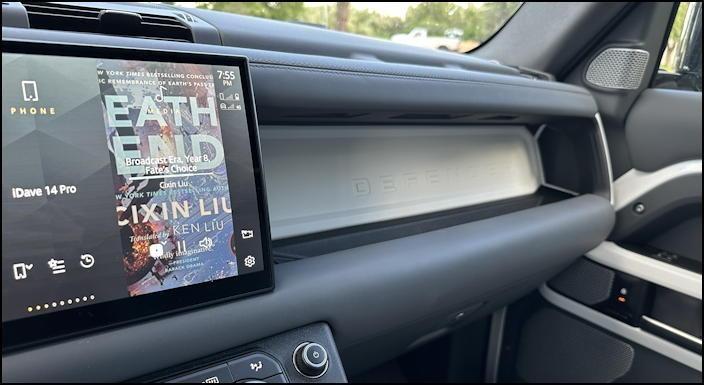 I much prefer this, particularly when coupled with a proper glove compartment for documents and paperwork. My pal who used to have a Jeep with a similar shelf kept it stocked with boxes of gum, of all things, which was pretty fun!
The main gauge layout was very clean, and very easy to read:

I saw almost exactly the EPA combined estimate for fuel efficiency in my driving with 19.7mpg. It's rated for 17/21, which isn't great, but also isn't too bad for a big, comfortable, three-row SUV with 8200 pounds of towing capacity (though you'll want a pretty stylish trailer or boat to match the elegance of your Land Rover, which might be tricky!).
When I first got the Defender 130, I opened up the armrest and dropped my usual collection of "car stuff" in, sunglasses, a charging wire, garage door remote, spare keys, etc. It was only later that I realized the center compartment is actually a chilled storage area: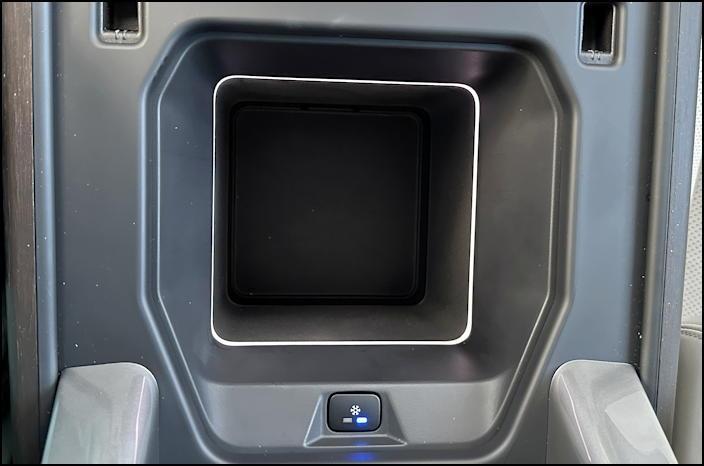 Needless to say, I had pretty chill gear when I finally pulled it out. These compartments aren't very big, but if you want to keep a few beverage cans cold or succeed at transporting a few quarts of ice cream home in 110ºF weather, it's darn handy!
With all those positives, there were a few quirks I noticed. The one that most jumped out was that the lock/unlock buttons were almost completely inaccessible on the driver and passenger doors: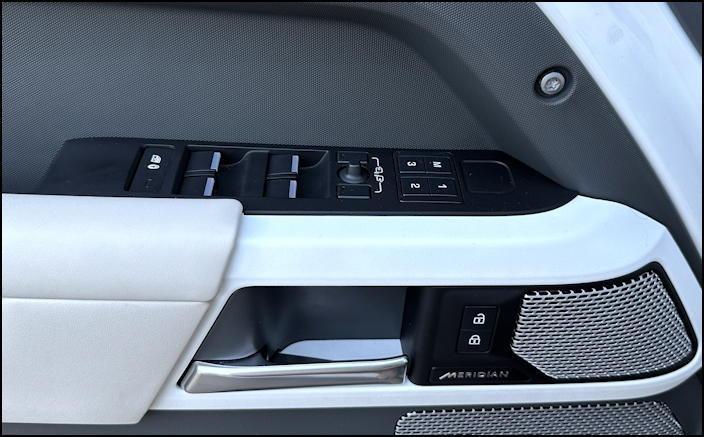 Can you see them tucked in front of the door handle? In practice the driver's left leg and knee block access, making it difficult to unlock the doors for passengers to jump in. Did they not actually test out the functionality of this button placement? The back hatch has a side hinge, a feature that I don't particularly like and find inconvenient when loading up cargo: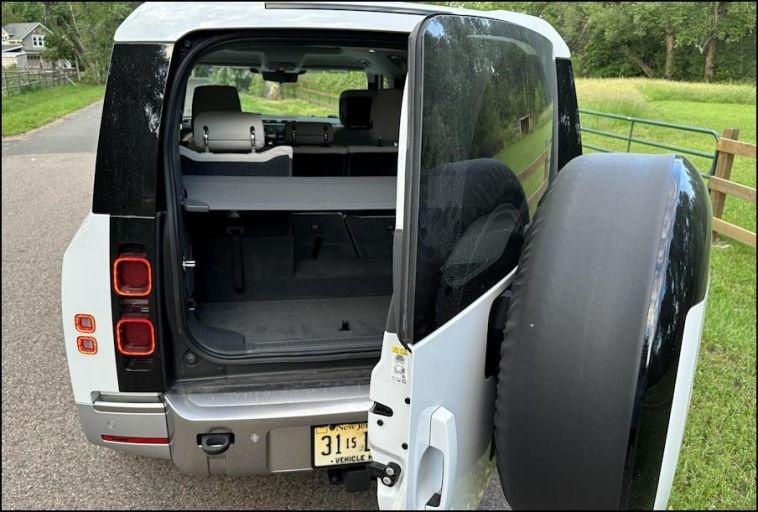 You can see that there's a lot going on inside the vehicle. If you don't need a third passenger in the second or third row, you'll immediately need to flip down those headrests lest you have zero visibility in the rear mirror. The spare tire already eats up a portion of that viewport, so it becomes difficult to fully track what's going on behind you while driving.
No worries, though, your passengers, once they do get in, will enjoy the space and comfort of the second (and, to a lesser extent, third) row seats. Certainly, sufficient legroom for adults: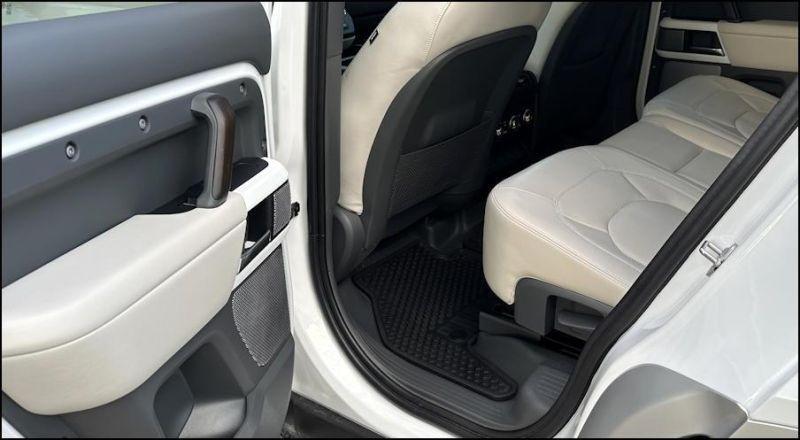 Finally, there's something rather retro about the appearance of the Defender 130, a lovely cross of classic Land Rover styling and modern luxury SUV design. This is most obvious when the vehicle's viewed from behind: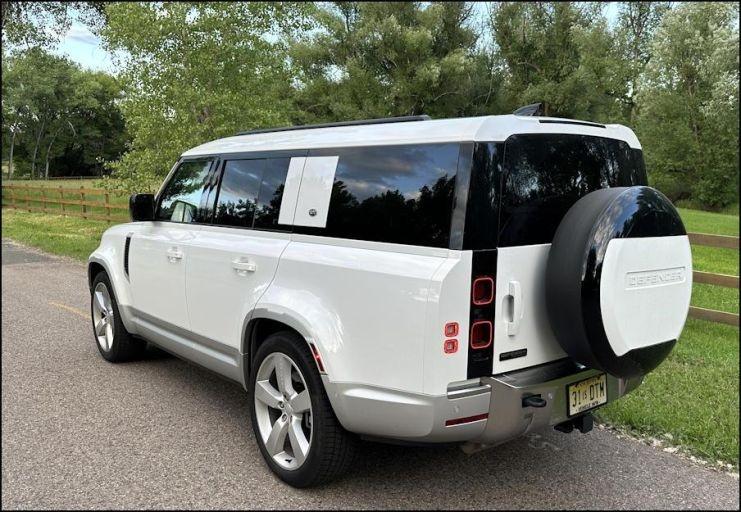 While it's long enough for that third row and a little bit of storage behind it, in practice, the vehicle doesn't seem overly long or clumsy like so many of these bigger SUVs.Overall I was very impressed with the 2023 Land Rover Defender 130 and think the company has been doing a great job of updating and rethinking the main uses of its vehicle by its target audience. With its international heritage and complex chain of international ownership, it's no surprise that it also has 1% US/Canadian parts, with 31% from the United Kingdom and 19% from Germany. This vehicle features an English engine and German transmission and went through final assembly in Nitra, Slovakia, then shipped to Baltimore and thence to my driveway via New Jersey!
This is also an expensive vehicle, which limits its target market. It's not a Ford, Chevy, Hyundai, or Toyota, and its price tag reflects that. Is it worth it? That's a subjective question but it's a solid option if you're in the just-barely-below-$100K market. Definitely one to keep on your shortlist if it meets your needs and criteria.
2023 Land Rover Defender 130 First Edition in Fuji White with Light Oyster/Lunar interior. Powered by a 3.0L 6-cylinder MHEV engine and 8-speed transmission. BASE PRICE: $84,700. Options included: Towing Package 2, Cold Climate Pack, 22" Wheels, Extended Bright Exterior Pack, 60/40 Load Through Climate Rear Seats, Cross Car Beam, and 22" full-size spare wheel. AS DRIVEN: $92,725.00.
Disclosure: Land Rover loaned me the Defender 130 for a week in return for this candid writeup. Thanks, chaps! This article also originally appeared on PlanetDave with the title A Surprisingly Sophisticated Drive with the 2023 Land Rover Defender 130.
---