The Action-Packed Trailer For 'Nobody' Will Have You On The Edge Of Your Seat!
Write a comment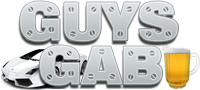 Sometimes the man you don't notice is the most dangerous of all. Bob Odenkirk (Better Call Saul) stars as Hutch Mansell, an underestimated and overlooked dad and husband, taking life's indignities on the chin and never pushing back. A nobody.
When two thieves break into his suburban home one night, Hutch declines to defend himself or his family, hoping to prevent serious violence. His teenage son Blake is disappointed in him, his wife Becca seems to pull only further away, and neighbors shame him for not stepping up and beating the crap out of the home invaders.
But the aftermath of the incident strikes a match to Hutch's long-simmering rage, triggering dormant instincts and propelling him on a brutal path that will surface dark secrets and lethal skills. It all starts when Hutch
Read More on GuysGab.com: https://www.guysgab.com/action-packed-trailer-for-nobody-will-have-you-on-the-edge-of-your-seat/
Written by

GuysGab.com

Parent Category: Blog Posts From Other Sites
Category: GuysGab
Loading comment...
The comment will be refreshed after

00:00

.